From the time Ethernet was born several decades ago, it has proven its worth as a non-replaceable technology, offering great features and ease of use in LANs. Due to its variety in offered speeds, simplicity, plug-and-play capability, multipoint connectivity, and low cost, Ethernet has been widely adopted and deployed. Ethernet offers seamless integration and the best granularity options when compared to competing technologies.
Equally, Ethernet works well at higher speeds with automated provisioning. Whether it is a multipoint customer network or hub and spoke type setup, Ethernet works well in all situations as it's not media-dependent and can run over wireless, copper, or fibre using corresponding interfaces.
Carrier Ethernet refers to an application of Ethernet that is used beyond the scope of LAN — for metro, long haul, and WAN. It is also commonly referred to in the industry as Layer 2 VPNs, Layer 2 WAN circuits, Metro Ethernet, and Ethernet WAN. Carrier Ethernet is standardized by the Metro Ethernet Forum (MEF), which keeps refining its technical specifications and implementation agreements for the use of this technology.
This post is a brief overview of Carrier Ethernet OAM.
For those new to it, Carrier Ethernet supports a variety of transport technologies including MPLS, SDH / DWDM, double-tagged Ethernet and so on, and selection of these will result in either additional service benefits or certain limitations. With Carrier Ethernet, the user can configure a variety of services including point-to-point, multipoint-to-multipoint and rooted multipoint. There is a lot more to discuss about Carrier Ethernet but let's jump to our main topic now.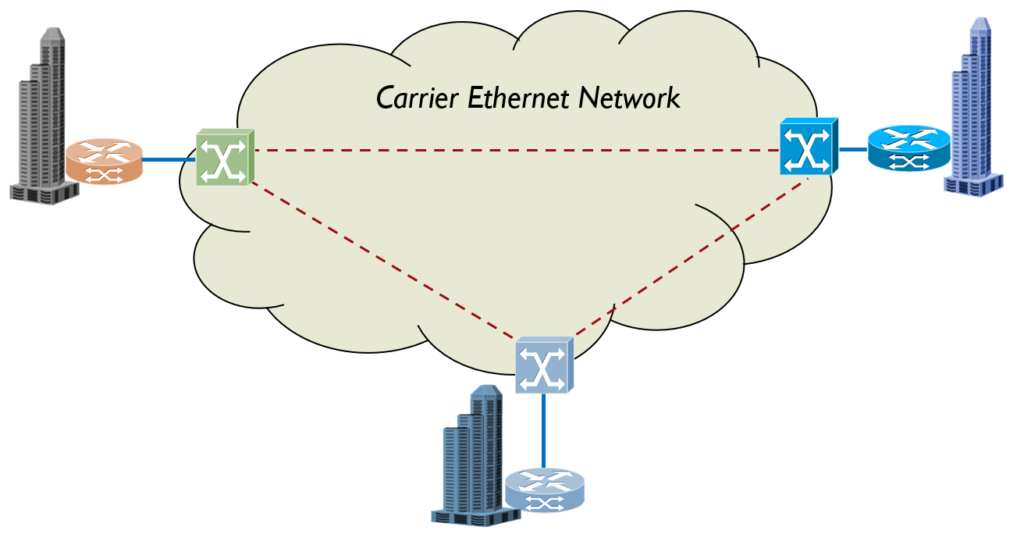 What is OAM?
Operation, Administration, and Maintenance (OAM) tools are used to monitor the performance of the network, health, and faults and ensure that the service meets its contracted service level agreement. OAM tools are expected to rapidly diagnose, isolate, and repair a network segment whenever service deteriorates or fails.
Thanks to Carrier Ethernet OAM, network maintenance costs associated with fault monitoring has decreased (in comparison to manual methods) and service reliability has significantly increased. Carrier Ethernet OAM performance monitoring tools provide numerical values of various Quality of Service (QoS) parameters, which network operators can use to judge the network's health and its resources.
Ethernet OAM standards
There are two predominant Ethernet OAM standards that define service OAM tools that scan the service path and monitor the end-to-end Ethernet service. These two standards are IEEE 802.1ag (Connectivity Fault Management (CFM)) and ITU-T Y.1731 (OAM for Ethernet networks (Y.1731)). CFM provides troubleshooting and connectivity checking tools whereas Y.1731 (also known as Y.17ethoam) takes care of performance monitoring and measurement. Both standards use OAM Protocol Data Units (PDUs), which are artificially generated test frames (synthetic traffic) for real-time performance measurements.
Unlike Y.1564 (another commonly used OAM standard), which does intrusive testing, these two standards perform non-intrusive testing, which means actual traffic is not disturbed while testing. Briefly speaking, CFM covers Continuity Check, Loopback, Link Trace and Discovery functions whereas Y.1731 takes care of Performance Management, intrusive and non-intrusive loopbacks, Remote Defect Indicator/AIS test and so forth. Both standards complement each other during maintenance and monitoring.
OAM domains
In an Ethernet service, OAM domains (maintenance domains) present the perspective of different stakeholders including subscribers, service providers, operator(s), and others. These domains (maximum 8; numbered 0 to 7) break the Ethernet service maintenance into various levels of responsibilities. The biggest domain belongs to the subscriber (CPE to CPE) followed by the service provider and operator(s). Please note that the service provider is responsible for the entire service passing through various operator networks. In some cases, a service provider can also serve as an operator.

Designated points for maintenance tasks
To perform maintenance of a Carrier Ethernet network, one needs to get familiar with the concepts of Maintenance Entity (ME), Maintenance Entity Group (MEG), MEG End Point (MEP), and MEG Intermediate Point (MIP).

As illustrated in Figure 3, ME is an association between maintenance endpoints (provisioned reference points) within an OAM domain. MEG represents a group of MEs that are associated with the same service inside a common OAM domain. MEPs are actually maintenance points (provisioned OAM reference points) that can either initiate or terminate proactive OAM frames and are represented by a triangle. MIPs (designated device ports) reside between MEPs — represented by circles in Figure 3, and don't initiate proactive or diagnostic OAM frames but rather react to them.
More about CFM (802.1ag)
CFM (Figure 4) is mostly used to monitor faults (end-to-end) and deal with three aspects of maintenance, which include CCM (Continuity Check Message), Loopback, and Link Trace.
CCMs (Figure 5) serve as heartbeat messages for service monitoring and can be configured to fire at various defined intervals ranging from minutes, seconds and even milliseconds.
The second crucial mechanism of CFM is Loopback, which verifies connectivity by detecting and verifying faults. Loopback messages and their replies are used to verify bidirectional connectivity and help us in measuring delay, delay variation, and frame loss.
Link Trace is used to isolate the faulty location in the network and it is very similar to the traceroute tool that is commonly used in IP networks.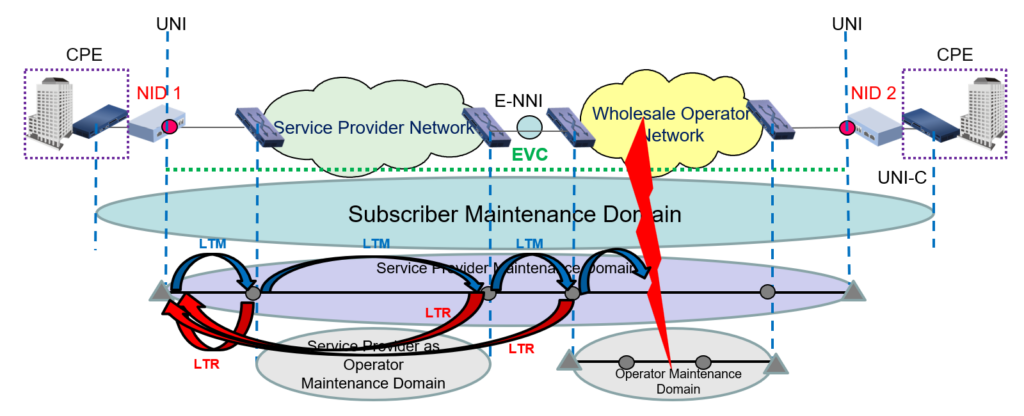 More about Y.17ETHOAM
Y.1731 is mainly used for performance monitoring and provides us numerical values for QoS metrics which include delay (latency), jitter, availability, and frame loss. The diagrams below describe the use of delay and frame loss measurement scenarios using Y.1731.
In September this year, I remotely attended APNIC 56 and delivered a brief presentation on 'Carrier Ethernet OAM'. Watch the recording now.
I hope you enjoyed reading this blog post. Please keep learning and broadening your knowledge using the resources and training offered by APNIC.
Azhar Khuwaja is a Telecom/IT Trainer with over 20 years of industry and training experience.
---
The views expressed by the authors of this blog are their own and do not necessarily reflect the views of APNIC. Please note a Code of Conduct applies to this blog.