Unitel Group, the largest service provider in Mongolia, has begun introducing IPv6 to its household users, making it the first Internet Service Provider (ISP) in Mongolia to do so.
With about 50% of their household users now using IPv6, Unitel Group's recent deployment has sparked meaningful IPv6 rollout within Mongolia, accounting for the majority of the economy's 21.29% IPv6 capability – up from 0.03% in October 2022. Unitel Group's goal is to enable IPv6 for 80% of their users by the end of 2023, helping Mongolia to reach the top 30 economies to adopt IPv6.
In this article, we will examine Unitel Group's IPv6 migration experience and highlight the lessons learned and benefits gained from the implementation.
Plan, test, test some more, deploy
Unitel Group began its IPv6 research and testing in 2016, focusing on assessing infrastructure adequacy, identifying potential device issues during the transition, and ensuring system-wide security. They then divided the deployment of IPv6 in the network into five main phases:
Phase 1: Preparing the core network for dual-stack functionality.
Phase 2: Preparing the core systems for dual-stack functionality.
Phase 3: Deploying IPv6 in the household network.
Phase 4: Deploying IPv6 in the mobile network.
Phase 5: Deploying IPv6 in the enterprise network.
By 2018, Unitel Group's core network was deemed ready to support IPv6, marking the completion of the first phase. However, the decision to deploy IPv6 was postponed as the company did not perceive an immediate need for adoption.
However, the COVID-19 pandemic in late 2019 accelerated the demand for IPv6 adoption due to increased reliance on digital services and a surge in Internet traffic. Consequently, Unitel Group commenced phases two and three of the deployment.
In mid-2022, in preparation for IPv6 activation, Unitel Group conducted intensive testing using a dual-stack configuration on DNS, authentication, authorization, accounting (AAA), Quality of Service (QoS), TR069 management system, and Customer Premises Equipment (CPE). To ensure network security, they also customized CPE software and added a firewall function to IPv6. However, due to the time-consuming nature of customizing software for different CPE devices from various vendors, the development process is still ongoing.
After extensive testing, Unitel Group determined that implementing dual-stack on the CPE side would be the most effective approach for subscribers to reap the benefits of IPv6. However, this deployment method poses challenges, as it requires subscribers to enable and configure their CPE for dual-stack or necessitates support engineers to visit subscriber homes for configuration. Hence, Unitel Group has invested efforts in customizing CPE software and the TR069 management system, which play crucial roles in configuring and deploying dual-stack on CPEs as a whole from a remote system, eliminating the need for subscriber intervention or support engineer visits.
The rollout process proceeded as follows: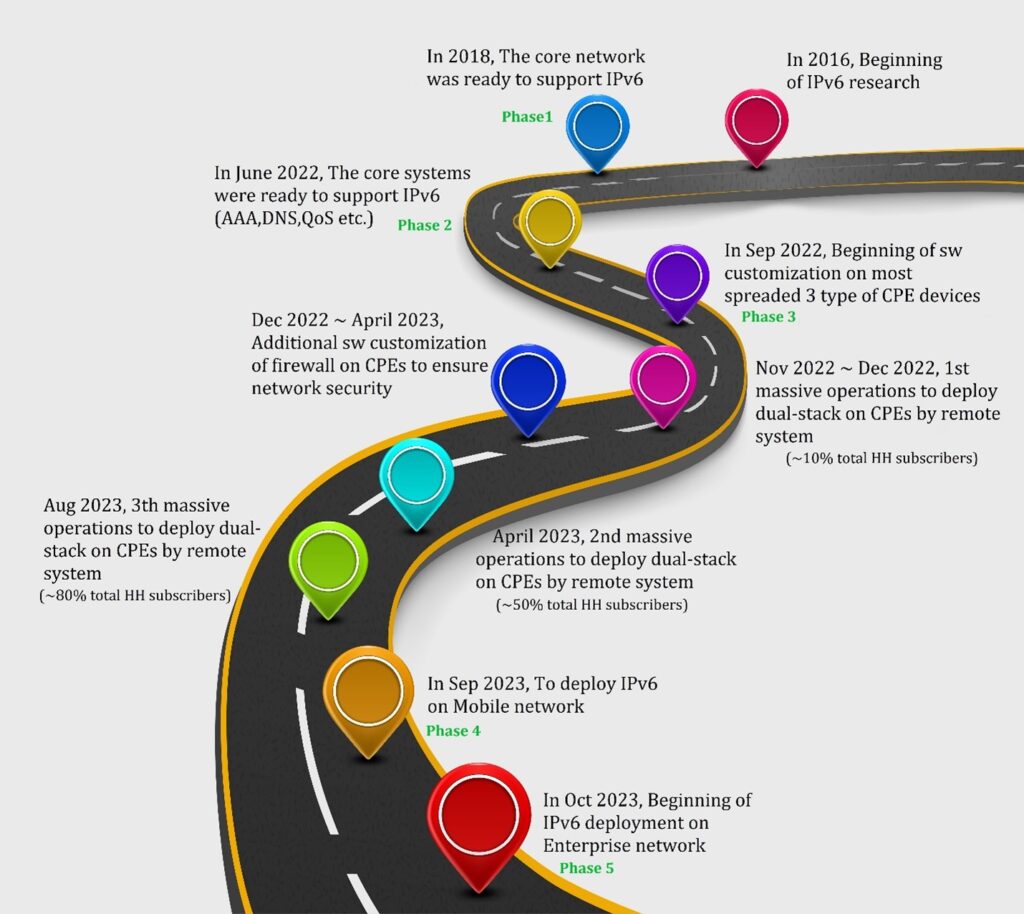 Current IPv6 capabilities and Unitel Group's contribution
As of now, the global IPv6 capability stands at 35%, according to APNIC Labs (Figure 2), with Asia slightly surpassing the global average at 40.65% (Figure 3). However, the level of IPv6 capability across Asia exhibits significant diversity (Figure 4).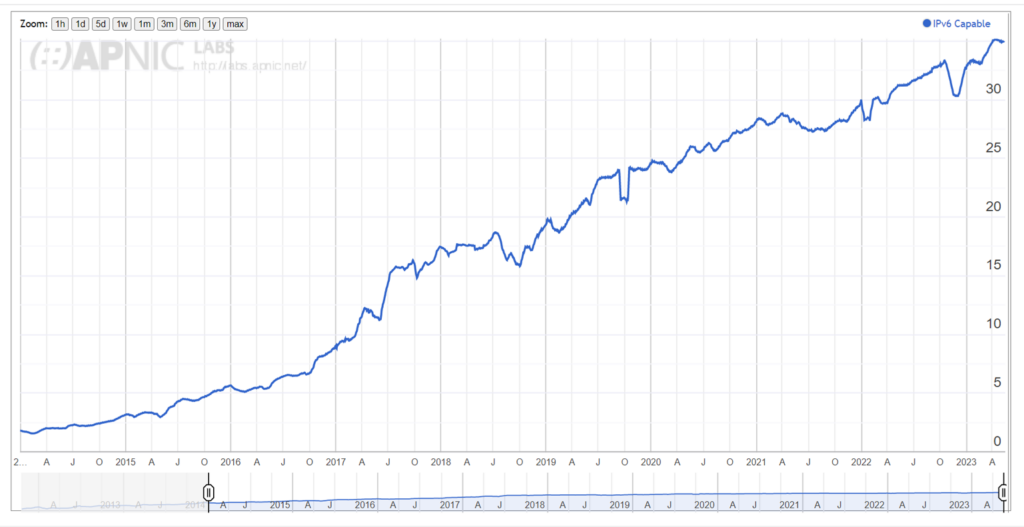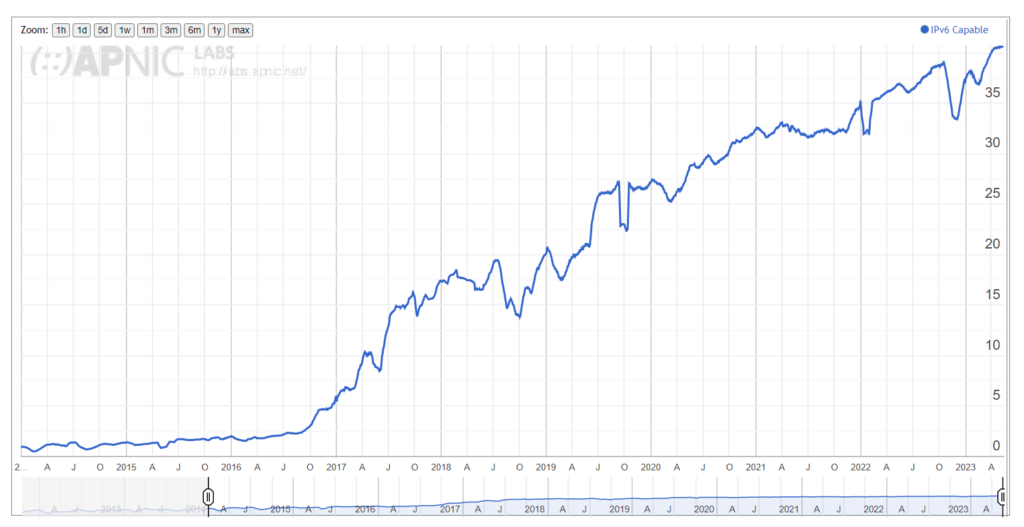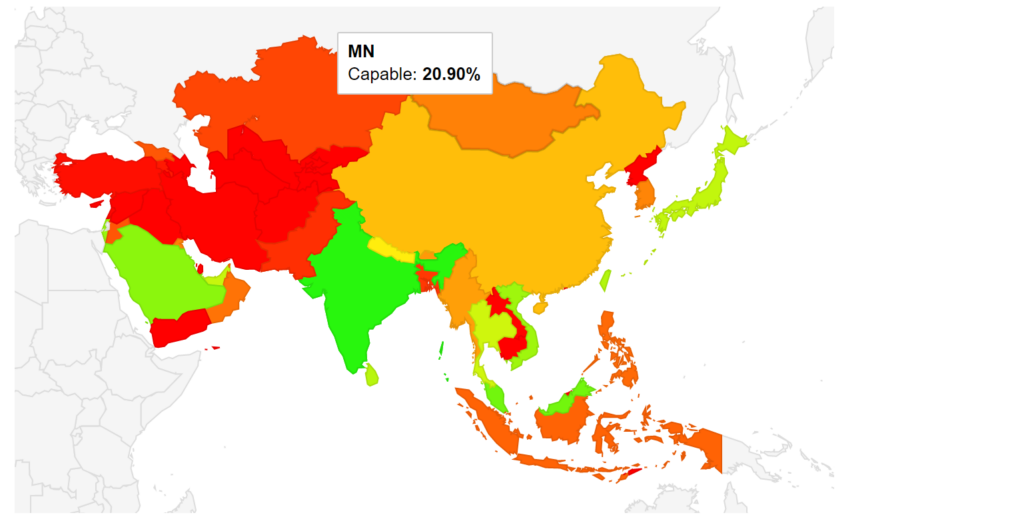 Previously, Mongolia's IPv6 usage was well below the global average, but since November 11, 2022, APNIC Labs observed a rapid increase in IPv6 capability, reaching 20.9% thanks to Unitel Group's rollout (Figure 5).
Unitel Group's AS17882 has played a pivotal role in this growth, significantly surpassing other Mongolian ISPs. AS17882 boasts 33.23% IPv6 capability and 27.31% IPv6 preference, while the next Autonomous System Number (ASN) lags behind at a mere 0.05% capable and 0.04% preferred.
Explaining capable vs preferred
When measuring IPv6 usage, if APNIC Labs can fetch a URL using IPv6 then the host system is labelled 'IPv6 capable'. However, if it uses IPv6 to fetch the dual-stack URL, it's labelled IPv6 preferred'. More detail is available at APNIC Labs.
Benefits for businesses and users
The adoption of IPv6 has brought numerous advantages to Unitel Group, including reduced Network Address Translation (NAT) utilization and session license usage, improved connectivity and performance, and enhanced security and futureproofing.
For users, IPv6 adoption has resulted in improvements in media consumption, content streaming, and other online entertainment, with no NAT session limitations on IPv6. Additionally, the IPv6 firewall functions on CPE devices have enhanced network security.
IPv6 adoption has significantly improved the quality of Internet services, data security, and energy efficiency. The elimination of double NAT (Network Address Translation) on CPE and Broadband Network Gateway (BNG) has had a positive impact on real-time services, such as online gaming, by reducing processing delays. Furthermore, it preserves the end-to-end model of the IP network, enhancing end networking security.
The reduction of NAT utilization by up to 80% has led to decreased energy consumption and a reduced environmental impact associated with the NAT process. Additionally, cost reductions associated with IPv4 addresses, NAT devices, and licenses have generated economic benefits for Unitel Group.
Looking ahead, Unitel Group aims to expand IPv6 adoption to encompass 80% of its total users, including households, mobile devices, and enterprises by the end of 2023. This endeavour will significantly accelerate the rate of IPv6 adoption in Mongolia.
Munkhbat Gansukh is the Data Network Unit Manager at Unitel Group.
---
The views expressed by the authors of this blog are their own and do not necessarily reflect the views of APNIC. Please note a Code of Conduct applies to this blog.