Members of the Products and Services teams present at APNIC 54.
2022 was another productive year for the four APNIC product development teams — Membership, Registry, Academy, and Information. In this post, I'll share some of the work we focused on last year.
Membership Products
In March 2022, APNIC completed the migration of more than 60K user accounts into the new single sign-on (SSO) system (Okta). This new platform will allow APNIC to offer improved security workflows and identity management for all APNIC Login users.
Following the decision by the APNIC Executive Council (EC) that all historical resource holders in the APNIC region would need to become Members or Non-Members by 1 January 2023 (prop-147-v002), work has begun on implementing the necessary account transition and billing processes. Workflows and systems to ensure that this transition is as painless as possible for all involved have also been established.
After the successful launch of the Help Centre in 2021, APNIC improved its usability and usefulness by adding additional article types and visual indicators, filters, and sorting for all content, making it easier to find and navigate all the content.
For those who vote in APNIC elections, a new page (Figure 1) has been added that will display the list of events you have attended to help check your eligibility to vote in an upcoming election.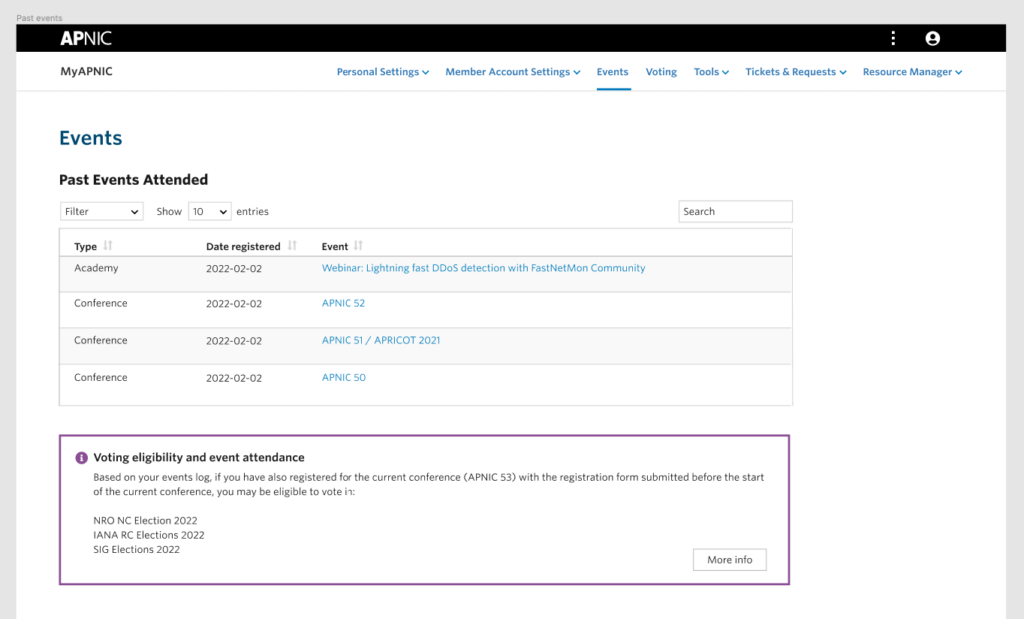 APNIC has also improved the way proxy voting works by enhancing the user interface so that users can now vote much more efficiently than before. The voting feedback is also much more precise, so users are able to better understand when a vote is complete.
Reporting invalid APNIC whois data has been improved by adding additional features to the submission form. The form will now look up the reported range and return only the relevant reporting information as well as check that the range is within the correct region. The information reported (Figure 2) is now more accurate and useful and people submitting out-of-region ranges are directed to the correct RIR so that the appropriate action can be taken as fast as possible.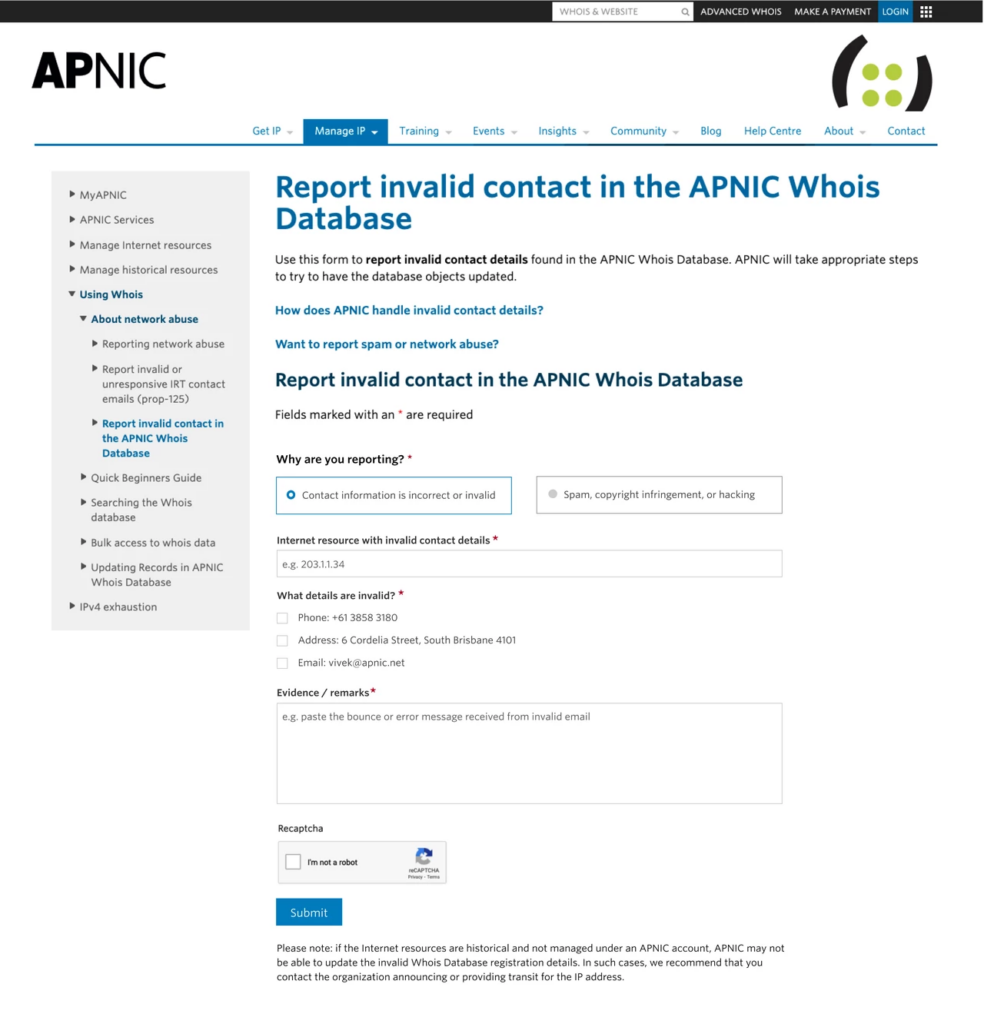 MyAPNIC got a new look in 2022 and has a new dashboard that makes it easier for Members to quickly find and access the most used sections. Additionally, this dashboard forms the foundation for building new and useful widgets that allow Members to complete simple tasks quickly and easily.
The MyAPNIC theme and navigation were overhauled, making it easier to access any part of MyAPNIC from every page, making navigation a one-click solution. APNIC will continue to improve the usability and usefulness of MyAPNIC.
Read: Upcoming changes to MyAPNIC
Orbit, the new online community platform, has been in planning for some time and in September 2022 APNIC launched the first Minimum Viable Product (MVP) version. Orbit is a complete reskin of the Mailman mailing list system with a focus on browser-based community engagement. The listing landing pages have been updated to include logos and banners. A news feed page has been added that aggregates the latest information across the community and presents it to the user in an easy-to-use manner. These and many other user interface updates have transformed the Mailman web interface into a true online community platform.
The APNIC Login user profile has been overhauled and additional profile fields are now available. Each field can toggle what is visible in other APNIC products like Orbit.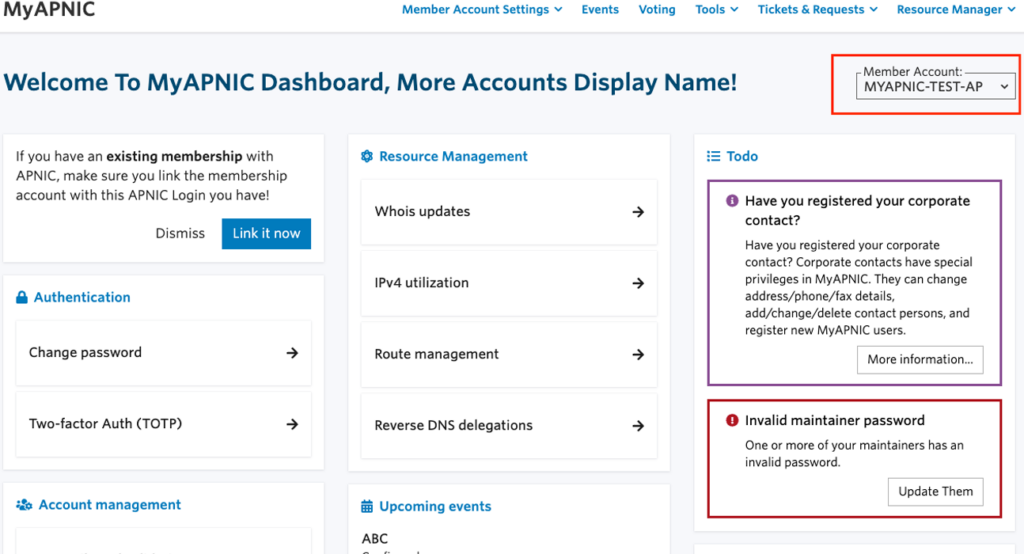 Access logs are now available for all Corporate Contacts to show who has logged in and when they logged in. This will help Corporate Contacts detect any abnormal activity with their account and alert APNIC.
Previously, when a Member requested a name change the entire process could take up to three days due to the updates that need to be made in the APNIC Whois Database. APNIC has now streamlined this workflow and reduced the time it takes to process name changes by 50%.
Registry Products
In 2021, APNIC collaborated with the RIPE NCC, ARIN, LACNIC, and AFRINIC to draft and publish an RDAP server profile to improve the consistency of the services in this space. In 2022, updates to APNIC's RDAP service were implemented and deployed to conform with that server profile.
To avoid potential service interruption during transfers, APNIC updated the RPKI system so that Resource Origin Authorizations (ROAs) for the relevant ranges were no longer affected by the transfer process.
APNIC deployed various updates as part of the implementation process for prop-142. This was primarily about generating a transfer report that included comprehensive data on the types of the various transfers that APNIC supports.
APNIC has been working on implementing token-based authorization in Whois, with a view to deprecating password-based authorization. This will improve the security of updates in the APNIC Whois Database and help facilitate the development of the Registry API in 2023. This work is scheduled for completion in early 2023.
Another project that is currently in progress is the recording and publishing of Autonomous System Number (ASN) operator details, where an APNIC account holder has requested an ASN for one of its customers. By publishing this data in the APNIC Whois Database, third parties can more easily determine a contact point for a given ASN because instead of seeing the contact details of the account holder, they will see the contact details of the account holder's customer. This work is also scheduled for completion in early 2023.
RPKI prevalidation work is underway, which includes verifying modifications made by users through the route management system to guarantee that changes will not harm the RPKI validity of announcements made through the Border Gateway Protocol (BGP).
There is also work happening in the general RPKI resilience/stability area. This is about improving and streamlining APNIC's processes regarding its RPKI production system. A key change that happened in 2022 was the extension of the default manifest/CRL lifetime from two days to seven days, with the rest of the work here to be completed in early 2023.
Aside from the projects that are currently in progress, in 2023 APNIC will be working on a Registry API based on the prototype developed this year and adding RPKI Signed Checklist and BGPSec Router Certificate support to the Resource Manager system in MyAPNIC, in addition to various internal security and resilience improvements.
Academy Products
Training content on the APNIC Academy website was updated and improved in 2022, including the addition of eleven new virtual labs, a new Open Shortest Path First (OSPF) Fundamentals Course, and the development of a new Introduction to Cybersecurity and BGP course (soon to be released).
A new Course Materials functionality was added to training events, to give training participants access to course materials from within the Academy. This was implemented as a soft launch in 2022, with the aim of replacing the Training Wiki in 2023.
Eduroam access was expanded to include all eligible APNIC users who have completed one or more APNIC Academy self-paced online courses and comply with other requirements. This expansion allows for over 25,000 APNIC Academy users to benefit from free Internet Wi-Fi access throughout the Asia Pacific region.
APNIC training events functionality was expanded, with all upcoming training events now listed on the APNIC Academy. Other big improvements were the addition of a new navigation/menu system and a new Singapore data centre for users of the Academy's virtual lab platform.
Extra work on the APNIC Academy was possible in 2022 thanks to the support of the APNIC Foundation.
Information Products
Throughout 2022 the Information Product team focused development work on DASH with some work in NetOX at the beginning of 2022 and some continuing work in REx.
DASH
DASH was integrated into the APNIC SSO mechanism in Q1 2022. Also in Q1 2022, alerts via email for suspicious traffic information in DASH were released. This improvement took the same information provided in the reporting mechanism and added a trigger mechanism to produce on-event alerts for selected ranges of resources.
In Q2 2022, information pages about routing consistency between BGP, RPKI, and IRR were added to DASH. This was an entirely new information service and became DASH's 'front door' page due to its popularity.
In Q3 2022, APNIC completed infrastructure work on a notifications platform for all services and was deployed behind new alerts for routing information pages. This service improves on the basic alert model to add notifications by SMS, email, and Slack.
In the near future, APNIC will continue to make improvements to DASH including the design of the core architecture, and a redesign to permit suspicious traffic information for non-ASN holders.
NetOX
In Q2 2022, improvements were made to the NetOX 'comparison' feature with a carousel model deployed to show different NetOX widgets for a set of chosen resources. The simplified workflow and data model make it easier to compare any chosen ASN or IP addresses by a range of relevant qualities.
REx
Significant improvements in charting layout and a redesign of the economy/region selector have been deployed this year. Work continues on adding global (cross-RIR) data support to REx.
This work was presented at APRICOT 2022 and APNIC 54 during the products and services sessions, in various training and routing security meetings, as well as at the Asia Peering Forum throughout 2022.
All APNIC Information Products were given a 'look and feel' refresh in line with cross-APNIC web design and will present a more cohesive service as work to integrate our web services continues.
Watch the APNIC 54 APNIC Products and Services session at APNIC 54:
What's coming in 2023?
APNIC will discuss the 2023 plan for all APNIC Products during the Products and Services session at APRICOT 2023 and will reveal a new online roadmap detailing product deliverables for the next 12 months and beyond.
APNIC welcomes all suggestions from community members to help us improve our products and services. Please join the APNIC User Feedback Group and share your thoughts.
---
The views expressed by the authors of this blog are their own and do not necessarily reflect the views of APNIC. Please note a Code of Conduct applies to this blog.