Late last year, the Pakistan Internet Exchange (PKIX) launched its third Internet Exchange Point (IXP), this time in Pakistan's second largest city, Lahore.
Having previously established IXPs in Islamabad (2017) and Karachi (2019), the newest IXP has been welcomed by local operators and the ICT community.
"The most pleasing aspect for our Lahore members has been the decrease in latency times, with local content now being served within 1-2ms instead of 120-140ms, as it's being transited locally and not via international routes," says Ahmed Bakhat Masood, Deputy Director of Cybersecurity at the Pakistan Telecommunication Authority (PTA), who has assisted with coordination on all three IXPs.
"This, of course, improves user experience and is much more economical for our members who can pass these savings onto their customers. Further to this, it also encourages local content developers to host content locally rather than internationally."
Read: Trust, neutrality, keys to sustainable Internet exchange, Pakistan
Getting the band back together
The PTA has again played an important role in coordinating the project, particularly in bringing together local stakeholders including the Punjab Information Technology Board (PITB) as well as two of Pakistan's largest ISPs, Brain Net and Nexlinx.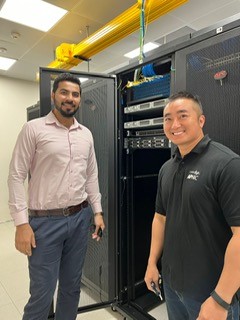 "The logistics of setting up the IXP in Lahore were easier compared to setting up the last two. We again were thankful to APNIC, for providing the hardware (switches, cables, and cable patching panels) and software (IXP Manager) as well as training resources to develop the capacity of local operators to manage the IX," says Ahmed.
"Coordinating with some of the new members was challenging. However, the PTA has built up trust and experience over the years, so we were able to address their concerns, most of which we had overcome while setting up the previous IXPs."
Ahmed says an extra bonus for the Lahore community has been Facebook's decision to locate a cache at the new IXP. As of January 2022, Pakistan has the 11th largest number of Facebook users per economy.
Table 1 — Leading countries based on Facebook audience size as of January 2022. Source.
"This had not been possible until now as the previous two IXPs are located at Higher Education Commission (HEC) data centres that don't have the capacity to host a cache, whereas the Lahore IXP is located in a larger data centre at the PITB, which, like the other two IXPs, was chosen by the community due to its accessibility," says Ahmed.
Side note: During COVID-19 lockdowns, the IXPs in Islamabad and Karachi both observed drastic decreases in traffic due to the closure of local universities and institutions.
"PKIX is still working towards registering itself as a not-for-profit, but there are strict laws in Pakistan surrounding such organizations, which PKIX is seeking to be exempt from, given the benefit it provides to Internet users."
"Once we are registered, we can set up a bank account — none of our members currently pay any fees, they only need to pay to run a line to the IXP — then sign contracts with CDNs, which will certainly make setting up caches in each of our IXPs appealing."
---
The views expressed by the authors of this blog are their own and do not necessarily reflect the views of APNIC. Please note a Code of Conduct applies to this blog.