Last month, Japan's largest mobile phone operator, NTT DOCOMO, began rolling out its IPv6 single-stack support, allowing the telco to expand its network faster and at a lower cost.
While most DOCOMO customers won't notice the change, it will be a big moment for the telco, which has spent nearly 11 years meticulously transitioning to the new Internet protocol to provide its customers with their own IP address and allow its network to expand.
The journey so far
As a subsidiary of NTT, DOCOMO was an early adopter of IPv6, having deployed it in its core network in 2007 and offering it to business customers first in 2011 then mobile users in 2017.
Like most ISPs, it has been running a dual-stack configuration, meaning IPv6-capable devices have also received an IPv4 address. Such transition technologies have been used for years in many ISPs around the world. However, as their name suggests, they are only considered as a stepping stone, granted a necessary one, to IPv6-only.
"Implementing Dual-Stack with no strategy to move to Single-Stack IPv6 will end up costing your organization more in the long term."

Sunny Yeung, APRICOT 2015.
In April 2019, DOCOMO started to carry out this final phase of transition, culminating in its recent launch of IPv6 single-stack support on 1 February 2022. In doing so, it has become one of the first mobile carriers using IPv6 single-stack networks in Japan, and the world.
Making content developers aware of the need to support IPv6
Seiya Kawasaki, an engineer in the DOCOMO Service Design Department, is one of many who has overseen the transition over the past decade. He says that the time is right to move to IPv6-only as the protocol had become more widely supported and running dual-stack has become a burden.
"Dual-stack provided a solution to allow us to test how IPv6 would work in our network until IPv6 support slowly became a standard in end-user devices and more websites and applications were accessible via IPv6," says Seiya.
However, the latter of these points, Seiya says, is a major challenge that he and his team are still working at overcoming.
"There are countless applications all over the world and we need to test those that won't work over IPv6 single-stack before we launch IPv6 single-stack otherwise they won't be accessible via our IPv6 network," says Seiya.
To assist in this process, DOCOMO has reached out to content developers to make them aware of the need to support IPv6 and have developed a connectivity testing environment to allow them to confirm if their applications and websites can communicate via a IPv6 single-stack connection. So far, more than 500 users have run the test.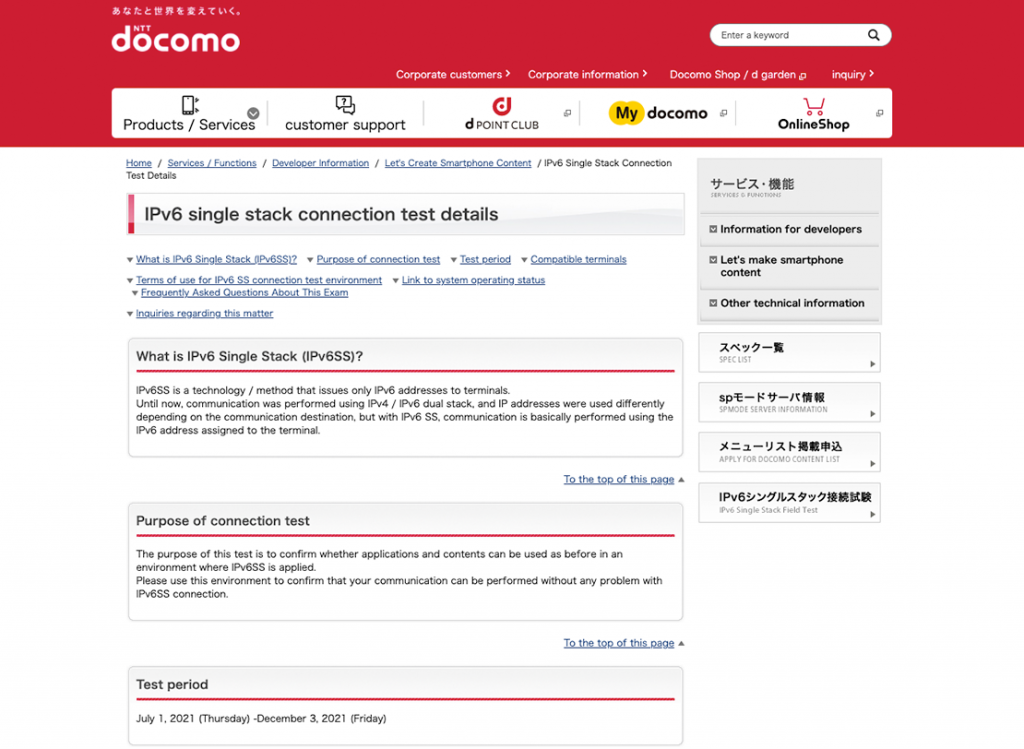 "Once we move to IPv6-only, users will still be able to access sites and services that are only accessible via IPv4 through a conversion server, which will increase latency and impact the overall quality of experience of these sites," says Seiya. "That's why it's important to make developers aware of the change that's coming, not just within our network but all networks."
"Ultimately this final transition will allow us to expand our network faster and at a lower cost because we don't have the burden of dual networks. The flow-on effect for our customers is it will provide us with the necessary infrastructure to accommodate the massive growth of personal, industrial and sensory IoT devices."
---
The views expressed by the authors of this blog are their own and do not necessarily reflect the views of APNIC. Please note a Code of Conduct applies to this blog.