APNIC Member Services staff have had a busy couple of years amid the pandemic. A look back at 2021 highlights some interesting trends in the resources delegated to Members.
IPv4 delegations
APNIC has continued to manage the ongoing demand for IPv4 addresses. There was steady growth of resource delegations towards the end of 2020 that continued throughout 2021, particularly in the South East Asia and South Asia subregions.
Some requirements for Internet number resources also came from entities registered outside the APNIC region who have operations within the Asia Pacific.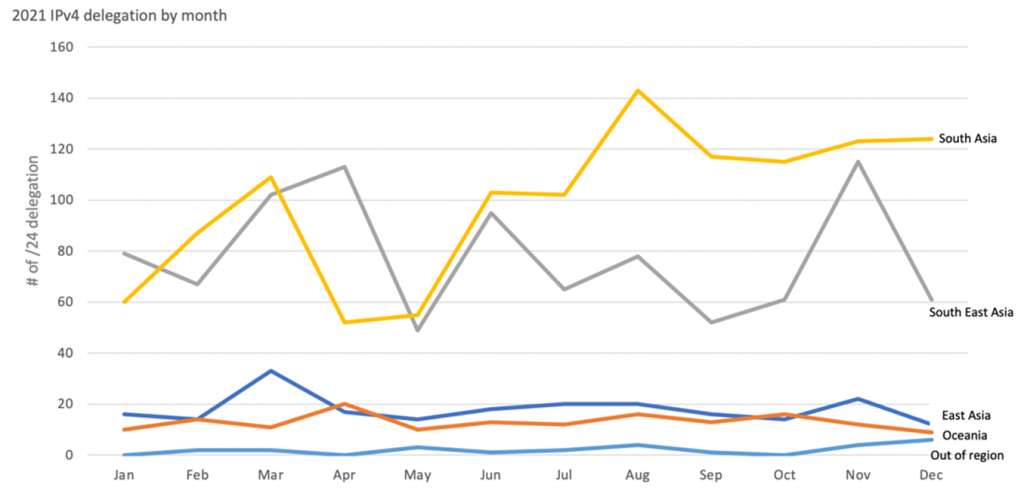 Continuing the trend from 2020, South Asia was delegated the largest amount of IPv4 addresses, followed by South East Asia, East Asia, and Oceania in 2021, with several delegations outside of the APNIC region.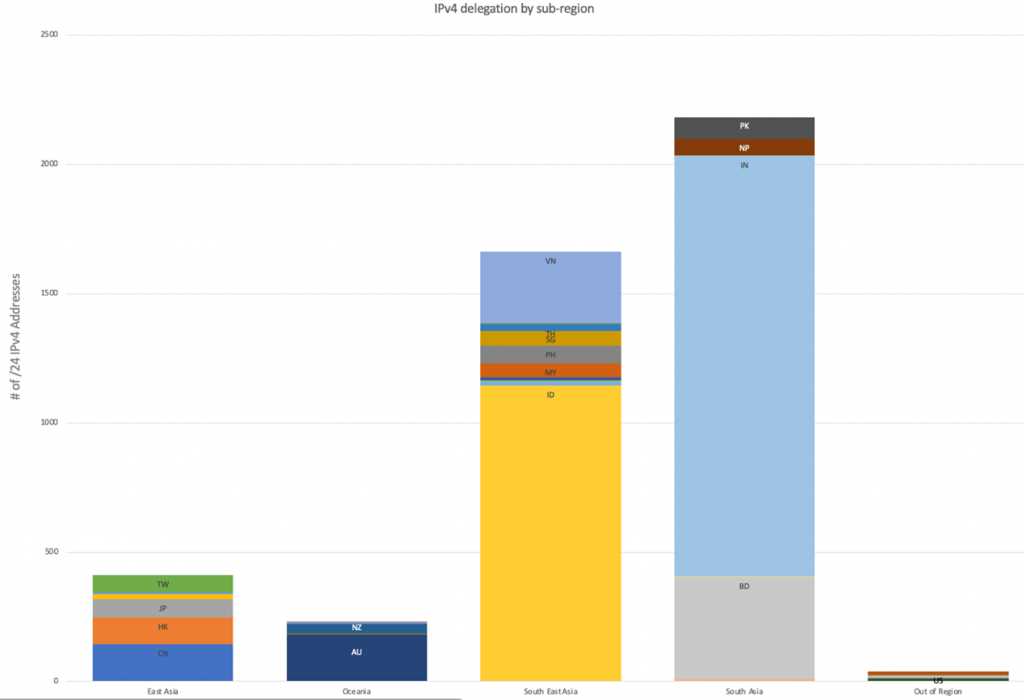 ASN delegations
Autonomous System Number (ASN) delegations during 2021 saw a 300% increase over 2020. China received the highest number of ASN delegations, mostly due to a large research organization developing a national science and technology infrastructure project for China's IPv6 network. The peak shown in South Asia at the start of fourth quarter (Figure 3) was an AS block allocated to an Indian education support network for their IPv6 development, plus increased ASN delegations for the National Internet Registry (NIR) in India.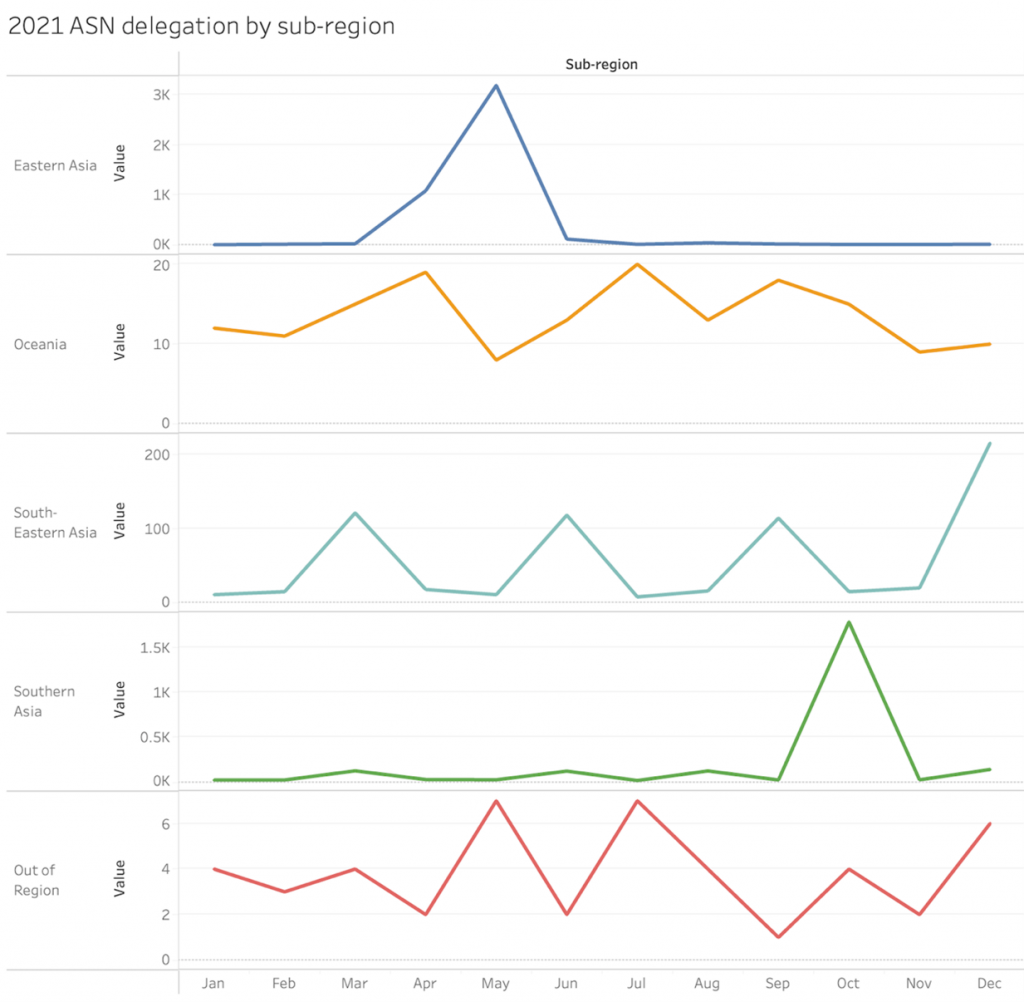 China, India, Indonesia, Bangladesh, and Australia were the top five economies for ASN delegations in 2021, which is consistent with the economies who received the greatest number of ASNs in 2020.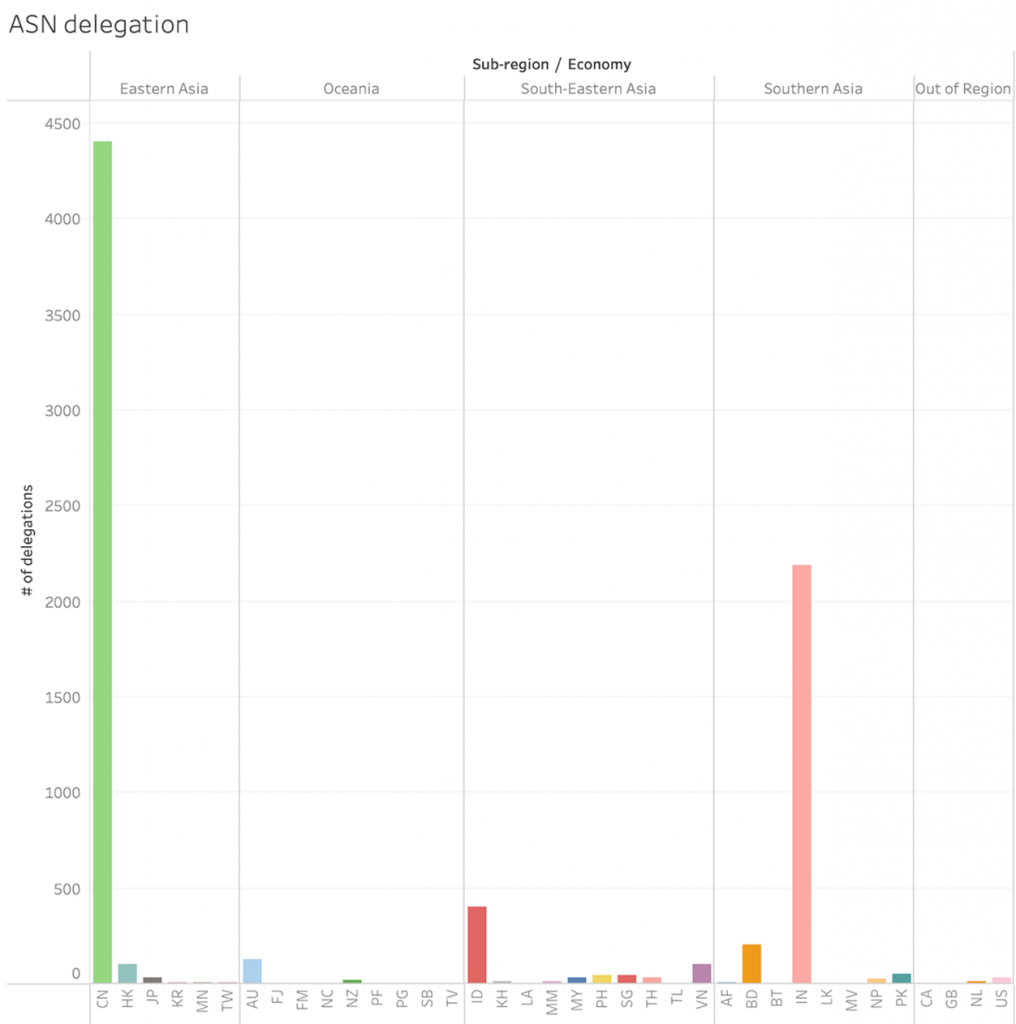 IPv6 delegations
India received the largest amount of IPv6 space in 2021 due to a National Research and Education Network (NREN) project aiming to provide a high-speed network backbone for educational and research institutions in India.
The top 10 economies for IPv6 delegations in 2021 were, in order, India, Bangladesh, Indonesia, Viet Nam, Australia, Hong Kong, China, Pakistan, the Philippines, and Taiwan. These same economies received the most IPv6 blocks in 2020 (in a different order), except for the Philippines, who replaced Singapore in the top 10 in 2021.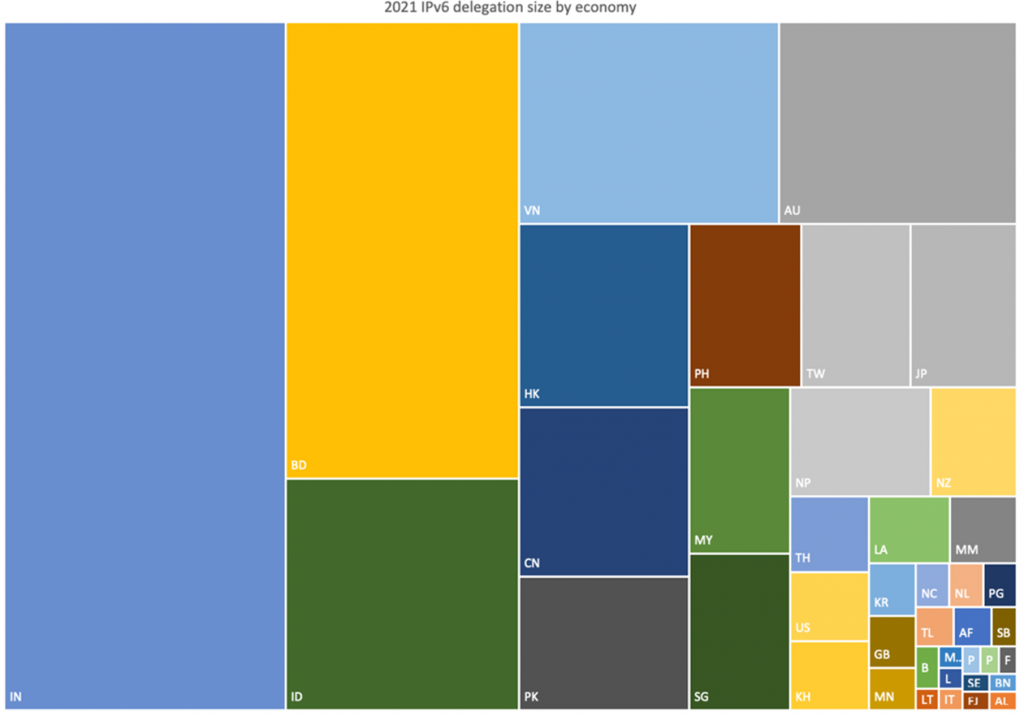 South Asia received the largest number and highest growth of IPv6 delegations in 2021, followed by South East Asia, East Asia, and Oceania.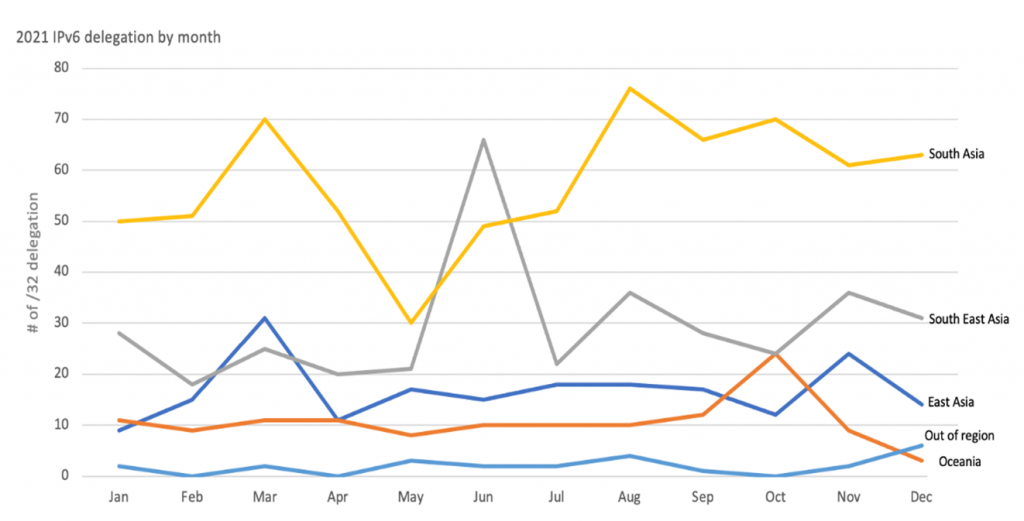 Transfers
IPv4 market transfers continued to grow during 2021. India was the economy both receiving and transferring the most IPv4 resources in the region, which was the same in 2020. It's interesting to note that while demand for IPv4 transfers in India remained consistent over the two years, outgoing address space transferred in 2021 was more than double 2020, as shown in Figure 8.
Australia, Singapore, out-of-region, and Hong Kong Members were the other highest resource recipients, while Australia, Japan, Bangladesh, and Hong Kong were the source of the most transferred IPv4 resources.
Membership
The total number of APNIC Members measured at the end of 2021 was 8,768, an increase of 5.1% over 2020. Most new Members identify themselves as Internet Service Providers (ISPs), hosting/data centres, telco/mobile operators, enterprises, academic/research organizations, or financial organizations. There was a decline in new Members from hosting/data centres but an increase in NREN and research networks, and a sharp increase from software vendors.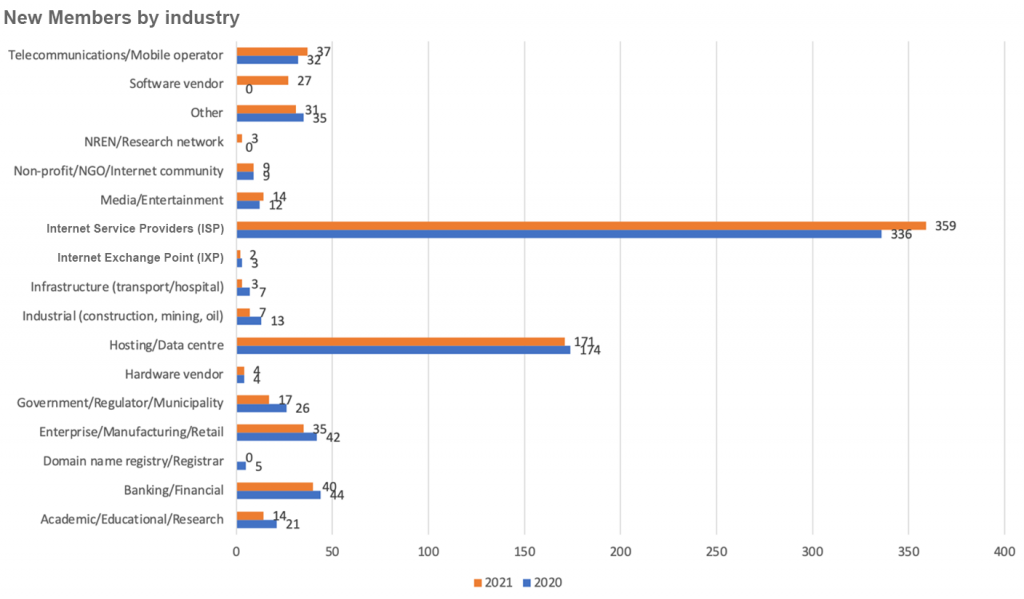 Helpdesk
The 2020/2021 pandemic lockdowns meant the focus of the APNIC Services Team shifted from active engagement with Members at physical events to improving the online experience for Members.
Despite these challenges, we connected with 148 Members across 47 economies at virtual events and meetings on topics including RPKI, resource transfers, and the APNIC Whois Database. We also provided technical assistance and delivered presentations at APNIC conferences and other events.
Working closely with APNIC's Product Development and UI/UX design teams we have delivered improvements to the Helpdesk system and helped to streamline the number of new membership and resource applications processes. We have also continued to increase our efficiency by integrating new digital phone and chat applications that give APNIC Services staff more ways to interact with Members.
Satisfaction with Helpdesk remained high with 93% of the feedback received from Members being either 'excellent' or 'above average' — thank you!
What's coming in 2022?
During the Products and Services session at APRICOT 2022 (below), we published a roadmap to further improve APNIC products and services for Members and the community. We welcome all feedback from the community. Share your thoughts via the APNIC User Feedback Group.
APNIC Services in 2021
2,532 IPv4 delegations
1,398 IPv6 delegations
6,808 ASN assignments
709 IPv4 market transfers
118 Merger and acquisition
12,610 Tickets handled
1,869 Voice calls
3,287 Online chat sessions
10,733 Member invoices and receipts processed
891 Instant feedback received and processed
---
The views expressed by the authors of this blog are their own and do not necessarily reflect the views of APNIC. Please note a Code of Conduct applies to this blog.