On Tuesday, 2 June 2020, 446 attendees from 32 economies 'networked from home', by joining the South East Asia Networking from Home (NFH) virtual event.
A joint initiative of Network Operator Groups (NOGs) and APNIC, NFH events aim to address the gap resulting from cancellation or postponement of many NOG meetings due to COVID-19 restrictions.
Attendees enjoyed a keynote presentation by Geoff Huston on BGP scaling, plus presentations on BGP by Tom Paseka, automation framework testing by Warrick Mitchell, how to run a local copy of the DNS root zone by Swapneel Patneka and the timely security concept of 'trust but verify' by Merike Kaeo.
Read: Blind trust
Finally, a lively panel discussion on 'How ISPs are dealing with COVID-19' drew on experiences from operators in Myanmar, Thailand, Philippines and Singapore, and concluded that the pandemic will not break the Internet.
Visit the program for links to the presentation and video content.
Networking from Home 2020 in the middle of covid-19 outbreaks …. #nfh pic.twitter.com/r32WdjSMbp

— YD0LTE (@LteYd0) June 2, 2020
There were 56% of attendees from South East Asia, and 92% from the APNIC region. The top three economies for attendees were the Philippines, Australia, and Myanmar. For the majority of the event, the number of concurrent attendees stayed between 280-300.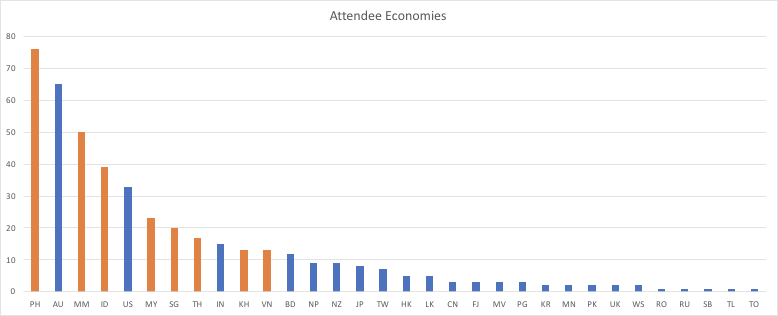 The average view time per attendee was 1 hour 45 minutes, with plenty of questions for the presenters and panellists answered live.
These events would not be possible if it weren't for the collaboration efforts between the NOGs in the Asia Pacific. Particular thanks goes to all the Program Committee volunteers from the NOGs in South East Asia.
I'm joining the @apnic SE Asia community today for a new type of conference: Networking from Home. #nfh pic.twitter.com/u6t5ScX4Da

— Jonathan Brewer 🇳🇿🇸🇬 (@kiwibrew) June 2, 2020
Join the next NFH!
NFH South Asia will take place on 17 June: register now. If you have a great presentation you'd like to share with the community, submit a paper before 12 June.
In total, there will be four free online events, held in the time zones of South East Asia, South Asia, East Asia and Oceania, and everyone is welcome.
---
The views expressed by the authors of this blog are their own and do not necessarily reflect the views of APNIC. Please note a Code of Conduct applies to this blog.