2019 was a busy year with the implementation of four policy proposals, each of which had different challenges and complexities.
IPv4 delegation
prop-127: Change maximum delegation size of 103/8 IPv4 address pool to a /23 reached consensus at APNIC 47 in February. To ensure fairness to those who at that moment had a current IPv4 resource request, the APNIC Executive Council (EC) decided to implement it with immediate effect while waiting for the final endorsement of the proposal.
APNIC Services staff worked closely with the NIRs to ensure all pending IPv4 requests, if approved, had a maximum of a /23 delegation size. Existing requestors were communicated with regarding the newly implemented policy.
Following the policy implementation, there was a slight decline of IPv4 delegations across all sub-regions before recovering in the later part of the year.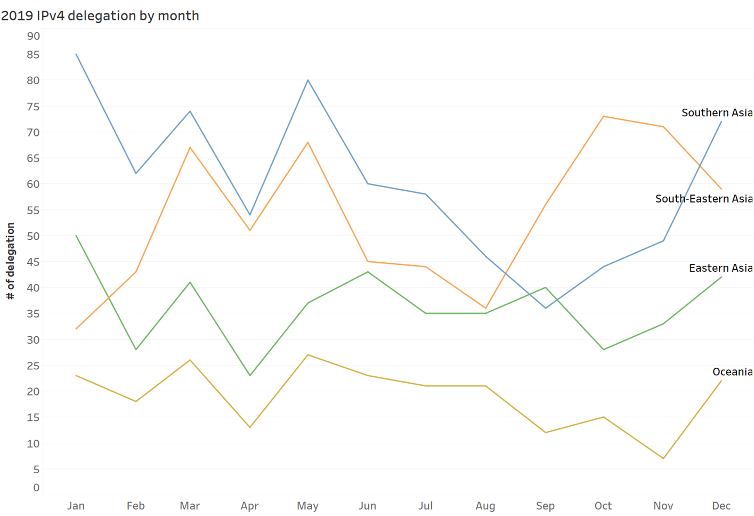 In terms of size, South Asia received the largest IPv4 delegation in 2019, followed by South East Asia, East Asia and Oceania.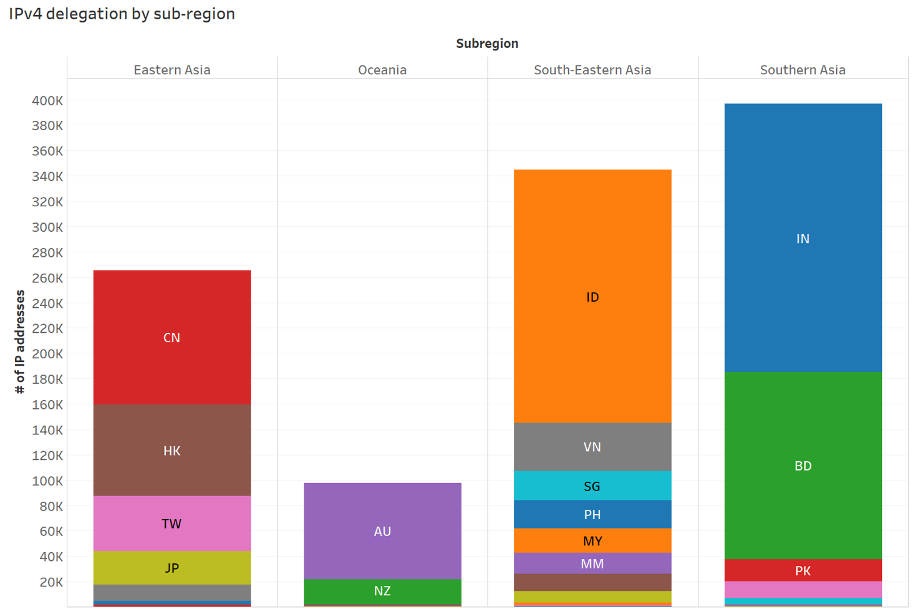 Another IPv4-related policy proposal, prop-129: Abolish Waiting list for unmet IPv4 requests, was implemented in July. After notifying those on the waiting list about the policy change and delegating around 10 x /22s to those at the top of the waiting list in late June, APNIC now has no more non-103/8 space to distribute. The public waiting list was removed shortly afterwards.
ASN delegations
Following its implementation in July, prop-128: Multihoming not required for ASN made it easier for organizations to receive an ASN.
Any organization running an independent network and requiring interconnection with another AS would qualify for an ASN delegation. This new policy, however, made no discernible impact on the rate of ASN requests. The occasional peaks in South Asia, South East Asia, and East Asia were just normal AS block allocations to NIRs in those sub-regions, which they will subsequently distribute in their respective economies.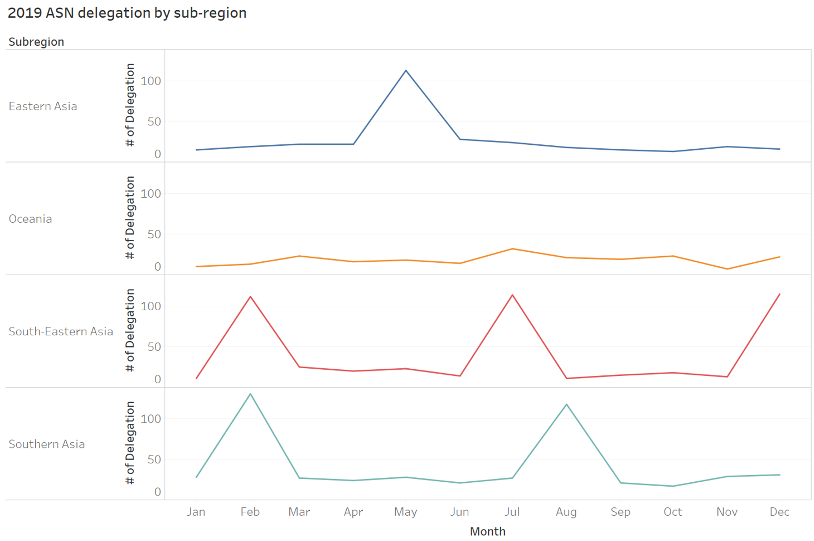 Indonesia, India, Bangladesh, China and Australia were the top five economies that were delegated the most ASNs in 2019.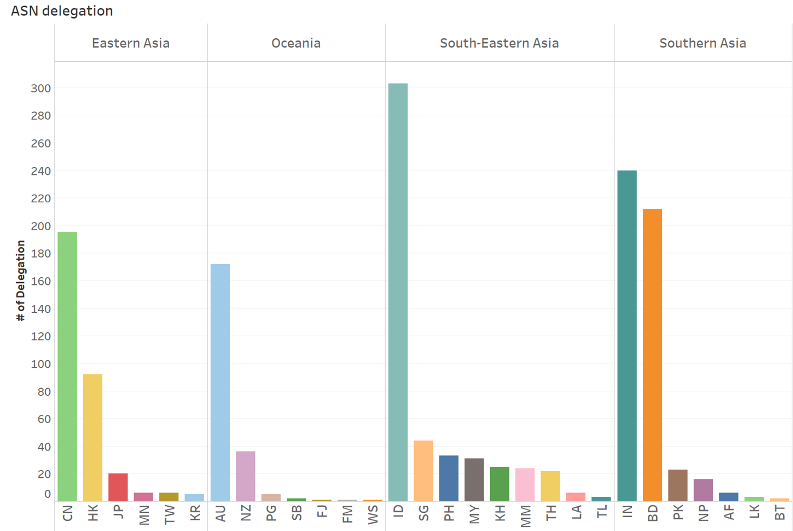 IPv6 delegation
China received the largest space in 2019, primarily from a few large allocations to research and education networks, as well as cloud application providers.
The top 10 economies receiving IPv6 space in 2019 were, in order, China, Australia, Singapore, Indonesia, Bangladesh, India, Taiwan, Viet Nam, Japan and Hong Kong.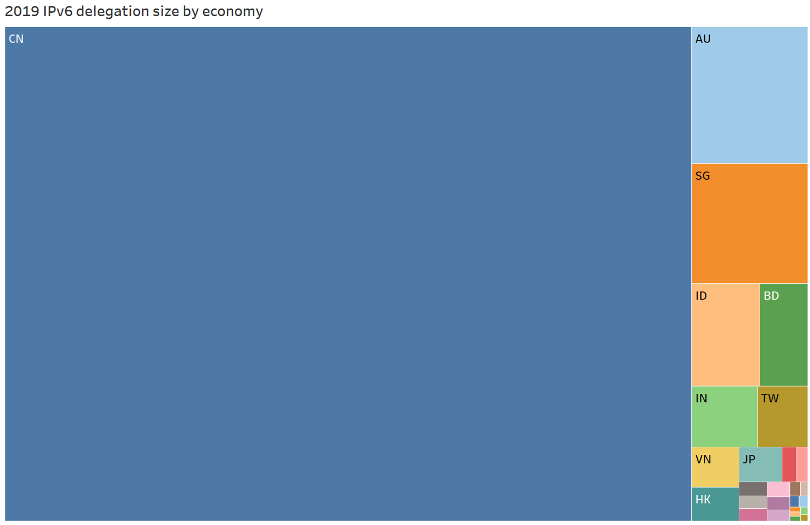 South East Asia received the largest number and growth of IPv6 delegations, followed by South Asia, East Asia and Oceania.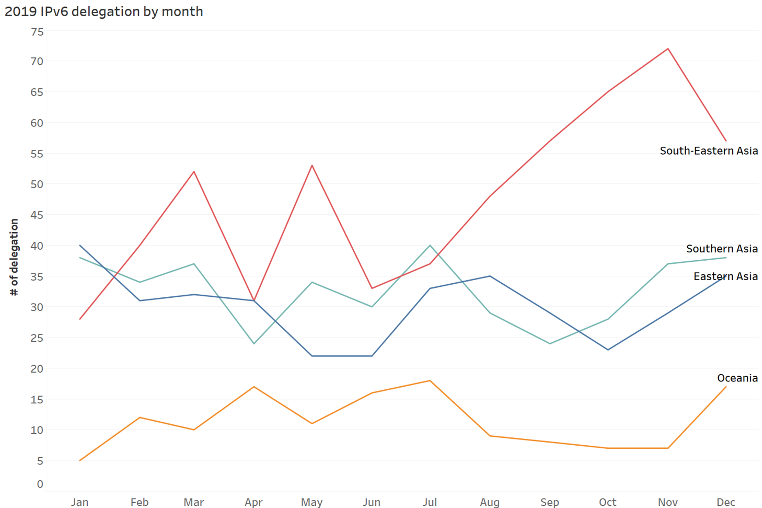 Transfers
IPv4 address transfers continued to grow during 2019, led by the top five receiving economies — China, Japan, Hong Kong, India and Australia — which as it happens, is the same as 2018. A ten-fold growth of transfers in China was caused by a few consolidations of IPv4 holdings from multiple organizations into a single organization. India's two-fold growth was caused in a similar way.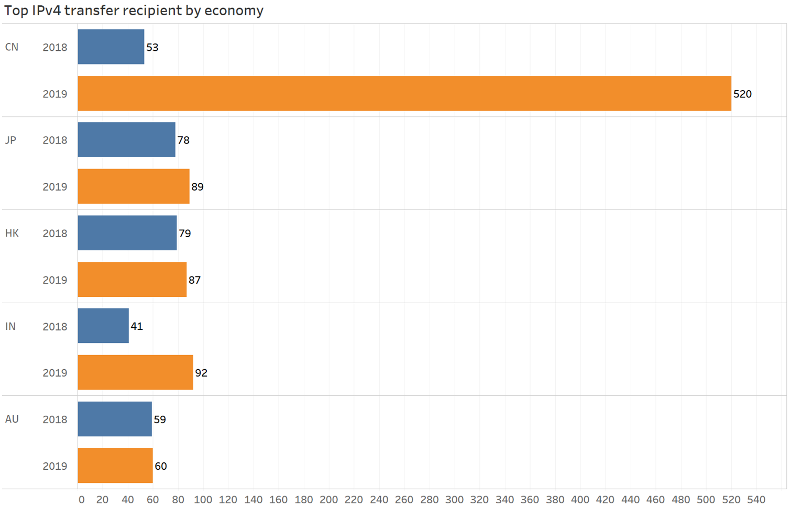 Membership
Like 2018, more than 800 new Members joined APNIC, increasing the membership base to more than 7,700. The majority of new Members identified themselves as either an ISP, hosting/data centre, enterprise, financial organization, or telecommunication/mobile operator. Of these, the ISPs have the highest growth rate.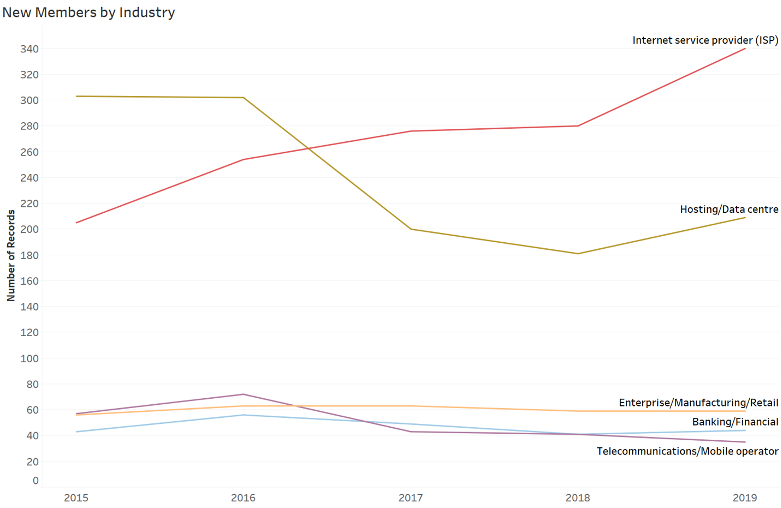 Helpdesk
While policy proposal prop-125: Validation of "abuse-mailbox" and other IRT emails was endorsed in 2018, its implementation was only completed in 2019 as it required some significant system development. Its deployment also increased the workload of APNIC staff, who are required to follow-up resource holders who failed the IRT validation process and are penalized by losing their access to MyAPNIC.
APNIC implemented temporary measures to avoid operational issues to Members as a result of implementing this policy, and these will be reported at the APNIC 49 SIG Policy meeting in Melbourne, for further policy implementation guidance by the APNIC community.
APNIC Services workload in 2019
1,472 IPv6 delegations
2,027 IPv4 delegations
1,560 ASN assignments
675 IPv4 market transfers
521 Merger & Acquisition IPv4 transfers
21,958 helpdesk tickets handled
2,623 voice calls
3,401 online chat sessions
9,400+ Member invoices and receipts processed
732 instant feedback received and processed
---
The views expressed by the authors of this blog are their own and do not necessarily reflect the views of APNIC. Please note a Code of Conduct applies to this blog.