(Left to Right) Hirotaka Nakajima, Jigs Sev and Hasna Khairunnisa discussing How to enhance collaboration between Tech and IGF communities in APAC region (Photo:
APrIGF
)
Recently, I attended the Asia Pacific Regional Internet Governance Forum (APrIGF 2018) in Port Vila, Vanuatu, as a fellow.
It was a four-day conference to discuss APAC issues on Internet governance with various stakeholders. It was the first time a Pacific Island economy hosted the APrIGF, and also the first time I attended the conference and organized a workshop.
With the growing number of complicated issues on the Internet landscape, we need collaboration between the technical communities and Internet governance (IG) community to tackle new problems.
On Day 3 of the APrIGF, I organized a workshop entitled, 'WS38: How can we enhance the collaboration between Tech and IGF communities in APAC?'. The aim of the workshop was to share case studies of collaborations, and discuss what kind of cooperation is useful for the future. It was highly interactive; participants and speakers from a range of economies and stakeholder groups shared their experiences and opinions.
How can we support non-technical people from technical communities?
Regulators and policymakers are critical to making ICT policy, however, they sometimes lack experience/knowledge and struggle with highly technical issues. On the other hand, not many engineers are interested in policies or politics. I think there is a gap between the two groups and I believe that we can support such a situation in the technical community.
Some governments of APAC economies have controversial discussions on issues such as Internet blocking and shutdowns, and those issues are often discussed in Network Operator Groups (NOGs). Some regulators or law enforcement representatives attended NOG meetings and call for comments from engineers/operators. It is an interesting trend of dialogue on policy that reflects the industry's voice. Jigs Sev (DICT/PhNOG, Philippines), a speaker who is involved in both the government and technical community, shared his experience on getting input on developing ICT policies from industry or technical people through PhNOG.
One of the speakers, Hirotaka Nakajima (Mercari, Inc., Japan) referred to the Virtual Currency Governance Task Force, which is an ongoing multistakeholder project involving academia, the private sector, the technical community and the public sector to provide practical information for both operators and regulators. They published a document as an Internet-draft at the IETF on the security considerations of crypto assets custodians, as several custodians have suffered security breaches, including loss of customers' assets.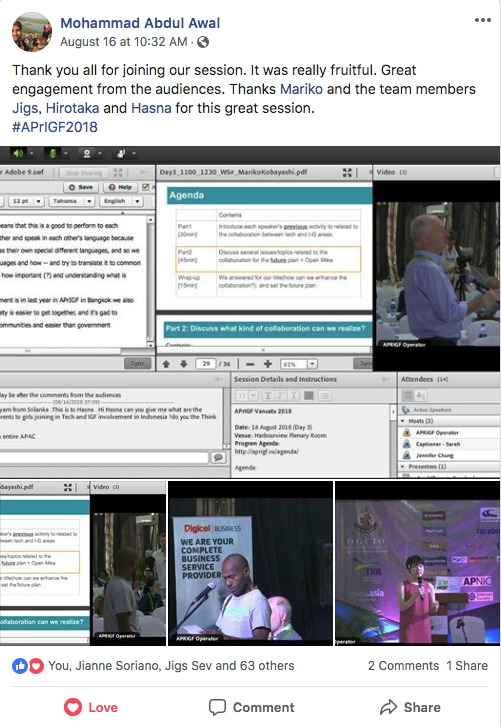 Highlighted suggestion from audiences: 'Organizing IG event with tech/academic conferences.'
To encourage dialogue, making 'exchange points' was one idea discussed. Just inviting technical people to the Internet Governance Forum (IGF) doesn't work, as most of the issues discussed in the IGF are not technical topics and are not relevant to engineers. Therefore, we discussed having a regional forum (such as IGF/regional IGF/NRI events) in conjunction with technical/academic meetings or conferences as an effective way to include the technical community to discuss issues together. We do not intend to force all of them to join the IG discussion, but we think that connecting people who are interested in both areas would be helpful.
The 2018 Applied Network Research Workshop (ANRW 2018), an academic conference, was hosted in conjunction with IETF 102 to create a collaborative venue for both academic and technical communities. The attendees of the IETF freely participated in the sessions, and academic speakers got feedback from people who work on Internet standards. Can we work on a similar structure?
What's next?
Discussion from the audience in this workshop made me realize that people are willing to collaborate between the technical or IG communities, but they struggle to include them. There was some very valuable discussions and ideas, including organizing IG events alongside tech conferences. I plan to organize a workshop/forum to discuss a specific topic including technical and IG people for the next step, and I hope you can join us!
Mariko Kobayashi is a computer science student, a Board member of the WIDE Project and fellow of APrIGF 2018.
---
The views expressed by the authors of this blog are their own and do not necessarily reflect the views of APNIC. Please note a Code of Conduct applies to this blog.