Last month, the APNIC Blog achieved a milestone: surpassing 1 million views in just under four years of existence.
We're excited by the achievement and it wouldn't have been possible without the contribution of so many people in the APNIC and global technical community.
Since August 2014, more than 180 people have contributed 341 Guest Posts to the APNIC Blog (out of a total of 1,463 posts!).
Guest Posts have included insights into the latest research and best practices for routing, network engineering, measurement, and security; opinions on Internet Governance; personal accounts of what it's like to be a female working in the ICT industry; recounted experiences from NOG, IETF and ICANN events; as well as a wide range of amazing capacity development projects.
Content aside, the APNIC Blog has allowed people in the community to share their thoughts and experience with a far larger audience outside their own professional circles; unearthing a host of truly novel and useful case studies, contacts, and resources for you, the readers.
So a big thanks goes to you for reading the blog — we're glad you've enjoyed the articles!
Giving you more of what you want
Earlier this year, we ran our first reader survey to learn more about what topics you enjoy reading about, how you're notified about stories, and what we can improve.
For the majority of the 87 respondents (all of whom we are grateful for taking the time to complete the survey), stories about Internet Protocol, case studies and network security were of most interest.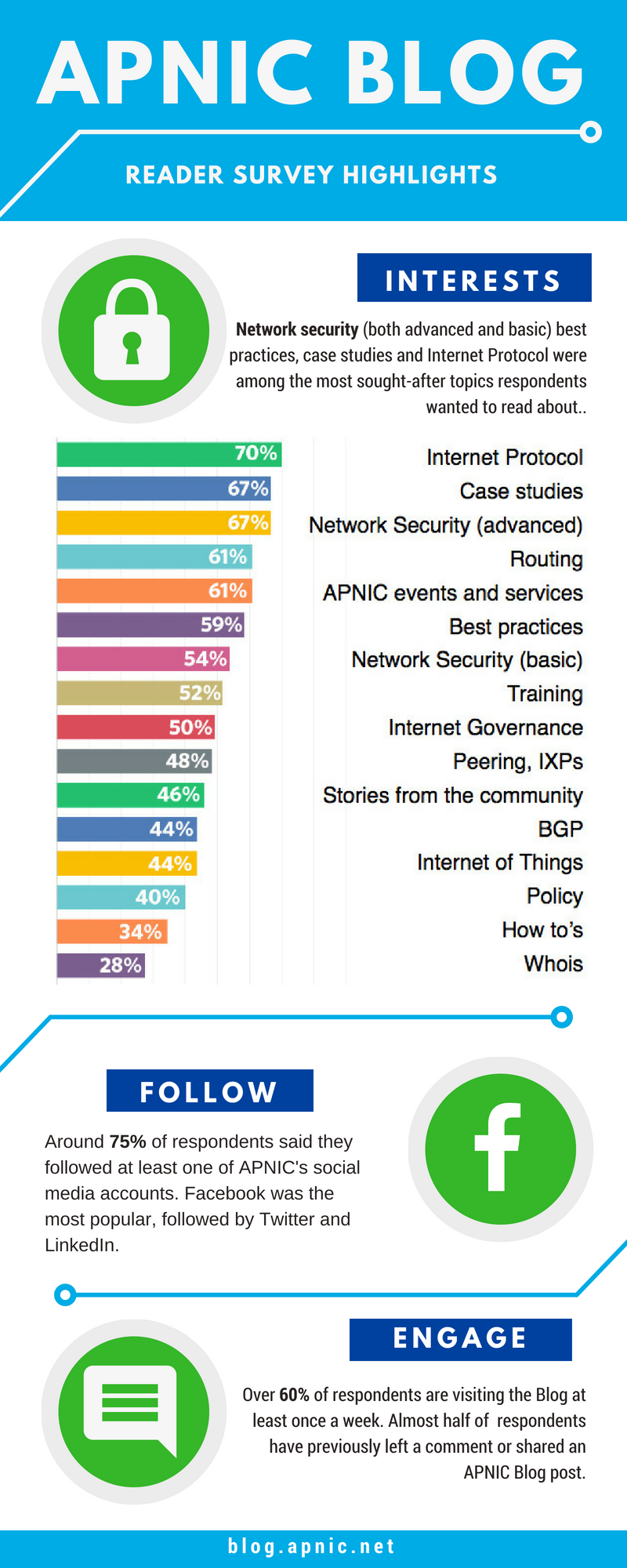 Based on your feedback, one thing that we have implemented are 'key point' summaries for our longer posts, and we are planning to embed more interactive features in stories, including features from our APNIC Stats Portal.
We hope these additional features, as requested by you, along with the continued contribution of those of you in the community will help to further improve the APNIC Blog and allow us to keep filling the role of a regional and global source of news and views for the Internet numbers and technical community.
If you have any other thoughts on how we can improve, or would like to contribute a story, leave a comment below or get in touch at blog@apnic.net.
And thanks again for reading!
---
The views expressed by the authors of this blog are their own and do not necessarily reflect the views of APNIC. Please note a Code of Conduct applies to this blog.