Sofia Silva Berenguer presenting at LACNIC 29.
APNIC participated at LACNIC 29 in Panama City, Panama, from 30 April to 4 May 2018.
The first of two annual conferences of the year for the Latin American and Caribbean Internet Addresses Registry, LACNIC 29 welcomed 800 participants and included:
The LACNIC Technical Forum is a new feature of LACNIC meetings, which brings together the  Security Forum (LACSEC), the Interconnection Forum and the IPv6 Forum, in one technical program under one program committee.
During the LACNIC 29 Public Policy Forum, there were ten policy proposals discussed, with the following reaching consensus and entering the last 'Call for comments' period: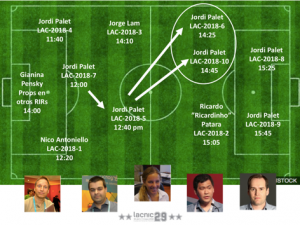 Another new feature of this LACNIC event was a meeting room set aside for 'commercial presentations' by sponsors. This gave an opportunity for any sponsor to freely present their products and services, without the need to submit presentations to the program committee.
APNIC activities:
Sofia Silva Berenguer presented the APNIC Update on APNIC's activities and new service initiatives.
Sofia also presented on the BGP Data Collection Project that she is managing at APNIC at the 'Initiatives of data collection' session and at the LACNIC Technical Forum. There was interest expressed from some of the participants on future collaboration activities.
Paul Wilson participated at the ASO Review session, where he reported on the process to date in the APNIC community.
Paul also presented the NRO Update on behalf of the Number Resource Organization.
LACNIC 30 will be held together with LACNOG 2018 in Rosario, Argentina, from 24 to 28 September.
---
The views expressed by the authors of this blog are their own and do not necessarily reflect the views of APNIC. Please note a Code of Conduct applies to this blog.