Last month, I attended the LACNIC 28 meeting, held in my home city Montevideo, Uruguay.
Before working at APNIC, I worked as a hostmaster at LACNIC before being encouraged to join LACNIC's technical team, which led me to do my Masters project researching the interconnections of Autonomous Systems.
Apart from the excitement of catching up with my former workmates and other colleagues in the Latin American community, I was really looking forward to participating in the 1st LACNIC Hackathon.
Being my third hackathon, I wanted to get the most from it, so I decided to propose a challenge and become a champion instead of just being a participant. With some help from my co-workers, George Michaelson and Byron Ellacott, I came up with an idea for a project: 'RPKI in the neighbourhood'. The goal was to code a tool that when given an ASN, it would show the level of RPKI deployment of its BGP neighbours.
I wrote a proposal — including a brief description of what RPKI is, the goals for the project, and the modules into which it could be divided in order for the participants to work in parallel in different tasks — and sent it to the organizers, who liked it and agreed to publish it.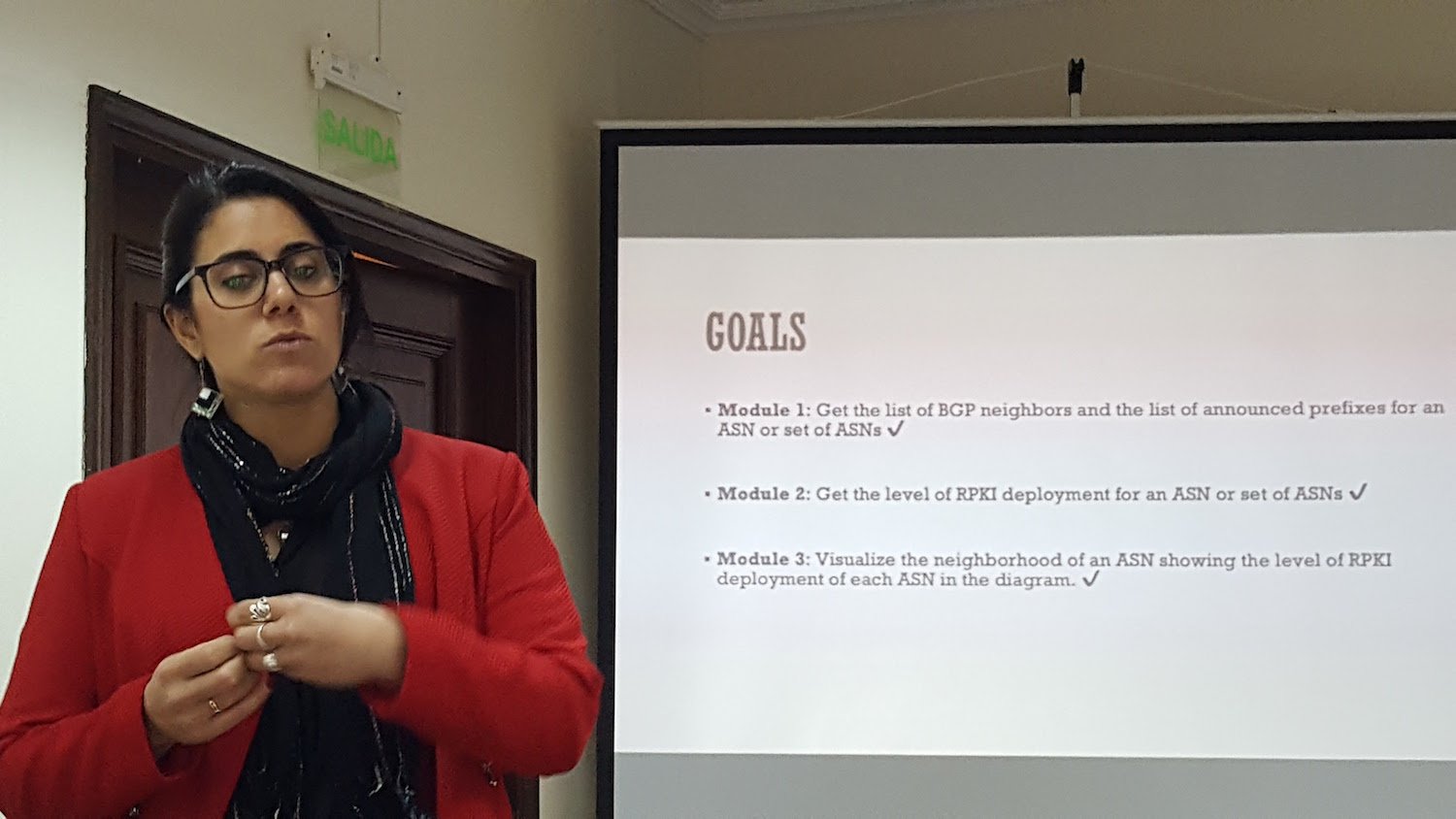 The day the hackathon started, I presented my challenge to the group, emphasizing that having a full understanding of how RPKI works was not mandatory in order to contribute to this project. Three guys joined me: Jesus, Diego and Agustin, and we also had some help from Christian O'Flaherty (ISOC) (Thanks, Christian!).
Diego is a C programmer so he started working on his module with C but I managed to evangelize him and convince him to use Python instead (because of the py-radix and the netaddr libraries, which made it much easier to perform advanced searches and summarizations of IP prefixes). Agustin is a high school teacher who didn't have much experience programming, but with some help from Christian, he managed to adapt some sample code for D3.js (a tool for visualizing graphs) and could implement the visualization module.
Not only did we spend a weekend working hard but we also had some fun, socializing over beers and burgers at the social on Saturday evening.
On Sunday morning, we wrapped up and prepared our presentation. A jury evaluated all the solutions based on their novelty, how much they fit the proposed problem, their level of completion, and the quality of the oral presentations. They also imposed a handicap on the teams made up of experts in the thematic of the project.
We were already happy we had accomplished our goals but were more so when we were told we got the maximum score amongst the four teams, which allowed us to choose the prizes first. I chose a power bank.
So, I brought home a new hackathon experience, some code I will use for my work, and a nice gadget.
After participating and having great experiences at the RIPE NCC Hackathon in Amsterdam in April the IETF Hackathon in Prague in July and now LACNIC, I have a feeling I'm becoming a 'hackathonholic'.  I love the concept of collaborative work and I really enjoy being able to discuss topics related to my work with people from different backgrounds.
I'm already looking forward to the next hackathon, and hopefully one at an APNIC conference — I'm considering proposing we do one in the future.
If you think having an APNIC Hackathon is a good idea and/or you're interested in participating in one, please contact me at sofia@apnic.net or leave a comment below.
---
The views expressed by the authors of this blog are their own and do not necessarily reflect the views of APNIC. Please note a Code of Conduct applies to this blog.