Bluesky Cook Island Network Engineers Teariki Strickland (left) and Lane Parkes are working on developing Cook Island's Internet infrastructure in the lead-up to the Pacific nation connecting to the Manatua Polynesian Cable.
Earlier this year, Bluesky Cook Islands launched the country's first 4G LTE services, covering the two largest islands, Rarotonga and Aitutaki. The news was welcomed by many local Internet users and visitors, who, like many Pacific Islands inhabitants and tourists, primarily connect to the Internet via mobile devices.
The service has greatly improved Internet access and connection speeds — however, its full potential is not expected for another two years, when the economy connects to its first intercontinental submarine cable, the Manatua Polynesian Cable.
Stretching over 4,500 km, the Manatua Polynesian Cable will link Samoa and French Polynesia, with branching units to Niue, Rarotonga and Aitutaki. It will have a capacity of up to 30 terabits per second — almost double that of the Southern Cross Cable. Bluesky's Lane Parkes says this will be an extreme upgrade from the nation's current satellite connections and back-up link, and will provide a more stable connection for the isolated nation.
"We currently access the Internet via low latency and high-capacity O3b satellites, and we've got a low-capacity GEO backup link to New Zealand," says Lane, who has been a network engineer with Bluesky (previously Telecom Cook Islands) for over a year. "Our maximum broadband connection is about 15Mb/sec over ADSL+. However, most of our customers sign up for a cheaper plan, which can be capped at 8Mb/sec or lower."
Lane says the O3b Satellite service is currently the most cost-effective Internet access solution in the absence of submarine cable connectivity. However, it operates in the KA band, which suffers from considerable rain fade. When the O3b link goes down, the backup service over GEO satellites is unable to cost-effectively provide an acceptable restoration service.
Read Geoff Huston's article on the potential of new satellite Internet projects like O3b.
Lane says this backup connection is scheduled to be decommissioned in the near future with investment diverted to improving the O3b Service as a backup to the eventual cable. "Connecting to the Manatua cable will improve Internet service availability, latency and capacity with satellite becoming the backup and prime Internet access connectivity for ten of the remaining populated islands of the Cooks," he said.
Developing capacity to support future network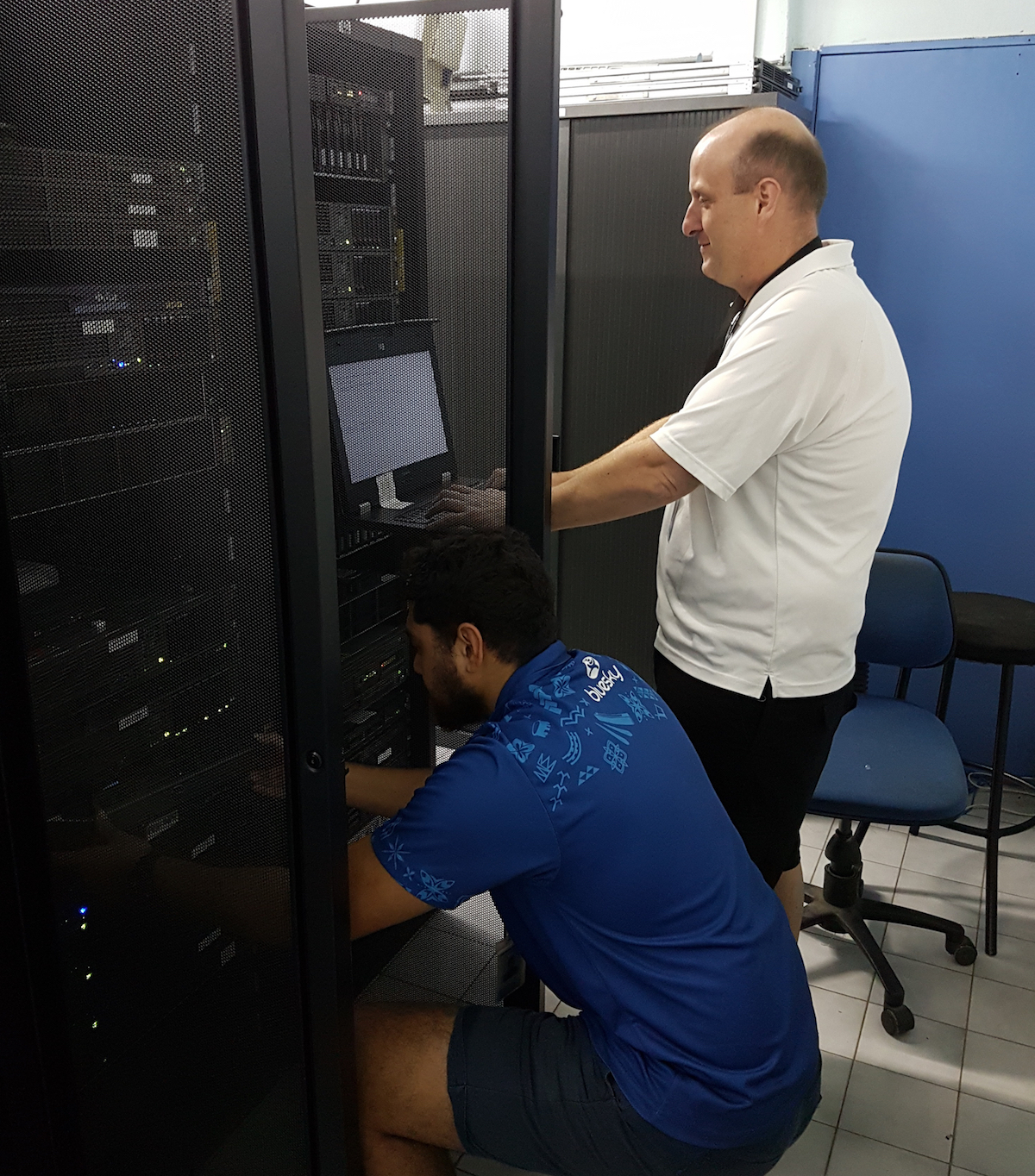 Bluesky Group has deployed 4G+ across all its markets (Samoa, American Samoa and Cook Islands) and in Rarotonga has upgraded its fibre network to a 10 Gigabit MPLS ring around the island. Bluesky Cook Islands is also in discussion with vendors about deploying a FTTX and VDSL2+ network for its customers.
"It's all about updating and increasing our network capacity so that when the submarine cable lands, we can just plug it in and our customers will be able to immediately take advantage of the higher speeds the cable will offer," says Teariki Strickland, who has been working for Bluesky for just over three years.
Lane says for young network engineers like Teariki, being involved in these upgrades has been invaluable for their professional development and is normally something they would have had to travel overseas to experience.
"I know the interns that we've had come through recently have really enjoyed being involved in the upgrades, which hopefully encourages them to choose network engineering as a career," says Lane.
It's challenging being the only ISP
Bluesky Networks is the only ISP in the Cook Islands, serving 13,000 residents and around 160,000 annual visitors. It was rebranded from Telecom Cook Islands in July 2015 after American Samoa-based telecommunications company Bluesky Group acquired a 60% share of the company earlier that year – the Cook Islands government still owns the remaining 40%.
Lane says that being the only ISP has its challenges, particularly balancing its obligation to provide an affordable connection for such a small, sparse population, with the need to be profitable.
"Connecting the outer islands is a challenge. The cost of installing and maintaining that equipment is the same whether we are connecting 100 people or 5,000 people. Obviously, if we were connecting more people we'd have more revenue, which we could use to provide Over the Top services that other countries do, but it's going to be awhile before we can offer these.
"A lot of tourists don't understand why they shouldn't stream Netflix when on holiday but they need to realize that this is not a necessity of these local communities. It's about balancing costs and needs, which is a common challenge that telcos across the Pacific face."
---
The views expressed by the authors of this blog are their own and do not necessarily reflect the views of APNIC. Please note a Code of Conduct applies to this blog.