It has been just over a year since ChinaCache officially launched CHN-IX, the first Internet Exchange (IX) in China. After overcoming its various challenges, I am very glad to see the IX concept gaining acceptance in the community  — and making it to the title line of an official summit.
ChinaCache, in conjunction with the China Data Center Committee (CDCC), hosted the 2017 Data Center and Internet Exchange Summit themed "Fostering the DC Ecosystem in China" in Beijing on May 17.
This is the first time that the concept of an Internet exchange has been in the spotlight at a summit in China. Over 200 attendees across a number of industries, including financial professionals and governmental representatives, came together to learn more about the trends of the data centre and IX space in China.
A strong lineup of keynote speakers from industry-leading names highlighted topics that varied from IX to the engineering and design elements of constructing a data centre.
ChinaCache's CEO, Mr Song Wang, said that the Internet in China is dominated by the three big carriers and there is no true Internet because they do not interconnect well, and because the majority of data centres are still carrier-owned.
Mr Jinghua Zhong, director of CDCC, spoke about the need for Internet exchanges in China, and commended ChinaCache for pioneering IX development in China with the launch of CHN-IX in April 2016. He foresees large-scale IX development in mainland China becoming an imperative.
As the data centre industry in China continues to progress in conjunction with the western world's increasing interest in the Chinese market, understanding the current landscape in mainland China and how to best improve it are of paramount importance.
Many basic data centre functionalities that are taken for granted in the western world, such as even basic interconnectivity within the same data centre, are not available in data centres owned by major carriers in mainland China. Getting connectivity from one carrier data centre to another (by another carrier or by a third-party provider) is also very hard to do.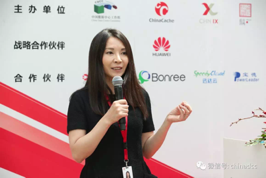 ChinaCache's Atecsys Data Center Campus in Beijing is not only one of the largest data centres in Beijing, but also boasts being China's truly carrier-neutral data centre and home to China's first IX — that is, CHN-IX. The data centre has received Uptime Tier III certification and was awarded the 2016 Best Internet Data Centre in China by CDCC.
I had the opportunity to speak on the specific use case of IXs around the world and also the current status of CHN-IX's development. Our strategy has been based on building awareness and understanding of IXs in mainland China. We have also had to overcome the issue of lacking standard cross-connectivity.
We reached over 50 members at the end of the first quarter of 2017 and expect to reach around 70 at the end of 2Q2017.
Building on the 2017 Data Center and Internet Exchange Summit, ChinaCache hopes to spread its knowledge of Eastern and Western tech trends throughout mainland China and spur the discussion on how China's tech sphere can continue to keep pace with its rapidly developing economy and standing in the world.
Yali Liu is Vice-President of ChinaCache, and is responsible for global business development as well as sales and marketing for ChinaCache North America and Asia Pac.

---
The views expressed by the authors of this blog are their own and do not necessarily reflect the views of APNIC. Please note a Code of Conduct applies to this blog.