Last month, the National IT Professionals Association of Afghanistan (NITPAA) held the inaugural Afghanistan School on Internet Governance (AfSIG).
Forty participants (29 male, 11 female) were selected from over 160 applicants to attend the two-day event, which was held at Karwan University, Kabul.
I became involved in organizing the event when I attended an NITPAA meeting in October 2016, after returning from a Fellowship at APNIC 42 in Colombo, Sri Lanka.
NITPAA had been working for the past month on the concept of hosting a national SIG, with many of its committee members, such as myself, having attended APNIC 42, INSIG 2016, PKSIG 2016 and SANOG 2016 as Fellows to gain knowledge and experience of holding such an event.
Under the supervision of coordinators Waleed Khaliqi and Nasrat Khalid, I was given the task of finding sponsors for the event. While it seemed like a difficult task in the beginning, it turned out to be quite simple, which is a reflection on the community here in Afghanistan and how they want to be associated with events that seek to improve the capacity of our industry.
These thoughts were echoed by Karwan University's Chancellor, Mr S Hamid Rohani, during his welcome speech, in which he said that events such as these are key to the future success of students, as they provide them with the opportunity to meet industry leaders, and to get exposure to international speakers and themes like Internet governance.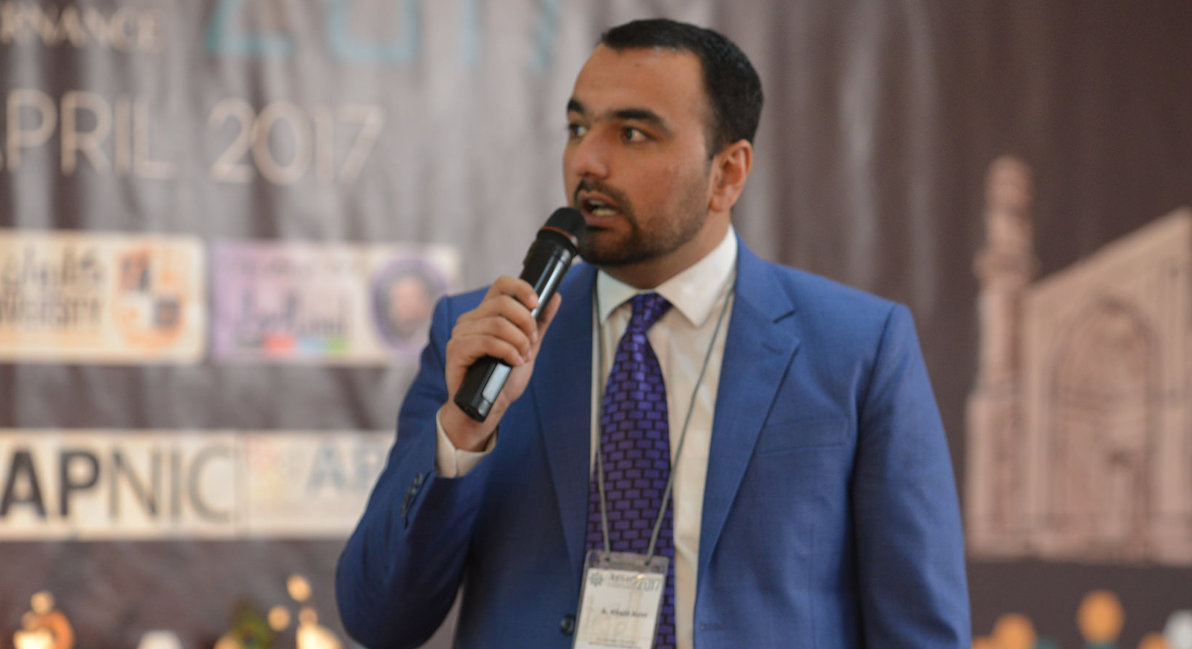 Among the international speakers were Rinalia Abdul Rahim from ICANN, Satish Babu from APRALO, Leonid Todorov from APTLD, Adli Wahid from APNIC, and Nighat Dad from Digital Rights Foundation.
What was most pleasing, though, was the enthusiasm the students themselves showed, particularly when they were given the chance to ask questions of speakers during each session. There were challenging questions on local and global issues, and topics related to the Internet, some of which included:
Who is accountable for our security and privacy in cyber space?
Who controls the Internet and how?
Why is Internet connectivity so expensive in Afghanistan?
What role can the Internet/ICT play for learning and education?
How can we make the Internet gender neutral and safer for Afghan women?
During a session that I presented on the Internet ecosystem in Afghanistan, attendees were most interested about the black-listing of Afghanistan IPs, reasons behind latency issues, and IPv6.
Special thanks must go to the Karwan University, who hosted the event, local companies Liwal Soft and Wasel Telecom, and ICANN Middle East for their financial support, as well as IO-Global ISP for sponsoring the 10Mbps Internet connection for the two days.
Given all the great support we received and the consistent enthusiasm over the two days, I'm confident that AfSIG will return next year to educate another 40 students on the world of Internet governance.
A Khalil Azizi is the IT Unit Manager for The American University of Afghanistan and Executive Board Member of NITPAA.
---
The views expressed by the authors of this blog are their own and do not necessarily reflect the views of APNIC. Please note a Code of Conduct applies to this blog.