Professor Kanchana Kanchanasut has been influential in connecting Thailand's rural population to the Internet.
The world is gearing up to 5G access by 2020 with gigabit per second speeds and sub-millisecond latencies. However, a significant fraction of the population (estimated at three billion or more) are still without basic Internet access.
There have been several initiatives that have sprung up in recent years that are aimed at tackling some of the fundamental challenges of enabling universal Internet access.
One such initiative is the notion of community networks, where communities get together and pool resources to connect to each other.
How do community networks work?
Community networks, although being technology neutral, predominantly use unlicensed wireless (both 2.4 and 5Ghz spectrum) and are often connected as mesh networks operating over both infrastructure (point-to-point) and ad-hoc wireless modes, and predominately using the Optimised Link State Routing (OLSR) protocol (some community networks use other routing protocols such as the BMX6 and Babel).
A good example of a successful community network is the Guifi.net in Cataluña, Spain, which is the largest community network in the world with 40,000+ nodes. For those who are interested to read more about community networks, the Internet Research Task Force (IRTF) Global Access to the Internet for All (GAIA) research group has published an informational RFC (RFC7962).
Exploring novel ways to connect communities to the Internet
At the Networking for Development Lab (N4D Lab), University of Cambridge, we have been researching activities related to community networks through the EU FP7 CONFINE and EU H2020 RIFE projects.
We have been exploring novel ways of connecting community networks using Future Internet architectures, for example, defining new software-defined network and information-centric networking abstractions for large-scale wireless mesh networks and enabling scalable delivery (multicasting) of content and services in community networks.
I have also been working with several organizations in Africa that are currently deploying community networks, including Ensemble pour la difference in the Democratic Republic of Congo (see Project First Light).
Establishing community networks in Thailand
My colleague, Adisorn Lertsinsrubtavee, who coordinates the EU H2020 RIFE and UMobile projects at the N4D Lab, and I, recently conducted a study on community network efforts in Thailand. Although Thailand has a greater Internet penetration compared to its neighbours Myanmar, Cambodia and Laos, two-thirds of its population still do not have access to broadband Internet.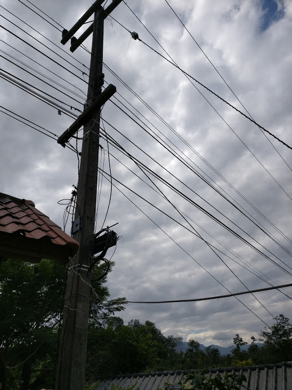 The Thai government has done a great job of promoting fibre connectivity to major villages around the country (predominantly carried over poles, thus drastically cutting deployment costs; see Figure 1). Most of the connectivity is along national highways, which many adjacent villages have been able to connect to. However, the majority of villages still have traditional VDSL connectivity, which, in itself, is often cited as expensive to the villagers with monthly costs starting from ฿590 (USD 17) for a 30Mbps/5Mbps connectivity.
Professor Kanchana Kanchanasut and her team at IntERLab, Asian Institute of Technology (AIT), established TakNet as an academic project in late 2012, with financial support from the Thai Network Information Centre Foundation and initial equipment donation and motivation from the Network Startup Resource Centre.
Currently, 14 households in the village of Samakee are connected as a wireless mesh network (using a mix of Ubiquiti wireless routers, TP-Link routers, including the smaller version MR3040) to an Internet gateway hosted at a village hall, which has a single ADSL backhaul. To ensure sustainability, the cost of the backhaul was repaid equally by the households that were connected, in doing so reducing the cost from ฿1000 (USD 28) a month to ฿80 (USD 2) a month per household.
The project, which connected around 10 active users, has now grown to connect more than 300 users in 2016. Due to the latent demand that was created, the network operator (3BB) has now installed a new DSLAM and has provided more copper lines to the village. For a detailed understanding of the network and how the users used the network, read our ACM SIGCOM AINTEC paper [PDF 480KB].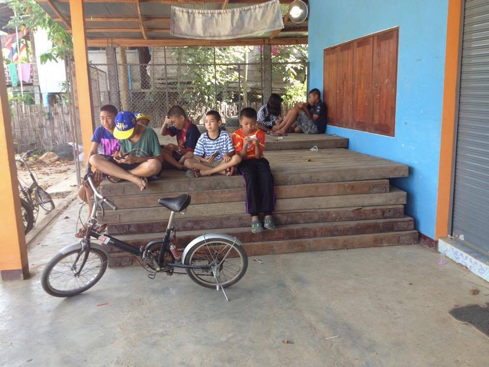 The network has been extremely successful even attracting children from nearby villages to pop into the village town hall (where the WiFi network is open to all) to do their school homework and play online games. This observation is in line with the 2014 Alliance for Affordable Internet (A4AI) Affordability report that notes that Internet newcomers get access to the Internet through common places such as government offices, libraries, schools, and hospitals.
A rather inspirational story we listened to when we recently visited the village was from a child from a neighbouring village who could not afford a smartphone or laptop (let alone a broadband connection at home). They were able to borrow a laptop from the local Buddhist temple and use our network to do their school homework.
In 2015, Professor Kanchana and her team expanded their community networks to the village of Ban Mai, located in the Mae Tan district of the Tak province. The network is called TakNet2.
TakNet2 connects 20 households to the Internet through a single fibre backhaul using a similar wireless mesh network used in Samakee. The cost of the backhaul is shared among households, which equates to about ฿100 (USD 3) a month per household.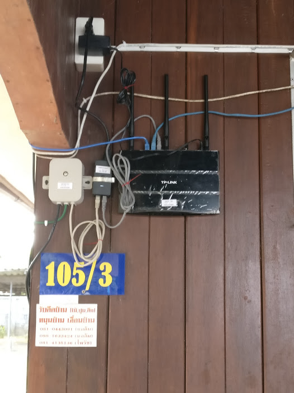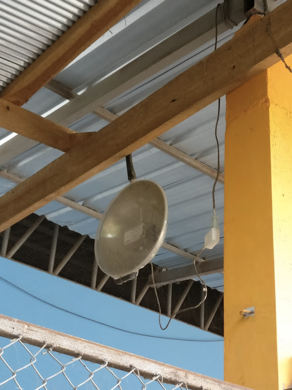 WiFi router (left) and a wok serving as a directional antenna (right) in the Thai Samakee village community network.
Following the success of TakNet1 and TakNet2, Professor Kanchana and her team started a social enterprise in late 2016 called 'Net2home', and in the process connected another community, Mae Tan municipality (TakNet 3), in the Mae Tan district, Tak province.
Net2home serves as a cross between a wireless Internet service provider and a community network operator, where the infrastructure and connectivity are provided by the social enterprise while the network itself serves as a community mesh network, with users agreeing to be part of the network and paying for the incurred electricity costs as well as the monthly fees.
Net2home pays ฿1600 (USD 46) a month to the network operator for the fibre backhaul while charging ฿250 (USD 7) a month to each household. Apart from the fibre cost, the monthly charge also covers maintenance costs, equipment installation, technical online support, network management and monitoring.
Broadband speed tests show that network support speeds up to 6Mbps per download and 2Mbps per upload (the test was conducted at the node located two hops away from the gateway).
Net2home now connects more than 65 households across the three villages. Each village has one or more local technicians who have been trained by Professor Kanchana's team.
Future networks in the pipeline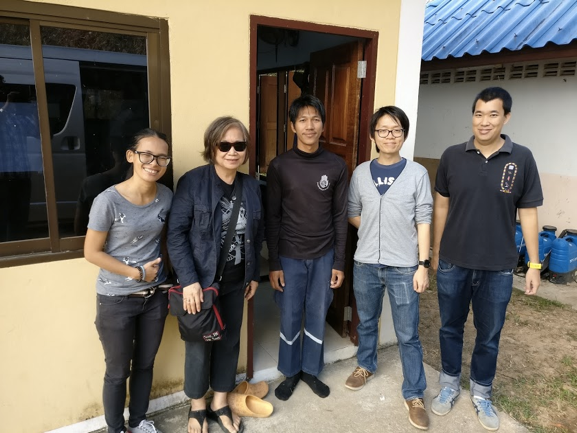 The outlook is extremely positive and exciting. The N4D Lab via the EU RIFE project has funded 30 routers (TP-Link Arhcer C7 AC1750) to be installed in a new community nearby the Thai Samakee village over the coming year.
AIT has also been awarded a grant from the National Broadcasting and Telecommunication Commission to do trial experiments on TV White Space (TVWS) in collaboration with the N4D Lab and ICTP. The project is the first to deploy the TVWS network in Thailand, with plans to install a TVWS backhaul connecting the Thai Samakee village network to the Internet.
Read: TakNet – A community white space wireless network
Adisorn, who leads the TVWS efforts at the N4D Lab, along with the AIT team, has started carrying out TVWS spectrum measurements using low-cost spectrum analyzer tools built by ICTP to understand specific channel occupation and interferences. The data can be used to build a real-time localized geolocation database that will be used by the TVWS network for establishing connectivity.
Dr Arjuna Sathiaseelan is a Senior Research Associate at the Computer Laboratory, University of Cambridge, and leader of the Networking for Development Lab.
---
The views expressed by the authors of this blog are their own and do not necessarily reflect the views of APNIC. Please note a Code of Conduct applies to this blog.