Earlier this month, the Pacific Network Operators Group (PacNOG) held its 19th meeting in Nadi, Fiji.
Now in its twelfth year, PacNOG is one of the oldest Network Operator Groups in the Asia Pacific and one of the most diverse, serving members from more than 20 economies throughout the Pacific. Although each economy has varying levels of Internet connectivity, they share similar challenges.
The key challenge discussed at PacNOG 19 was security, which was the unofficial theme of the conference on the first day, and the focus of one of the four-day workshops.
During the conference, APNIC's security specialist, Adli Wahid, gave a presentation on recent security incidents, and talked about the benefits of cybersecurity communities, including Computer Emergency Response Teams (CERTs) and Computer Security Incidents Response Teams (CSIRTs) – a topic he chatted about during a recent APNIC Live video.
Earlier this year, Tonga became the first Pacific economy to establish a national CERT. This has spurred neighbouring economies to consider setting up their own CERTs as they, and their Internet users, are becoming increasingly exposed to cyber risks.
According to Andrew Toimoana, who shared a case study on the establishment of CERT.to, the process took "just over two and a half years from when CERT.to was first conceived until it was launched". During this time they established a team, developed their skills and relationships, and planned for the future – all critical components of a sustainable CERT.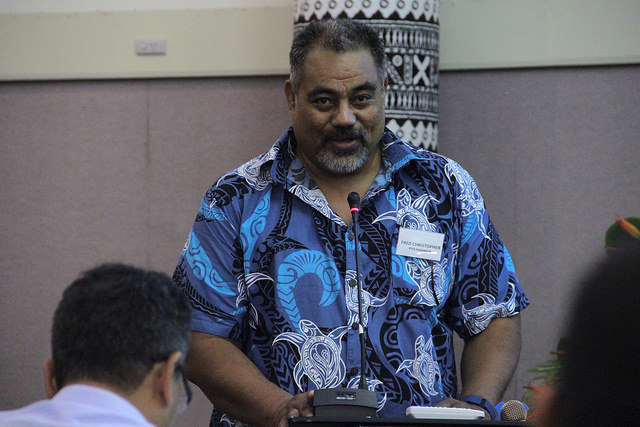 With the growing rollout of broadband in Pacific island economies and the current low awareness of cyber risks, cybersecurity is a new concept that operators need to really "buy into", according to Fred Christopher, Manager of Pacific Islands Telecommunications Association (PITA), one of PacNOG's long-time supporters.
"It's not just about learning the skills to help protect our networks. We need to raise awareness that we need to work as a community to respond to, and mitigate cyber attacks," Fred says.
"An important component of responding to incidents, and mitigating the risk of incidents in the first place, is to share information with fellow operators," something that the security-focused PacNOG sub-mailing list, which was proposed during the meeting, could assist with.
Fred says PacNOG's success has been built on supporting the capacity development needs of the network operator community in the sub-region and also the great support from PacNOG partners, namely PITA, NSRC, ICANN and APNIC.
"We have limited resources in the Pacific, so networking among the engineers is key to make the most of what we collectively have."
---
The views expressed by the authors of this blog are their own and do not necessarily reflect the views of APNIC. Please note a Code of Conduct applies to this blog.