Srimal Andrahennadi at IETF 97
Last month, I travelled to Seoul, South Korea to participate at IETF 97 as an Internet Society (ISOC) fellow, sponsored by APNIC.
I got to know about the fellowship via the ISOC mailing list. I had never participated at an IETF meeting and because it is aligned with my research and Internet development work with the ISOC Sri Lanka Chapter and Sri Lanka Next Generation, I decided to apply. I was one of 12 fellows selected from around the world.
It was a tremendous experience for me with lots of highlights, some of which I'd like to share with the community.
Shown the ropes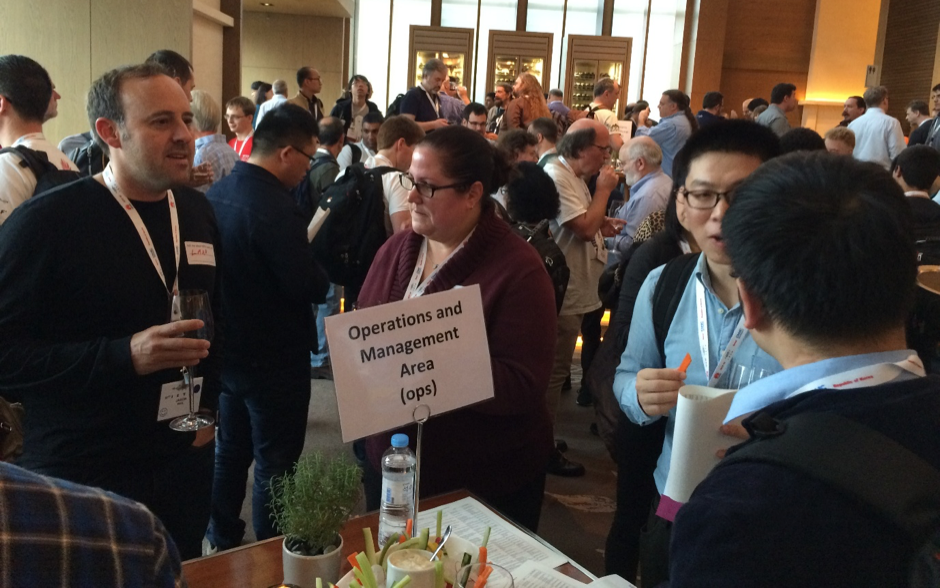 As a first-time attendee and fellow, ISOC sent me a useful guide to the event with relevant information and instructions. We also had an introduction and welcome session on the first day of the conference, followed by a newcomers' tutorial. Throughout the conference, I had good networking opportunities with other fellows and participants.
I was also introduced to my mentor Vinayak Hegde. Vinayak is a software and development architect with more than 15 years' experience who has volunteered at IETF meetings since 2009. He provided me with some valuable guidelines about the IETF meeting and how to select relevant working group sessions.
Apart from the mandatory sessions for ISOC fellows, I participated at a number of Internet of Things (IoT) sessions and Application and Real-Time (ART) working groups; two areas which are related to my career and research.
New views on IoT
One of the IoT security sessions, facilitated by Prof. Kilnam Chon and a panel of experts from Japan, Singapore and Korea, was particularly interesting. There were fruitful discussions about various application topics including sensors, devices, medical applications and the social impacts of IoT. There were very good conversations and a short brainstorming session based on different opinions and perspectives.
During the meeting, I met my friend Harish Chowdhary, another APNIC-sponsored ISOC fellow from India, who is working on setting up an IoT research lab in New Delhi. In Sri Lanka, I'm also planning to undertake some projects relevant to IoT. Most of our interests were similar and we plan to discuss the potential of forming a partnership between India and Sri Lanka for IoT research and training opportunities for young IoT engineers.
Application and Real-Time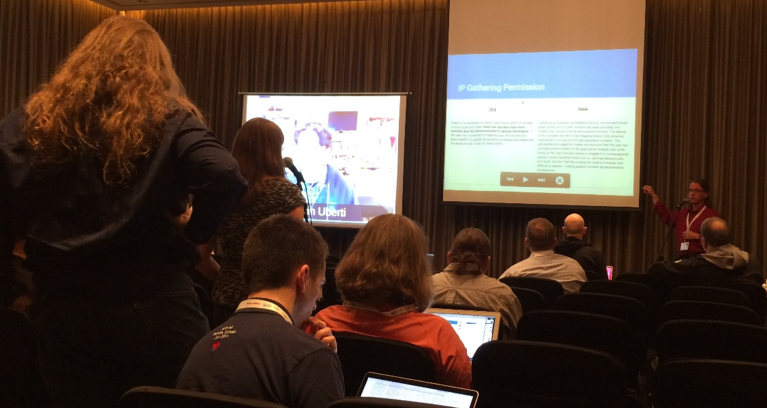 The two ART working groups I focused on were the Constrained RESTful Environments (core) working group and Real-Time Communication in Web-browsers (rtcweb) working group.
There were a few interesting presentations on Object Security COAP, COAP Protocol Negotiation, IP Gathering Permissions and Peer-to-Peer Authentication. They were very active sessions followed by a lively Q&A. The IP Gathering Permissions session, in particular, had many arguments and counterarguments on various aspects such as privacy and user consent.
Congratulating an Internet leader
The Jonathan B. Postel Award Ceremony was an inspiring moment for me. This year's award was presented to Prof. Kanchana Kanchanasut for her amazing contribution towards developing the Internet in Thailand and the rest of the world. It motivated us all towards contributing more to developing the Internet for a better world.
Kanchana Kanchanasut awarded 2016 Postel Service Award at #IETF97 pic.twitter.com/Ip4hsbTO4R

— @IETF (@ietf) November 16, 2016
Sharing my experience with my community in Sri Lanka
This fellowship gave me a great insight into the IETF's involvement in making the Internet a better place. In addition to the knowledge and experience I gained for my work, I plan to share what I gained from the IETF meeting with my local and regional community. I'm planning to do presentations in local technical meet-ups and the academic community, publish articles, and participate at upcoming events organized by SLNG in collaboration with the ISOC Sri Lanka Chapter and APNIC.
I would like to extend my sincere gratitude to ISOC and APNIC for selecting me as a fellow for this great event and sponsoring my fellowship. This will help me to engage more in Internet development activities and community projects in order to create a better Internet for better lifestyles.
Srimal Andrahennadi is the Secretary of Sri Lanka Next Generation (SLNG). He is actively engaged in project work with Asia Pacific Next Generation (APNG), APNIC and ISOC.
---
The views expressed by the authors of this blog are their own and do not necessarily reflect the views of APNIC. Please note a Code of Conduct applies to this blog.