Two weeks ago, I attended the New Zealand ground-breaking ceremony for the Hawaiki Cable, New Zealand and Australia's second trans-Pacific Internet cable.
I attended the ceremony as a long-time advocate of improving interconnections among networks in the Pacific, something that this 14,000-kilometre submarine cable has the potential to improve in the coming years.
The Hawaiki Cable is the first competitor to the Southern Cross Cable Network. It will run from Sydney, Australia, to Oregon, USA, via Hawaii, with branch units to New Zealand and American Samoa, and has the potential to connect several Pacific islands along the way, including Tonga, Fiji and New Caledonia. It will also become the region's fastest international digital connection, at more than 40 terabits per second.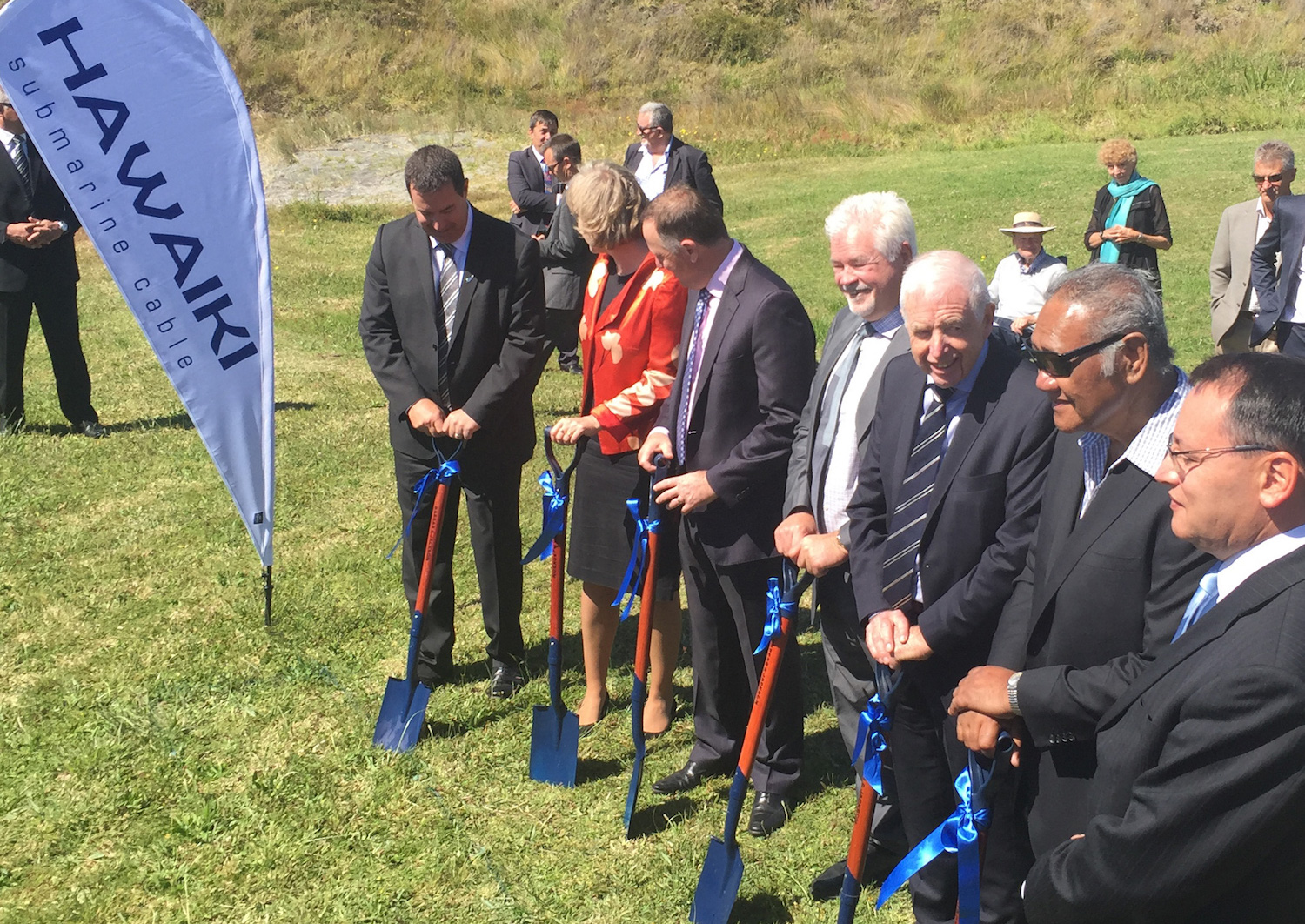 Hawaiki is unique in that it is privately funded, meaning no telecommunication operators will have exclusive commercial rights in any destination market. Tenants of the cable include Equinix, REANNZ, Vodafone New Zealand, and Amazon Web Services.
Cable landings are contentious in some communities, and local opposition has delayed or sunk projects in Hawaii and California in the past. Hawaiki's management team actively sought out communities in New Zealand and other countries to partner with for the landing stations.
Their engagement with New Zealand's Maori around the cable's Mangawhai Heads landing site is a model for community engagement. In Hawaii, the landing partner is DR Fortress, who operate a neutral data centre and the Honolulu Internet Exchange. This will be the first cable to land in Hawaii that's not captured in some way by an incumbent telco, for example, Hawaiian Telecom or AT&T.
This second trans-Pacific cable is expected to improve interconnectivity in the region between Pacific operators and their peers in Australia, New Zealand, and the United States. However, more can still be done to improve interconnectivity between islands.
PacPeer project seeks to inform peering strategies in the Pacific
Many telecommunications networks in the Pacific do not interconnect directly but via international carriers in the United States or Australia. This has a profound impact on both the cost and the performance of regional traffic. While web traffic is slowed, real-time collaborations like Skype are rendered unusable, creating barriers for inter-island collaboration.
For the past two years, I've been working on a project, funded by an ISIF Asia grant, to identify the demand for inter-island communications and the barriers preventing it.
The PacPeer project seeks to produce a regional peering strategy, informed by regional communications requirements and the physical and economic realities of submarine fibre optic cable systems. It's involved interviewing commercial, education, government, and development agencies, with an emphasis on Pan-Pacific collaborations.
All this information is being distilled into a free web resource, which illustrates the social, economic, transportation and telecommunication peering connections between the Pacific islands and will be made available in early 2017.
Ultimately the peering strategy developed from the project will suggest interconnections, including larger interconnections like the ones Hawaiki will potentially provide, that will achieve a good balance of cost and performance for both telecommunications providers and their users.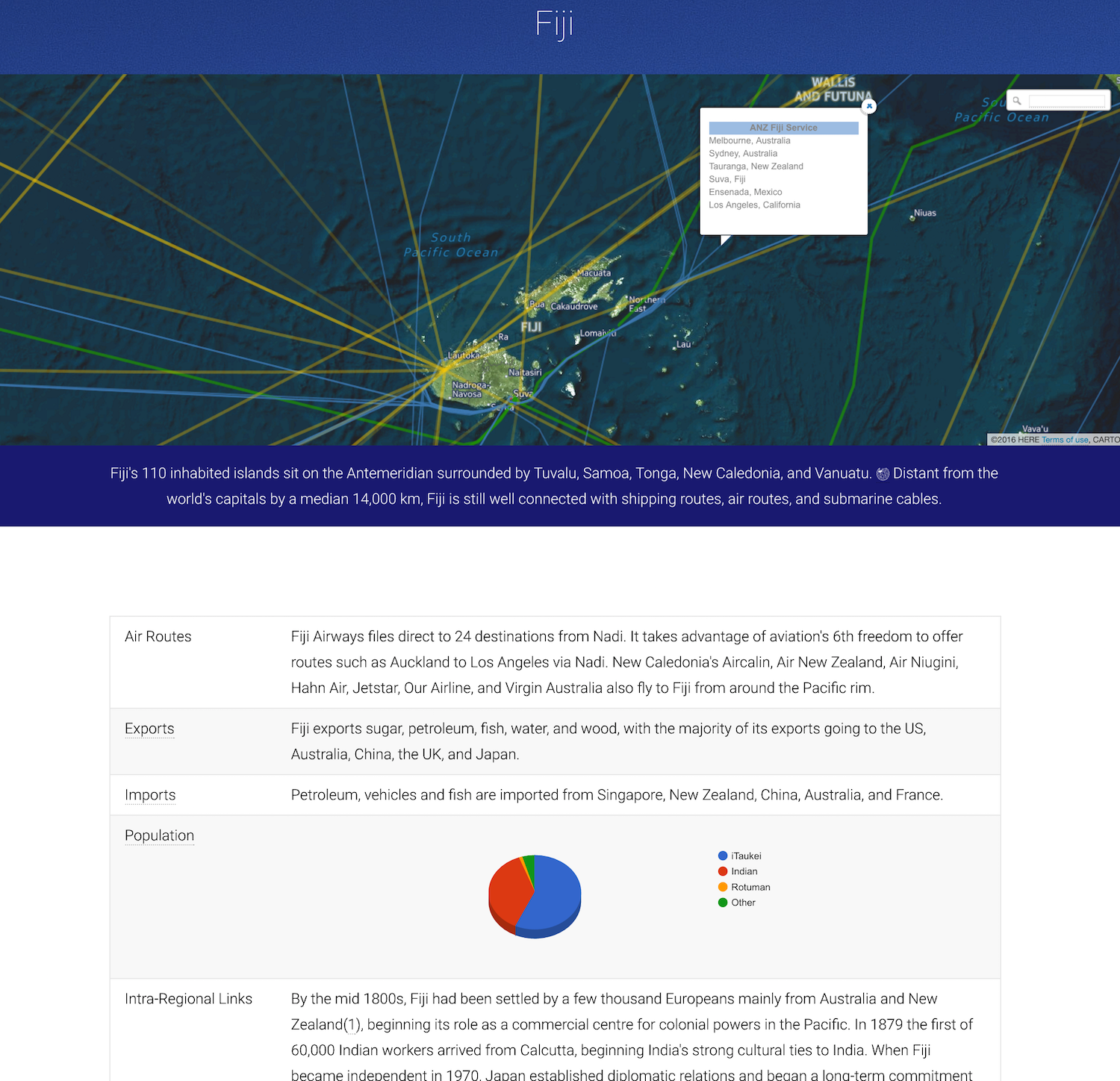 Screenshot of the PacPeer project webpage for Fiji. Users will be able to see all transportation and telecommunication interconnections in the Pacific.
---
The views expressed by the authors of this blog are their own and do not necessarily reflect the views of APNIC. Please note a Code of Conduct applies to this blog.