On Monday we ran a post on APNIC's very first Member – Telstra Corporation Limited – that joined APNIC 20 years ago.
Today we are spotlighting our 5000th Member – Bluewave Broadband Ltd, based in Myanmar, which joined APNIC in late July this year in the 'very small' category.
Currently, Internet penetration in Myanmar is less than 1 percent, and mobile subscription is approximately 2 percent, or 1.24 million subscriptions. The country ranks 22nd in Asia and the Pacific, and 119th worldwide on the UN International Telecommunication Union's (ITU) ICT Development Index.
But technology restrictions are ending and the government is focusing is on mobile Internet. It is expected that more than 50 million people in Myanmar will go online for the first time in the next few years.
Myanmar is a poster-child for how many governments in developing nations are seeing the Internet as a tool for economic and social progress in their country, and prioritizing it's development.
We asked Clement Larroque, Chief Operating Officer of the company, to tell us a little about Bluewave and the opportunities and challenges of Internet development in Myanmar.
Tell us a little bit about Bluewave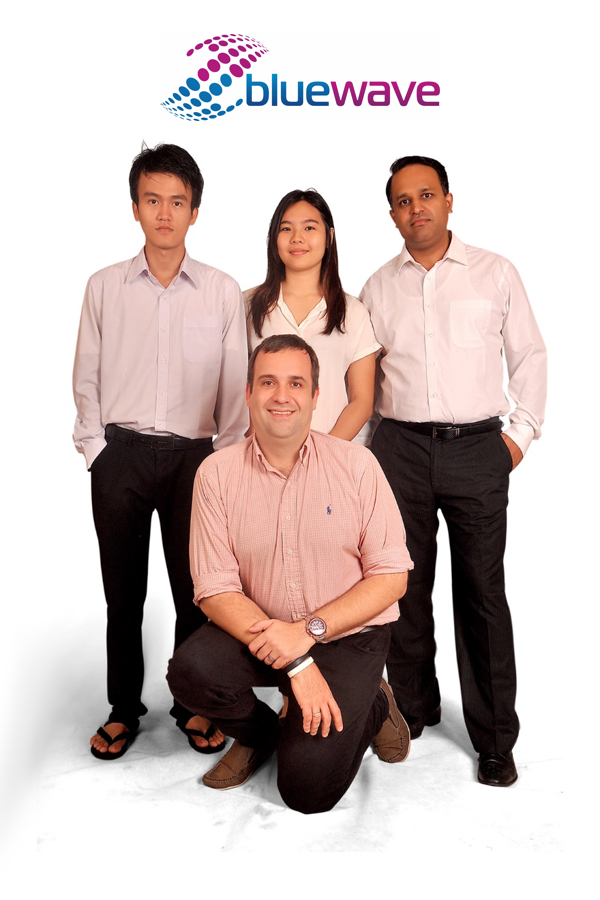 Bluewave is special purpose entity dedicated to terrestrial and satellite broadband services in Myanmar.
The company has recently signed a distribution agreement with Hughes Networks for Myanmar for the provision of VSAT equipment and hubs. The company is also working in country with iDirect, Comtech (VSATs), Ubiquiti, Mikrotik (microwave, access points and CPEs) and other manufacturers of bespoke technologies.
In terms of services, the company is focusing on the following three services in Myanmar:
Provision of Internet access services to B2B and B2C markets
Provision of global connectivity, integrated and managed network services to B2B customers, from physical infrastructure and networking to security and applications
Provision of call centre facilities
What does Bluewave hope to achieve in the next five years?
Our ambition is to become the #1 Internet Service Provider in Myanmar and offer truly high-class Internet and connectivity services in an infant Internet landscape.
We aim to provide world-class standards to domestic and corporate segments in Myanmar (domestic and international) and build our name as the ISP of choice for Corporate connectivity.
How would you describe the Internet development community in Myanmar?
Internet in Myanmar is very much at the infancy stage with limited offerings and generally poor service quality with long outages and unreliable customer support. The only offer that matches the international standards for Internet services are the 3G services from local mobile operators, but these are volume-limited, which does not provide a workable offer for corporate environments.
There are a number of new entrants since 2014 aiming at developing the Internet landscape but the lack of reliable, modern infrastructure means that we are still a few years away from a unified service offer compliant to international standards for connectivity.
The government is however fully committed to the modernization of the overall ICT infrastructure and has been very supportive of new entrants by simplifying the regulations and generally lowering the barriers to entry for foreign operators such as us.
What are some of the biggest challenges and opportunities you see for Internet development in Myanmar?
The biggest challenge is the discrepancy between the demands of a young, Internet-savvy population and the high cost of access from providers enabling only a very low penetration of Internet services.
Our aim is to strike a balance between a quality of service that enables a reliable and high quality access to information, and a price that a young population (with relatively low levels of income and education) will deem affordable.
Of course the opportunity is there to enter a 'virgin' Internet landscape with the best possible and most cost-effective technology to achieve this.
Are you looking at how other economies/ operators are developing their network or are you doing this by yourself?
Absolutely, we are looking to replicate the overall rollout philosophy adopted in neighbouring economies who have undergone similar telco infrastructure developments in recent years (such as Malaysia or Sri Lanka), and adapt it to the constraints of the local market and geography.
How many people does Bluewave employ currently?
Currently we employ just five people however we anticipate raise this number to 20 by year end.
---
The views expressed by the authors of this blog are their own and do not necessarily reflect the views of APNIC. Please note a Code of Conduct applies to this blog.