Tropical storms are a common occurrence in the Pacific; most nations have infrastructure and systems in place to withstand the smaller storms. However, category 4 and 5 cyclones continue to cause extensive damage.
March this year, Super Typhoon Maysak cut a destructive path through the Federated States of Micronesia (FSM). It was the most powerful pre-April tropical cyclone on record in the North-western Pacific Ocean, causing widespread damage, displacing thousands of locals and requiring the government to issue a state of emergency.
These larger storms are become more common and more of a threat to Pacific nations, who are being encouraged to invest more in preparing for them. Telecommunication companies are no exception to this.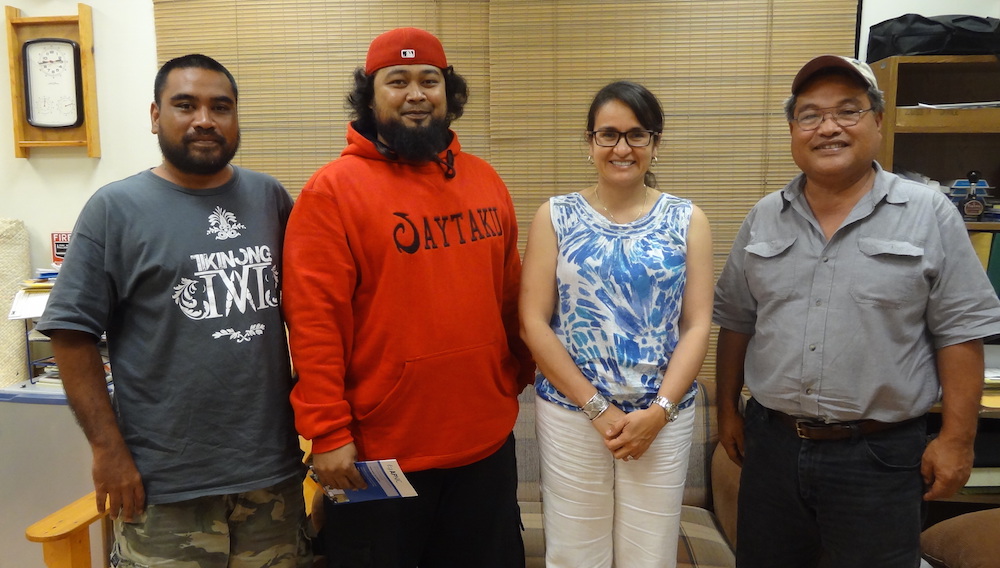 On a recent trip to FSM I met with network operators from FSM Telecommunications, an APNIC Member since 2003. Since April, they have been busy repairing networks damaged by the typhoon. As part of their repairs they have been taking steps to upgrade the network to make it more resistant to typhoons and overall improve the quality of service.
In the state of Chuuk, the largest state in FSM, they are upgrading infrastructure with fibre optics to improve connection speeds, and investigating ways to use and improve wireless networks.
When discussing their challenges, they mentioned that they need more information about devices that can withstand storms as well as the harsh environmental conditions common in the Pacific, for example plastics that don't crack under intense sunlight, salt and humidity.
Listen to Sylvia recount her visit to FSM and her meeting with Isolution Micronesia, a multiple ISIF Asia grant awardee who are creating intranet links between schools through solar powered wireless connectivity in Chuuk.
In terms of human resources, they have made a conscious effort to invest in improving and developing their staff's skills and have developed their own training workshops, which include eLearning. The later is something they are continuing to develop with the help of international trainers, as the opportunity to travel for regional face-to-face training is limited.
Reflecting on my visit, I'm impressed by what such a small service provider has been able to achieve with limited resources, and how dedicated they are towards improving their network. I'm impressed by the patience and methodical approach they are taking in upgrading their network – sometimes impact takes time.
Federated States of Micronesia facts
The Federated States of Micronesia is a small island nation, located north of Papua New Guinea. It consists of 607 islands that are spread across 1.5 million square kilometres in the Western Pacific Ocean. These islands are grouped into four states – Chuuk, Kosrae, Pohnpei and Yap, each with their own government.
Telecommunication in FSM is provided primarily by FSM Telecomm Corporation.
In 2010, an undersea cable reached Pohnpei, but its impact has been limited to date due to the high cost of bandwidth and limited distribution schemes. As such, Internet to most islands is via satellite and wireless technology with a priority of connecting schools.
---
The views expressed by the authors of this blog are their own and do not necessarily reflect the views of APNIC. Please note a Code of Conduct applies to this blog.