Teachers, like farmers, share a passion to cultivate. While farmers cultivate crops or animals, teachers cultivate knowledge among their students.
Onno Purbo is one such teacher, who's made it his life mission to cultivate knowledge about Information Technology among Indonesians.
"The Internet represents an open platform for education and social engagement; a space with less hierarchy and more opportunity, one where the best ideas can be nurtured and shared, and can ultimately rise to the top of an information economy," explains Onno, who is currently a lecturer at Surya University.
"However, education is the foundation for change, not the Internet or technology. Without human resource or capacity the benefits of technology cannot be truly recognised."
This philosophy is key in Onno's vision for an Indonesian knowledge-based society. It is why he has invested so much time giving thousands of seminars, tutorials and lectures, presented at numerous national and international conferences, and written thousands of articles and papers as well as over 40 books on Internet technology – all of which are freely available on the Internet.
For Onno it's a matter of preparing and empowering people so that they can themselves open the door to such a society and, more importantly, encourage others to follow.

Education and human capacity is key challenge
Education is central to the Indonesian Government's development agenda. Although it has increased spending significantly since 2000, net enrollment rates for primary (89%), secondary (66%) and tertiary (11.5%) remain low, in comparison to neighbouring economies.
500,000-600,000 Indonesian tertiary students receive a Bachelor of Science Degree each year – around 10% of all tertiary students. Less than 9% of these Science graduates major in a technology area.
"What this means is that there are a lack of technology and Internet techies in Indonesia," says Onno. "This is a great shame as techies are the people who have helped developed the Internet in Indonesia."
Grass-root projects empower marginal groups
Onno points to the number of grass-roots projects that have made the Internet freely available to Indonesians, which in turn has increased usage and innovation.
"In the early 90s, only a few institutes had a connection to the Internet. ISPs became common in the late 90s and early 2000s but the Internet was seen more of a luxury rather than a necessity."
"At the time I was working for ITB [Institut Teknologi Bandung or Bandung Institute of Technology], which was committed to providing Internet access to not only their students and researchers, but to the wider community in the hope of developing the Indonesian nation.
"In 1998 we started playing with early 900Mhz & 2.4GHz radio band to wirelessly connect over 20 other Indonesian educational institutions. The government later wanted to charge us to use the 2.4GHz radio band so we petitioned to liberate it for the benefit of the people. This led to pro-poor and pro-people changes in regulations that resulted in a decision on 5 January, 2005 to make the 2.4 GHz band in Indonesia open for all Indonesians to access without fees."
With a more open platform for connecting to the Internet, Onno says the floodgates of innovation opened as techies took advantage of their newfound opportunity to create large-scale, wireless networks. Without having to pay license fees to access the radio band, an individual computer network can broadcast Wi-Fi signals a long distance, meaning that a single account with an ISP can be shared with an entire neighbourhood.
One 'legendary' innovation was the Wokbolik, developed by Gunadi, a member of the Indonesian wireless mailing list.
"I remember there being a conversation on our mailing list about if it were possible to use a cooking wok for an antenna to extend the range of Wi-Fi. We joked about it but Gunadi actually made it happen."
Costing $35, the Wokbolik can increase Wi-Fi reach from 100 meters to 4-5 kilometers.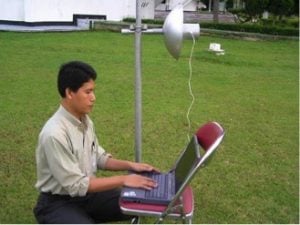 Onno says the broad uptake of network sharing using bottom-up infrastructure developed by techies such as the Wokbolik and RaspberryPi for stream servers, is only the beginning of what will hopefully result in positive social changes in Indonesia.
"It is a bottom-up revolution based on simple solutions, openness, and empowering the most marginalized groups. In many ways, the simplicity and appropriateness of this model, particularly its human resource element, is similar to other approaches to development often found in agriculture."
Onno hopes that his continued efforts, the efforts of those we have profiled in this series and the efforts of all the people who have helped develop Internet in Indonesia, many of which are attending the APNIC 40 conference in Jakarta, 8-10 September, will benefit their local Indonesians.
"A person's value is not determined by their title, wealth, position, knowledge that he possesses … a person's value is determined by his or her benefit to society. For that reason we will continue to build human capacity along with networks."
---
The views expressed by the authors of this blog are their own and do not necessarily reflect the views of APNIC. Please note a Code of Conduct applies to this blog.