Indonesia, May 1997. You send an email to a colleague working two streets away in the bustling city of Jakarta. Unbeknown to you, the email would travel half way around the world and back to arrive at its intend inbox.
This was a reality for many Asia Pacific economies before the year 2000, where all national online communication needed to be routed via the USA or Europe. Not only was this time consuming, it was expensive – some ISPs were paying USD 88,000 a month for international bandwidth, a cost they passed onto their customers.
As the need for local connectivity mounted in Indonesia, ISPs could no longer afford to wait for the government to take action. In June 1997 the Indonesian Internet Service Provider Association (APJII) formed a task-force to develop an affordable Internet Exchange (IXP). Johar Alam Rangkuti, a local ISP operator at the time, played a key role in developing the exchange.
"The IXP became a reality after a meeting we had in a men's restroom, at one person's ISP office," remembers Johar with a laugh.
"We had some smokes and we were thinking 'if we had a switch that everyone could connect to, then that would be an exchange'. So that's what we did."
In August 1997 the Indonesian Internet Exchange (IIX), a logistical network that would connect every ISP in Indonesia to a single exchange point, was officially launched by APJII. But this is only the beginning of the story.
Common sense prevails to develop Open IXP
In the beginning, only ISPs were able to connect to APJII's IXP. Johar says this was ok until corporations and universities could start to get IP address not just from local ISPs but also from external organizations like APNIC.
"These organizations, which included banks and universities, started off small but I remembering thinking that they potentially were a huge source of traffic," says Johar, who was vice secretary general of APJII in early 2000s. "I fought the Association to allow them to connect but they some people didn't share my views."
Firmly believing in what he was saying, Johar set out to develop a new IXP to rival the IIX, one that would be open and free to all users. With help from friends who shared his vision he launched the Open IXP in 2005, which would quickly become Indonesia's largest IXP.
"In early 2005, the peak traffic that the IIX used to handle was 3 GB. Remember, this was only traffic coming from local ISPs. When we launched the Open IXP in late 2005, we were handling almost 30 GB. So my theory was correct, there was a huge amount of traffic outside of Indonesian ISPs."
Johar doesn't look back on his decision to launch an opposing IXP as rebellious, rather as a decision based on common sense and the vision that fast and affordable Internet should be made available to all Indonesians if it is to change their lives. Today, around 650 ASNs are connected to the Open IXP for free.
"The exchange runs independently; nobody owns or governs it. It's just a bunch of networks joined together. Instead of having a team to look after the exchange we have a community that helps one another to solve issues. We have around 500 people on our email list that are top admins in their ISPs and if you have a problem in the exchange, you send an email to the list and chances are that it will be resolved within 10-15 minutes."
Johar says the only cost is the electricity and maintenance bill, as well as the time he spends improving it.
One improvement he is passionate about is connecting the Open IXP to other IXPs in the region.
Connecting IXPs
In relation to other economies in the world, Indonesia has had an IXP longer than others.


In early 2000s, Malaysia and the Philippines recognized the success of Indonesia's IXP and sought out Johar's help in creating an IXP for their country.
"Because I was involved in setting up all these IXPs, which are relatively similar, I've always played with the idea of connecting them all."
In 2014, Johar was able to recognize this concept when he first connected the Open IXP to the Philippines IXP and six months later Malaysia's IXP. He says there have been some technical problems but the results are promising.
Some of these results he plans on sharing at the upcoming APNIC 40 conference held in Jakarta.
Ever the optimist, Johar believes the project will be a success and will continue to improve Indonesian's Internet access and growth for many years to come.
What traffic passes through the Open IXP?
Since 2005, traffic through the Open IXP has grown from 30 to 180 GB. Traffic is spread out among the 650 peers.
Gaming is a growing source of traffic but the largest sources remain the big telcos, followed by a local file sharing website. However, these combined only account for roughly 10-15 per cent of traffic.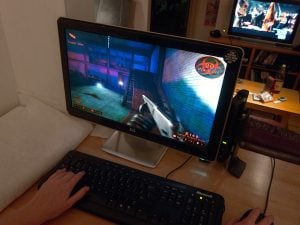 "Traffic tends to start at 8am and peaks at 12pm each day," says Johar. "This is different to many other countries where highest traffic is during night."
"Interestingly, the highest traffic each week is during Wednesday. I don't know why this is, but it continually is.
"The busiest time of the year is during March and April and the slowest time of the year is during Ramadan."
Johar says that Governments have asked to peer at the traffic but the sheer volume of traffic passing through the exchange makes it impossible.
"If you are talking about copying content from one port to another, you have to a have a physical port to mirror the traffic. You couldn't push 180 GB through the biggest port on the market at the moment, which is 10 GB. So technically it is not possible."
Johar says he and the industry will continue to take a 'civil disobedience' approach to the concept of Government regulation, and peer by continuing to grow traffic quicker than development of port size.
"The Internet is an interesting thing that Governments find hard to grasp. They seek order, and to do that they need to create laws. The Internet doesn't run like that. The Internet runs as long as the majority of people agree to one thing. When this happens the thing becomes standardised or the law of the Internet.
"This is what I love about the Internet, the sense that the community controls it and will be something I will forever fight for."
Johar Alam Rangkuti is currently the Chairman of Internet Data Centre Indonesia and the Administrator of OpenIXP. He founded IDC Indonesia, Indonesia's largest carrier neutral data centre in 2000 and has held a number of roles over the years including heading APJII (Indonesia's Internet Service Provider Association), and establishing his own ISP advisory consultancy. He is an advocate for Internet exchanges and is an in-demand speaker at many national and international forums.
---
The views expressed by the authors of this blog are their own and do not necessarily reflect the views of APNIC. Please note a Code of Conduct applies to this blog.