Sanjaya, APNIC's Deputy Director General, is somewhat of an 'Internet pioneer' in Indonesia.
"1993 was the first time I saw the Internet", he recounts. "I was working as a Finance Industry Support Manager for IBM, in Jakarta, and we had our own global network, which connected to the Internet. At first peek, all I could see was a collection of research papers and conversations between university researchers."
He remembers clearly seeing the potential in the budding network.
"I saw such a useful information-sharing tool. I've always been passionate about knowledge-sharing. I thought the Indonesian people needed that and I had to provide it to them."
Acting on this hunch, Sanjaya quit IBM in 1994 to establish the first commercial ISP in Indonesia – PT IndoInternet (Indonet).
Establishing an ISP Association
It wasn't long before other ISPs started sprouting up, and by 1996 there more than 10 operating in Indonesia.
The government soon started to realise the ongoing benefits of the Internet. But not knowing how to regulate it, Sanjaya remembers the government encouraging ISP operators to create an ISP association.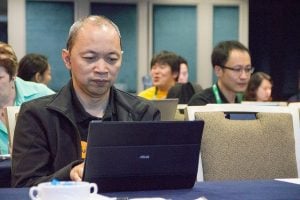 In 1996, Indonesia Internet Service Provider Association (APJII) was established. APJII started with 12 members. Their aim was to negotiate and consult with government policy-makers, and foster a healthy environment for ISPs to operate. Their first order of business was to set tariff guidelines for ISPs.
"You can't simply apply a telecommunication mindset. This is something that some governments even today struggle with but they are getting better at acknowledging and adapting."
In 1999, APJII joined APNIC as a confederation Member, and became a National Internet Registry in 2002. APJII's NIR programme, branded IDNIC, now has over 700 members.
ISPs finding their niche
Sanjaya particularly applauds Indonesian ISPs' ability to adapt to the changing landscape.
"It was a classic free market environment; before too long everyone found their individual niche", he says.
"As such, the ISP market is thriving in Indonesia."
Sanjaya puts this down to Indonesia's love for new technology, business sense and willingness to pursue a good idea, the later of which Sanjaya credits his own success.
"As with most fast moving technologies, the situation when I started my ISP was rapidly evolving and some things like regulation where far from clear. When taking essential business risks, I came to the conclusion that it was better to ask forgiveness than permission."
Connecting more people to broadband
Fast-forward 15 years, and Sanjaya now uses his vast experience to serve the entire Asia Pacific Internet as Deputy Director General of APNIC.
He says the Internet in Indonesia, like many Asia Pacific economies, still has challenges to overcome, the largest being connecting people outside of cities.
"Because of Indonesia's geography, being an archipelago, it has always been a challenge to connect people in regional areas. In the past we have had to rely on satellites and microwave to connect certain cities, which isn't ideal as you get speed penalties."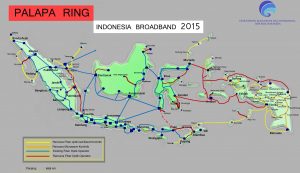 Sanjaya says broadband fibre networks are becoming more common but there needs to be a greater effort to connect fibre networks between islands with sea cables. He hopes the proposed government-backed fiber optic project, dubbed as Palapa Ring II, will help.
The project entails laying 8,395 kilometers of undersea fiber optic cables along the eastern shores of the country to provide broadband Internet. With completion expected by 2018, it will provide the backbone for Internet connections across the archipelago's 33 provinces, and 460 cities and districts.
The project expands on the Palapa Ring I network, which was laid along the western shores in 2009.
Sanjaya also points to the creative ways local ISPs use Wi-Fi technology to overcome the lack of infrastructure in remote areas.
"The benefit is that it is quicker to roll out Wi-Fi than it is cable to remote places."
Deploying IPv6 to obtain major gains
Sanjaya says this infrastructure will not only connect more people in the country but also increase opportunities to do business over the Internet and implement more machine-to-machine technologies.
The later, he says, will also require the country to upgrade to IPv6 if it is to see major gains.
"With hundreds of billions of devices chatting away in the near future, the need for IPv6 is becoming as important as the need to connect people to the Internet."
Sanjaya is optimistic that Indonesia will embrace IPv6 deployment because as a nation, there is a great love for new technology.
"We have a word 'gotong-royong', which roughly translates to working together to achieve something great. The Internet is an embodiment of this spirit; in the way local network nodes interconnect and eventually became the global Internet. I see this spirit as central to helping Indonesia becoming a powerful player in the Internet world."
---
The views expressed by the authors of this blog are their own and do not necessarily reflect the views of APNIC. Please note a Code of Conduct applies to this blog.