As APNIC 40 draws closer, we turn our attention to the conference host country, Indonesia.
Indonesians have a reputation: they love to talk. This national passion to communicate has always been strong, but in the last five years has grown as more and more people connect to the Internet.
Indonesians who are active Internet users spend on average more than five hours per day online, far more than say Chinese or Australian users. Almost half of this time is used on social media websites and apps speaking and sharing with friends and family.
Since 2010, the number of Internet users in Indonesia has more than doubled with over 88 million people connected to the Internet today, most between the ages of 15-25. Considering it is the world's fourth most populous nation with over 250 million inhabitants scattered over more than 900 islands, this feat is quite incredible.
Given its sparseness and separation, many Indonesians (33%) access the Internet regularly through their mobile devices. However, more and more subsea cables are being rolled out to connect its islands and the economy to the rest of Asia.
In relation to surrounding economies, Internet penetration is still relatively low (34.9%) – Vietnam is at 43.8%, Malaysia 70.4% and Singapore 99% – however, the rate at which penetration is growing is far greater. Although it may be a challenge for the economy to meet the UN's Millennium Development Goal to connect 50% of the population to the Internet by 2015, Indonesia is primed to become the third largest Internet user in Asia by the end of the decade.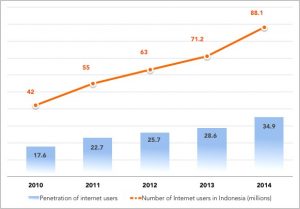 This growth is expected to lead to greater academic, service and economic opportunities for Indonesians. And would not have been made possible without the efforts of many grass-root network operators and the Indonesia Internet Service Provider Association who've laid the foundation of the Internet in the archipelago economy.
This year, APNIC 40 will be held in Jakarta, Indonesia's largest and busiest city.
As we count down to the conference, we spoke to some local Internet champions to learn about the history, challenges and opportunities of the Internet in Indonesia.
Join us over the next five days as we share the stories of some of Indonesia's leaders in the industry and learn how the Internet is set to revolutionize Indonesia.
---
The views expressed by the authors of this blog are their own and do not necessarily reflect the views of APNIC. Please note a Code of Conduct applies to this blog.