The APNIC Blog recently reached some noteworthy milestones: All-time views surpassed four million and the total number of posts published is now over 3,000.
Eight years ago we launched the Blog to not only help share APNIC news and views with the Internet operations community, but to create a place where you, the community, could share your views, research, and best practice with your peers.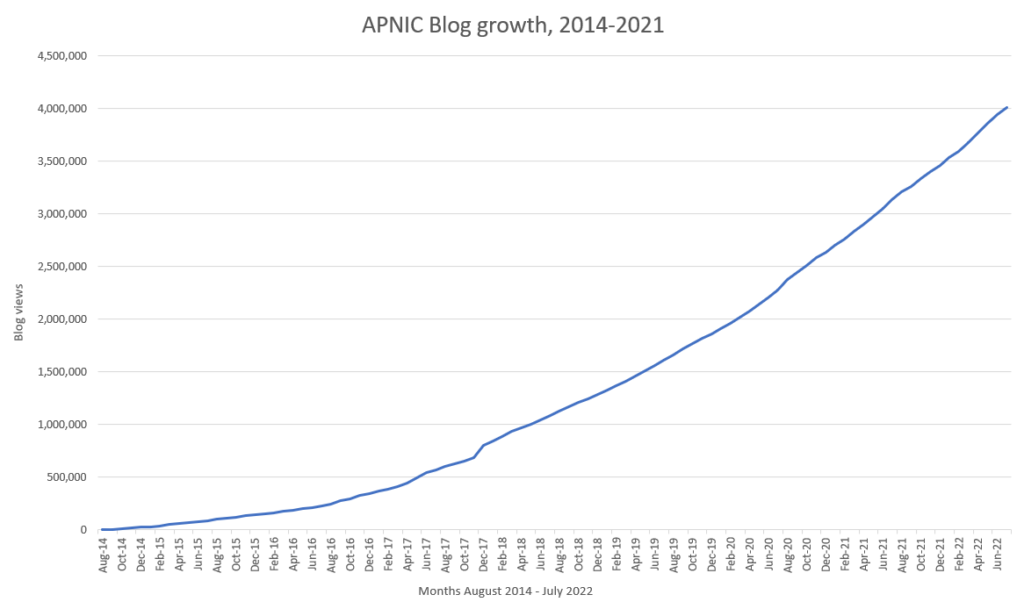 It's been a community-driven success story. More than 700 guest authors have posted more than 1,000 posts on the APNIC Blog. We'd like to take this milestone as an opportunity to, once again, say thank you to all the readers and contributors who make the blog what it is. But we want to hear more of your stories.
How you can get involved
Are you involved in work or research you'd like to share with the Internet operations community at large? APNIC Blog posts are written for a technical audience (largely network operators and related folk) and include practical guides, measurement, research, Internet development stories or best current practices. If you've worked with or presented on some of the technology tags and topics to the right — reach out — we're happy to consider original articles with no commercial agenda from all facets of Internet operations. We also welcome relevant updates to earlier posts from existing authors.
If English isn't your first language, that isn't a barrier to publishing on the APNIC Blog. We can work with you to shape your article to reach readers from all over the world.
If you'd like more information or have feedback, contact the APNIC Blog team via blog@apnic.net.
To complement the blog, we've also recently launched a podcast called PING. Catch up now.
We'll keep publishing high-quality and informative content here on the APNIC Blog and we welcome your contribution. Thank you for your ongoing support.
---
The views expressed by the authors of this blog are their own and do not necessarily reflect the views of APNIC. Please note a Code of Conduct applies to this blog.