Oakley Tavol is an IT Support Technician working for a local retailer in Papua New Guinea's (PNG) second-largest city, Lae.
Accessible from the capital (Port Moresby) only by plane or sea, Lae has historically been an industrial hub. It's also home to the University of Technology, which has educated most of the nation's network engineers and manages the .pg Internet country code top-level domain.
Oakley's background is similar to many technicians working in rural and remote areas; an interest and passion in fixing computers from a young age, followed by an assortment of industry and tertiary short courses with plenty of self-learning through troubleshooting.
"I was a small boy doing my seventh grade and was really interested in fixing computers. I've been hooked ever since," says Oakley.
"Most of the work I've done has been support/helpdesk related and attending to network, desktop and server issues. I love the job as it pays well, I get to do something that I enjoy and am always wanting to learn more."
A few years ago, his parent company registered as an ISP, launching a Wi-Fi service with several hotspots dotted around the city. Oakley says this had provided him with a new learning opportunity, which he has recently been able to develop formally, with support from the APNIC Foundation, by attending a series of free network security and routing workshops held in Lae, as well as attending events in Australia.
Establishing networking fundamentals
Launched by the APNIC Foundation in August 2018, the technical training and assistance project delivered 24 training, consultation, and technical assistance events in Port Moresby and Lae across 18 months. The project was supported by the governments of Australia and New Zealand.
Read: Strengthening the foundation for PNG's digital future
Oakley was one of around 250 individual technical staff (386 participated in total, with 22% female participation) from 96 organizations who benefitted from the training opportunities provided, with some attending up to six workshops.
Speaking directly with Internet community members — as the first step and along the way — helped with understanding training needs. As such the workshops focused on four key topics — routing, information security, network security, and DNS/DNSSEC — and were facilitated by a host of international and local trainers and experts, including members from APNIC's training team.
For Australian Internet veteran and trainer, Mark Prior, the project provided a challenging and rewarding opportunity to give back to the Internet community, and help establish the fundamentals that are the first step to understanding and running a network.
"Given the relative rarity of public training workshops in PNG, interest extended beyond the typical audience of Internet engineers. In addition to network engineers from ISPs, attendees came from government departments, universities, corporations and small businesses. This meant that the standard courses had to be extended to include more fundamentals so no one was left behind due to a lack of background knowledge," explains Mark.
Learning by doing
To keep things engaging, the workshops were largely driven by the practical exercises with attendees working in groups to configure and troubleshoot networks through hands-on labs set up in the classroom.
"I believe it is very beneficial to learn by doing so the students can
immediately apply what they have heard during the lectures and ask
questions to clarify their understanding," says Mark.
"The hands-on lab sessions are thus a key component of the workshops.
The nature of the training lab means that the students need not be afraid of breaking things. In fact, by breaking things they are provided
an opportunity to diagnose what went wrong and understand how to fix it."
One attendee said that when she found out that APNIC was doing a workshop, she quickly put up her hand up to join because of the hands-on labs. She said that in other training events she's attended, mainly by vendors, the instructor would be doing the lab and just showing them what they're doing. So, they're not actually getting their hands dirty, trying to make it work.
The practical exercises also encouraged participants to work as teams and seek out other teams if they were having difficulty. For Mark, this was one of the most important and sustainable outcomes from the workshops, as it started to develop a sense of community among the practitioners.
"I'd say to them 'Now that you've been in this class with people who have a similar interest to you, why don't you at least catch up once a month?'," says Mark. "'Have some beers, find out what's going on in the industry. You might find someone has experience with solving the same problem you're currently wrestling with, or others might find your latest troubleshooting story helpful in improving their network.'"
"This is how the Internet has become what it is today: people sharing their stories and helping each other."
NOG aims to break down silos
A subsequent outcome of this community-building component of the project has been the preliminary formation of the PNG Network Operators Group (PNGNOG), which held its first event, PNGNOG 0.1, in June this year to discuss the merits of NOGs and call for volunteers for both a Steering Committee and Program Committee.
Steering Committee member, Amanda Wakana, a network engineer with Telikom PNG, says the initial NOG event and other community development projects such as the technical training and assistance project have started to break down the silos within the economy and encourage more engagement.
"Historically there has been very limited interaction between network operators outside of professional engagements," she says.
"Following the PNGNOG 0.1 event, there has been a noticeable increase in awareness of and need for continued collaboration within the ICT community, although having the community take ownership to drive these efforts is still a work in progress."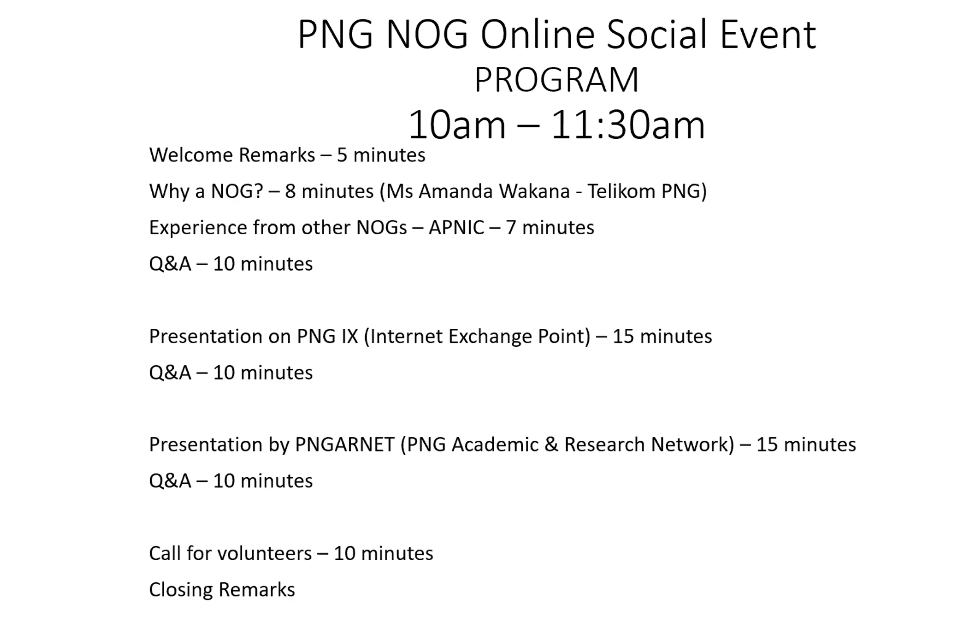 Learning from and sharing challenges with the world
In addition to the events in PNG, the technical training and assistance project invited and sponsored the most committed trainees that attended and completed the highest number of workshops to travel and participate at the workshop of their choosing at APNIC 46 in Noumea, New Caledonia (four sponsored participants), and APRICOT 2020 in Melbourne, Australia (seven sponsored participants, including Oakley).
For Oakley and others, this was the first experience attending an international conference, something he says would not be possible without financial support. More importantly, it gave him an opportunity to further his skills through additional workshops and tutorials as well as grow his professional network, which he intends to check in with often now on solving networking issues and career opportunities.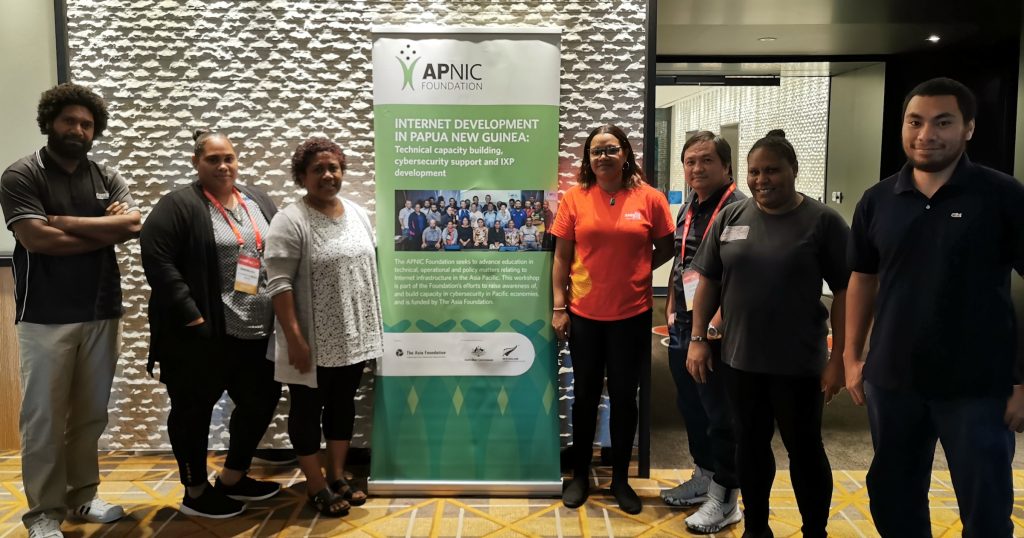 "It's very important to attend international conferences because you get to meet ICT professionals and leaders from around the world, and learn how their networks operate and the types of challenges they face," says Oakley.
"Fellowships help people like me to get this experience as well as provide us the opportunity to share our challenges with the world too — in PNG this includes unstable Internet connection, lack of resources and a lack of training.
"This project has helped me and my fellow local ICT colleagues to overcome one of these main challenges, and hopefully, will help us as a community start to address the other two."
While the APNIC Foundation's training has ended, the project had a final event in November with a workshop organized by project partner, the US-based Asia Foundation. The project has been supported by the governments of Australia and New Zealand.
---
The views expressed by the authors of this blog are their own and do not necessarily reflect the views of APNIC. Please note a Code of Conduct applies to this blog.