A frequently asked question the APNIC Helpdesk receives is "I have received the maximum amount of IPv4 address from APNIC, but it is not sufficient. How can I get more?"
We inform them that they may be eligible to get more addresses via IPv4 transfers, explain how the IPv4 transfer policy works, and what they can do to prepare to receive an IPv4 transfer:
It's a good idea for the IPv4 transfer recipient to first get their IPv4 transfer pre-approval. Recipients are required by APNIC's policy to demonstrate a need for the addresses. By getting a pre-approval, you demonstrate this need in advance, so you don't need to worry about it after you find a source for the transfer and they initiate the IPv4 transfer to your account.
When you get a pre-approval, you also have the option to publish it in the IPv4 Transfer Pre-approval Listing Service. This way organizations that have available IPv4 addresses can contact you and facilitate the transfer of their unused IPv4 addresses to your account.
To help find the source of your IPv4 transfer, you can also use the apnic-transfers mailing list or the services of registered IPv4 brokers.
A follow up question the APNIC Helpdesk often gets is "Can APNIC help us find a source account that is willing to transfer IPv4 addresses?"
Last month I wrote about a project we are doing to reclaim unused IPv4 address space. In this post, I will share some progress we have made and explain the new IPv4 Transfer Listing Service we have deployed to assist with IPv4 transfers.
Earlier this month we analysed the pool of unadvertised IPv4 delegations and identified around 54 million unadvertised IPv4 addresses (equal to more than three /8s) held by 1,309 Members. These addresses were delegated under the last /8 policy over five years ago or not delegated under the last /8 policy. We contacted these Members and encouraged them to either return the resources to the available pool or transfer them to other organizations if they are no longer needed.
New IPv4 Transfer Listing Service
We recently deployed a new IPv4 Transfer Listing Service in MyAPNIC. This service provides APNIC account holders a neutral space to list their unused IPv4 addresses so other account holders who need more IPv4 addresses can contact them and facilitate the transfer.
How can I submit my unused IPv4 address space on the Listing Service?
If you have IPv4 addresses that are no longer needed and are available for transfer to other APNIC account holders who need them, you can create a listing by following these steps:
Log into MyAPNIC:
Click on the 'Resource Manager' button located on the top right-hand side of the screen
Click on the 'Resources' tab
Under 'Resource Transfer / Return' click on 'IPv4 Transfer Listing Service'
Click on 'Create a new listing'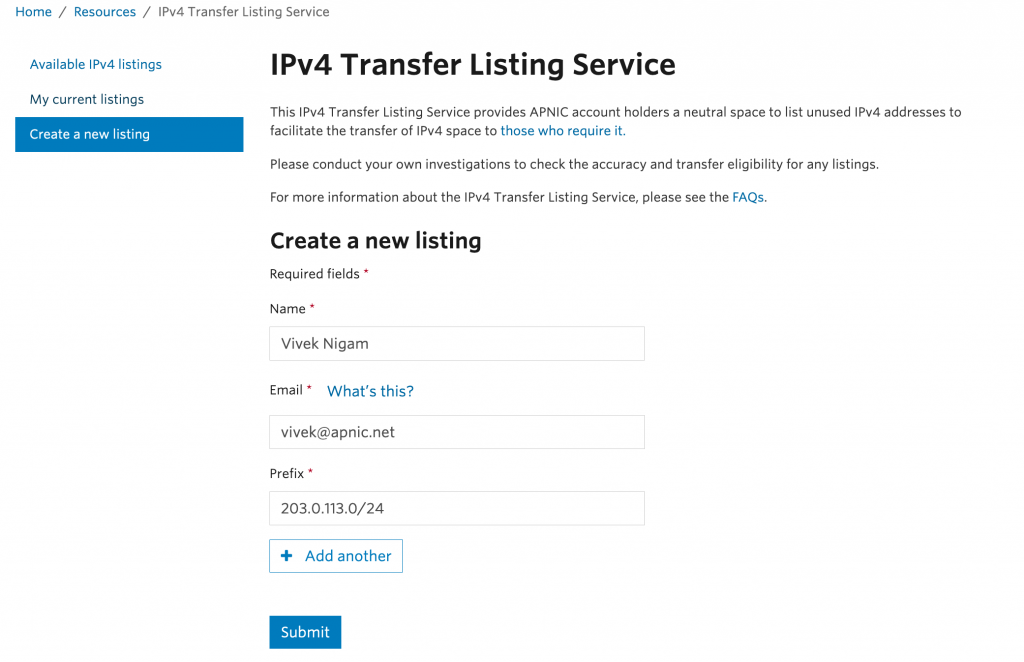 Once submitted, other APNIC account holders that have access to MyAPNIC will be able view your listings and contact you.
Stay tuned for more updates on the IPv4 reclamation project later in the year!
---
The views expressed by the authors of this blog are their own and do not necessarily reflect the views of APNIC. Please note a Code of Conduct applies to this blog.