Opening Ceremony of IPv6 service provision at the Conference on Vietnam IPv6 Day (6 May 2019). Photo: VNNIC
Telecommunication organizations, state agencies and digital content service providers gathered in Hanoi this week to commemorate Viet Nam IPv6 Day (6 May).
This year marks the eleventh and final year of Viet Nam's National IPv6 Action Plan — a key multistakeholder policy that has driven IPv6 capability to more than 34%.
Significant outcomes the Action Plan has achieved were highlighted during the meeting including the establishment of the national IPv6 network — and subsequent DNS server system — as well as expanding and making capable the National Internet Traffic Exchange (VNIX).
A number of leading Internet enterprises were also acknowledged for their efforts towards deploying IPv6 in their networks, and in doing so, boosting Viet Nam to second place in terms of IPv6 capability in South East Asia, and fourth place in the Asia Pacific. These include Vietnam Post and Telecommunication Group (VNPT), Viettel Telecom Group (Viettel), FPT Telecom Joint Stock Company (FPT Telecom) and NetNam Corporation (NetNam). Currently, more than 17 million Internet users in Viet Nam are connecting via IPv6, an increase of more than 50% from this time last year.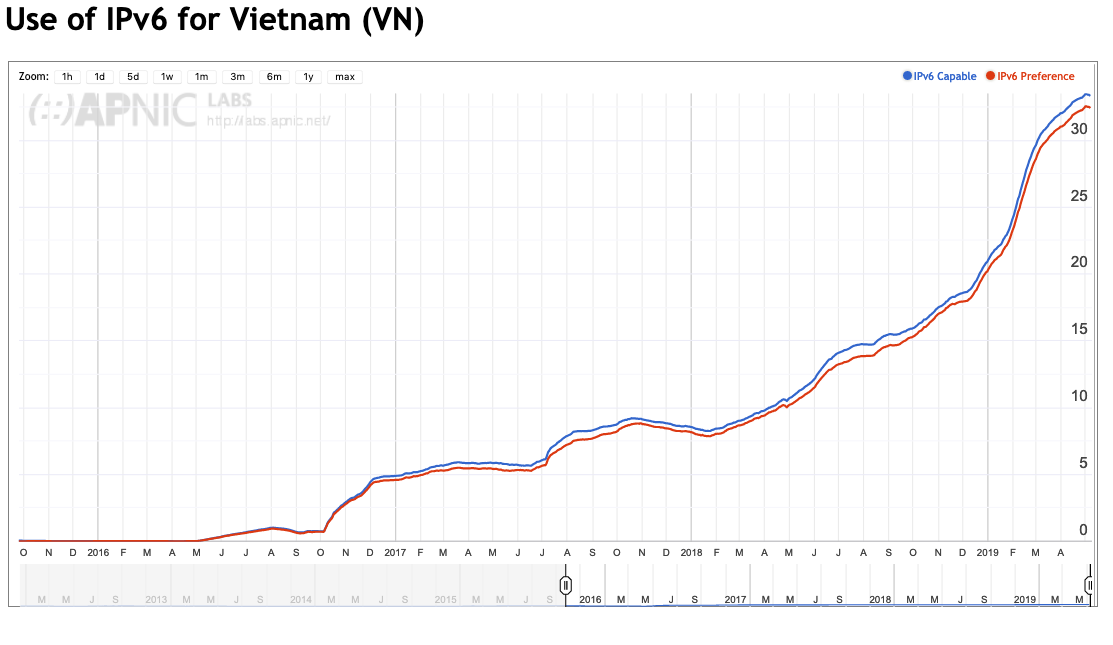 Read: Viet Nam IPv6 Day 2018
State agencies have also been key partners, helping to deploy IPv6 on their own networks as well as consistently promoting its use among its vendors, partners and local businesses. Many major agencies have successfully converted their IT systems, electronic information portals and online public services to IPv6, including the:
Ministry of Information and Communications
Ministry of Natural Resources and Environment
Viet Nam Internet Network Information Center
Authority of Information Technology Application
Department of Central Post and Telecommunications
Department of Information and Communications of Ho Chi Minh City
Department of Information and Communications of Da Nang City
Department of Information and Communications of Lam Dong Province
Department of Information and Communications of Long An Province
Department of Information and Communications of Dong Nai Province
As of May, there were more than 34 electronic portals under the domain name .gov.vn operating with IPv6.
Although uptake by local content service providers has been slow, there have been some noteworthy early adopters among the 6,000 .vn websites offering IPv6, including:
VnExpress newspaper — the first electronic newspaper to deploy IPv6 (currently 12% of its readers, around 3,000,000 users, are connecting to it via IPv6 daily)
Electronic Business Forum newspaper
Saigontourist Cable Television Co Ltd, which provides next generation Internet-based online television services via IPv6
Add to this a plethora of local cloud services, including CMC Telecom (the first provider of IPv6 supported cloud service in Viet Nam), VNPT, Viettel, FPT Telecom, NetNam, PA Vietnam, Nhan Hoa, INET, ODS, vHost, and VinaHost, and the amount of local traffic over IPv6 is growing steadily.
Although the Action Plan is coming to a head in 2019, the Viet Nam Internet Network Information Center (VNNIC) Standing Task Force on the promotion of National IPv6 will continue its momentum by overseeing and collaborating with state agency and telecommunication partners on awareness and capacity development projects around IPv6 via its IPv6 for Gov program. This includes facilitating workshops to help government partners plan for and implement IPv6 in their systems, network and services, ensuring security requirements and other key deliverables associated with developing e-government and smart city services are catered for.
Truong Khanh Huyen is a Communication and International Cooperation Officer at the Viet Nam Internet Network Information Center (VNNIC).
---
The views expressed by the authors of this blog are their own and do not necessarily reflect the views of APNIC. Please note a Code of Conduct applies to this blog.