Since its launch in early 2017, the APNIC Academy has rolled out three online courses including cybersecurity and routing, had over 2,300 participants enrolled, with 450 people successfully completing a course.
The APNIC Academy is an online learning portal to develop the knowledge and skills of network operators, managers, educators, and regulators by helping them understand and manage Internet number resources and use appropriate Internet technologies and techniques.
Participants have enrolled from all parts of the region and the globe, including a healthy number from Pacific Island economies including the Cook Islands, Kiribati and Tokelau, many of whom have been introduced to the Academy from recent face-to-face workshops that the APNIC Training team has carried out.
Academy participants come from both networking and non-technical backgrounds. Some users are working for government agencies in their economies and others who own their own training institutions. There is really no set background for registering as it's open for one and all.
Feedback from participants has overwhelmingly been positive, with many sharing with us how much they enjoyed taking a course and requesting for more courses to be developed about certain topics, particularly on security:
Over the coming months APNIC will be announcing some big changes to the Academy. Improvements to the APNIC Academy's user experience are in development, as well as new courses.
Currently, there is work underway on an IPv6 Protocol Architecture course  to complement our recently launched Routing Basics course. This will likely be launched in the coming months. A short course on APNIC policies is also in preparation and a lot more are in planning, so stay tuned!
In the meantime, please do let us know in the comments section below what courses you'd like to see on the Academy, as well as any constructive feedback on how we can improve and make our current and future courses even better.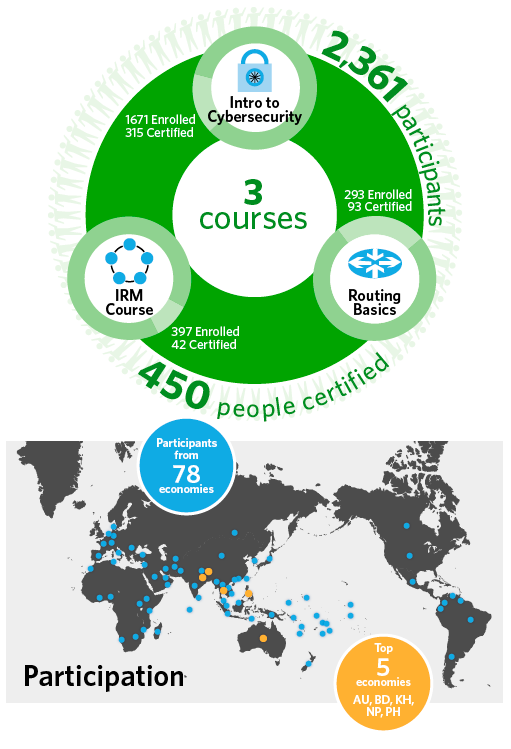 ---
The views expressed by the authors of this blog are their own and do not necessarily reflect the views of APNIC. Please note a Code of Conduct applies to this blog.