APNIC staff with Member Gathering participants.
APNIC participated at the second Nepal Network Operators Group (npNOG 2) meeting in Kathmandu from 15 to 18 June 2017.
Established in 2016, npNOG provides network operators who work at ISPs, content providers, telcos, banks, universities, and other areas of the Internet industry in Nepal the opportunity to learn about, and share knowledge on, new Internet technologies.
The conference day included presentations on the Nepal broadband network, SDNs, IPv6, IoT, and cybersecurity. There were three workshops held before the conference, on network management/monitoring, optical fibre network design, and IPv4 and IPv6 routing.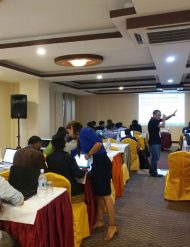 APNIC also held a Member gathering on Sunday, 18 June, meeting 17 APNIC Members to discuss their IP address and membership queries.
APNIC thanks NPIX and NPNOG for supporting the Member Gathering.
APNIC activities
Shaqayeq Saleh gave a presentation on IPv6 deployment at APNIC and the lessons learnt from that experience.
Sunny Chendi gave an update on APNIC's services and activities.
Sunny met several APNIC Members to discuss their IP address and membership requirements.
Sunny and Shaqayeq also met:

The Nepal Telecom Authority (NTA) to discuss the potential establishment of a CERT, an IPv6 roadmap for Nepal, IPv6 implementation in NTA's local network and enterprise customers, and how APNIC can provide support.
The Department of Information and Technology to discuss the Nepal IGF in August this year and APNIC's support of it.

Shaqayeq and Tashi helped conduct the IPv4 and IPv6 routing workshop.
At the APNIC Member gathering, Tashi Phuntsho presented on RPKI and IPv6 in broadband, while Tuan Nguyen provided an update on:

Global IP address allocation
IPv4 address transfers
RPKI and routing security
IPv6 in broadband Whois data quality improvement.
---
The views expressed by the authors of this blog are their own and do not necessarily reflect the views of APNIC. Please note a Code of Conduct applies to this blog.