Last year, Nepal proudly joined 12 other economies in the APNIC region when we established our very own Network Operators Group, npNOG.
It was a huge honour, as interim president, to formally welcome the 200 people to our first event—npNOG 1—in Kathmandu on 9 December. Many of us in the crowd had spent so long talking about establishing a national NOG and it was great to finally see the reality.
Starting of npNOG1!#npnog #nepal pic.twitter.com/qjjtFvE0s1

— Kabindra Shrestha (@kabindrash) December 9, 2016
npNOG was born from a lack of an open forum in Nepal to allow local community members to share and discuss their experiences and challenges. The growth of the Internet in Nepal has brought a lot of operational, regulatory and technical challenges in network design, reliability, scalability, security and resource management.
These challenges, and the innovative ways in which operators are working to solve them, are rarely discussed or presented outside of regional events like SANOG, APRICOT or APNIC conferences. Even then these events do not address country-specific issues and are not affordable for many operators to regularly attend.
Being a smaller, local event, npNOG conferences will provide more opportunities for local people to attend – we plan on holding at least two events every year in various cities.
Locals will also be encouraged to participate; local presentations will be given precedence and speaking Nepali encouraged. This will hopefully allow most of us "shy geeks" to become more confident and share our great thoughts with our colleagues.
Developing capacity where it is needed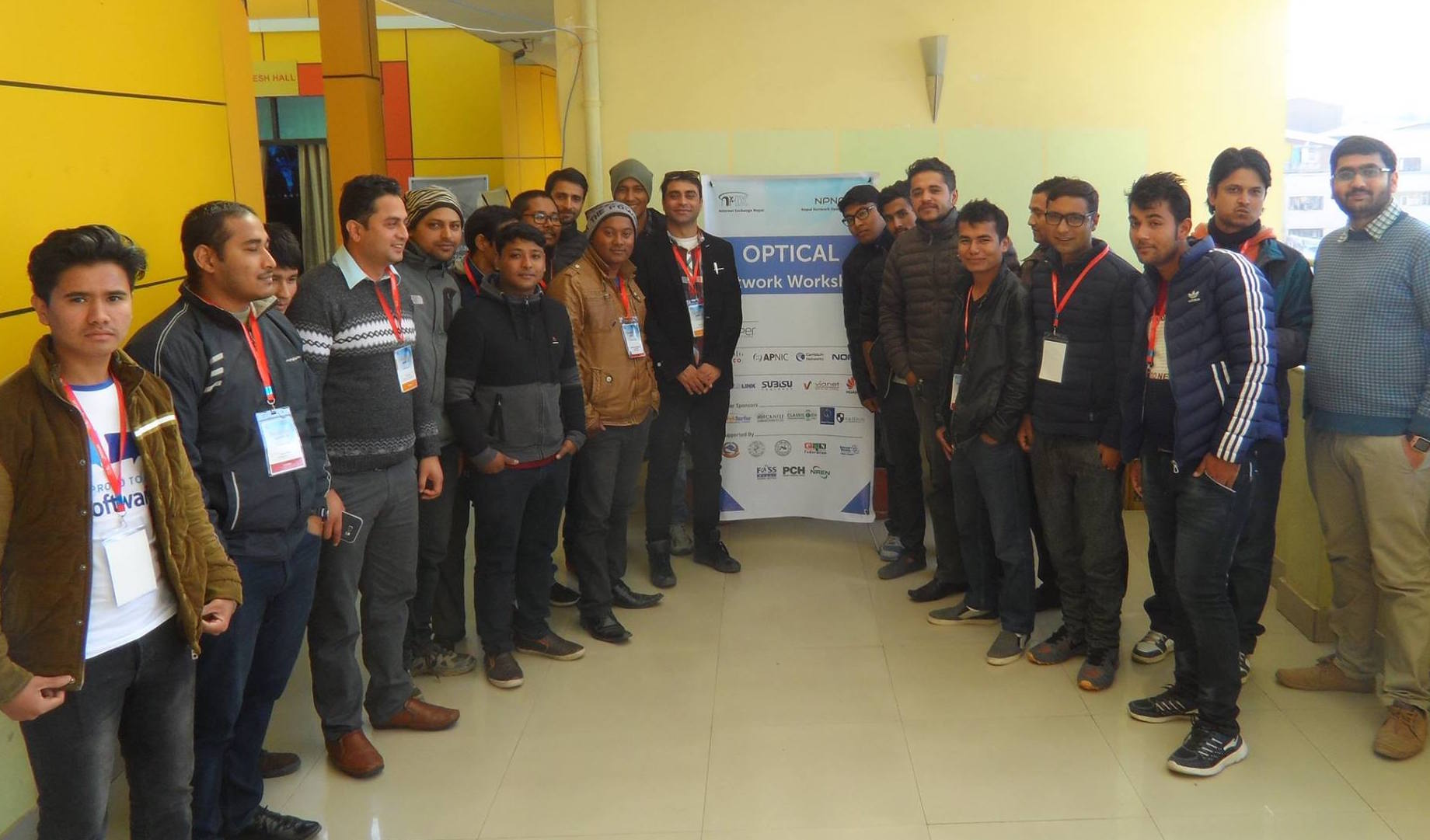 Another important component of our NOG will be training workshops, which we will always hold in conjunction with our conferences.
In the short term, we will keep the content of the workshops very basic, with a focus on developing the skills of our younger community members who are fresh out of college or new in the industry, including people working in call centres, field support and content developers. The overwhelming response to attend our workshop at npNOG 1 highlights the demand for and importance of this kind of training.
We will include high-level training as the skill of our community grows.
Meeting our challenges ahead
We have recognized that running a NOG is not easy and requires a community of people volunteering their free time to a social cause.
From our pre-inauguration meeting last August, we've had fantastic support from our committee and volunteers, allowing us to launch npNOG 2 from 15 to 18 June 2017. This support has also come from our partners and sponsors, including Cisco, Huawei, Juniper, Nokia, Nepal Internet Exchange (NPIX), Nepal Research and Education Network (NREN), Nepal Telecom Authority, Nepal Telecom, and all local ISPs.
Special thanks must also go to Sunny Chendi from APNIC who helped facilitate early discussions on what our NOG could look like and attended npNOG 1 on very short notice.
Ultimately, we will be judged on how our community will grow and contribute to our forum, and hopefully in regional and international forums as well.
Samit Jana is CTO at WorldLink Communications and president of npNOG.
---
The views expressed by the authors of this blog are their own and do not necessarily reflect the views of APNIC. Please note a Code of Conduct applies to this blog.