Recently the Australian Network Operators Group, AusNOG, held its 10th anniversary meeting in Sydney. While the organisers normally spend more time looking forward than back, perhaps it's worth spending a little time to think about the first decade of AusNOG.
The Internet wasn't something new in 2007 but up until then the idea of an open, neutral meeting for the ISP community in Australia was just that, an idea. There had been some industry meetings but these had been for customers of a specific ISP, Data Centre or IXP, and while NANOG had existed for some time, as had NZNOG, it would still be a risk to try to create a similar event in Australia. Fortunately there were three individuals, Steve Baxter, David Hughes and James Spenceley, who could see that such a forum was necessary to get the industry talking and cooperating with each other, and were willing to take on that risk, using their personal credit cards to secure everything needed to run a meeting in the hope that people would attend.
That first meeting was held at the Harbours Edge Event Centre in Darling Harbour in November 2007, with the support of a small group of sponsors, most of whom continue to support AusNOG today. The two-day meeting was a great success with 150 delegates from every major Telco, ISP and hosting provider in Australia attending, and so AusNOG was born!
AusNOG has retained the same meeting format as it has moved to larger venues in Sydney and expanded to include meetings in Melbourne. Speakers have addressed topics across the whole stack, from building fibre networks at the physical layer all the way to the political layer, such as when Simon Hackett presented a view from the NBNco board, and members of the Attorney General's Department took questions on metadata retention. Talks have also reminded the audience that it's not just about building the Internet but what you can do with it, with talks from Shaun Amy on the Square Kilometre Array, and Laurie Wilson on Telehealth and the promise of advanced networks.
AusNOG is fortunate to have a pool of people who regularly answer the call for presentations in early May (with Roland Dobbins and Paul Brooks each speaking seven times), however proposals from new speakers, especially those working within the community, are especially welcome either through the main programme or via a lightning talk. Feedback received via the meeting website continues to show that the audience is appreciative of the effort put in by all the speakers.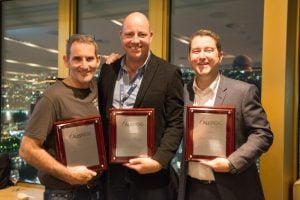 AusNOG 2016 followed the standard format with little to set it apart from any of the previous editions except that the social event in Sydney Tower on Thursday night allowed the community to thank the Founders for their forethought and effort in founding AusNOG and their continuous support for the Australian networking industry.
AusNOG returns to Melbourne for the third time in September 2017 but before then it is looking to launch a new initiative, the "AusNOG cadet" programme to provide a network professional commencing their career within Australia the opportunity to expand their professional network by sponsoring their attendance at a regional conference, such as APRICOT or another Asia/Pacific NOG. AusNOG is also looking to complement this initiative by working with our fellow regional NOGs to grow the regional community by sponsoring one of their participants to attend AusNOG and share their experience.
Mark Prior is one of the organisers of the AusNOG conference.
---
The views expressed by the authors of this blog are their own and do not necessarily reflect the views of APNIC. Please note a Code of Conduct applies to this blog.