With less than two weeks to go, activity is ramping up for APNIC 42. The packed program features three days of technical content, including presentations from international technical experts, tutorials, and the popular Lightning Talks.
Here are just a few sessions to consider when you're planning your schedule.
Policy SIG
Two proposals are up for discussion:
prop-116: This proposal helps to ensure the distribution of the 'Final/8' block (103/8) is consistent with its original purpose, for distribution for new entrants to the industry.
Proposal to revise SIG Chair election procedures: This proposal identifies two issues with the current SIG Chair election procedures and seeks to resolve them. First it classifies remote participants as eligible voters in the election and second ensures the two-year term of service are aligned for Chair and Co-Chair, even after the early resignation of a Chair.
The proposals have been summarized and translated for your convenience.
Have your say and participate in the SIG either in person, or remotely on Wednesday, 5 October.
Member Services lounge
The dedicated Member Services lounge returns at APNIC 42 on the ground floor of the Hilton Colombo, just outside the Grand Ballroom. Have your membership and IP address questions answered, find out about the new features in MyAPNIC, create your ROAs and hear about progress on the whois database accuracy project. You could also get a cool whois t-shirt simply for dropping by and updating your contacts!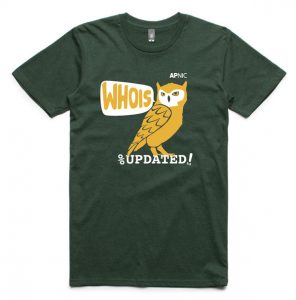 Download the meeting app
The APNIC 42 mobile app is now available from the Apple App Store for iPhones or Google Play for Android devices. Use the app to plan your APNIC 42 schedule, see who's attending and arrange meetings with your peers.
You'll have access to key conference information, program details, venue maps and much more – it's a great tool to build your personal conference schedule.
We look forward to seeing you in Colombo for APNIC 42!
---
The views expressed by the authors of this blog are their own and do not necessarily reflect the views of APNIC. Please note a Code of Conduct applies to this blog.