Shaila Sharmin is one of a number of ICT professionals in Bangladesh who are contributing to, and benefitting from, the Bangladesh Government's commitment to ICT.
She claims to be a 'mere learner' in the field but her achievements tell a different story. For almost six years she has worked as a network engineer, first for a WiMAX company, and more recently as the Assistant Manager, NOC at Link3 Technologies Ltd.
"I studied computer science and engineering but I could have just as easily studied electrical or civil engineering," says Shaila. After starting in the industry in 2011, she realized that there was "a real opportunity for a future in the industry".
Although not defined by it, Shaila is very open about the experience and challenges of being a woman in a male-dominated field.
"The industry in Bangladesh is a very competitive place," she says. "There are a lot of men in the same field. And men have an advantage because they can stay outside home from dawn to dusk, whereas women often have family commitments and social constraints."
According to a report by the Bangladesh Bureau of Statistics, in 2010, 19.2% of students attending the Bangladesh University of Engineering and Technology were female, among which  3.2% of them went on to pursue their professional career as technical workers.
Shaila tries to make sense of why this is. "Some of them do lose interest and leave the herd, but a larger number just don't get the chance or can't find the right opportunity. And most girls tend to marry just after they graduate, then it becomes really hard for them to pursue a professional career."
Reflecting on her own career, Shaila identifies several  people who have facilitated her progress.
"At first, it was not easy for me to get my family to agree on my decisions. But gradually they realized that the habit of taking my own decision is directing my career to a right path and in time they started to support me. They have said to me 'if you face any obstacles, let us know'."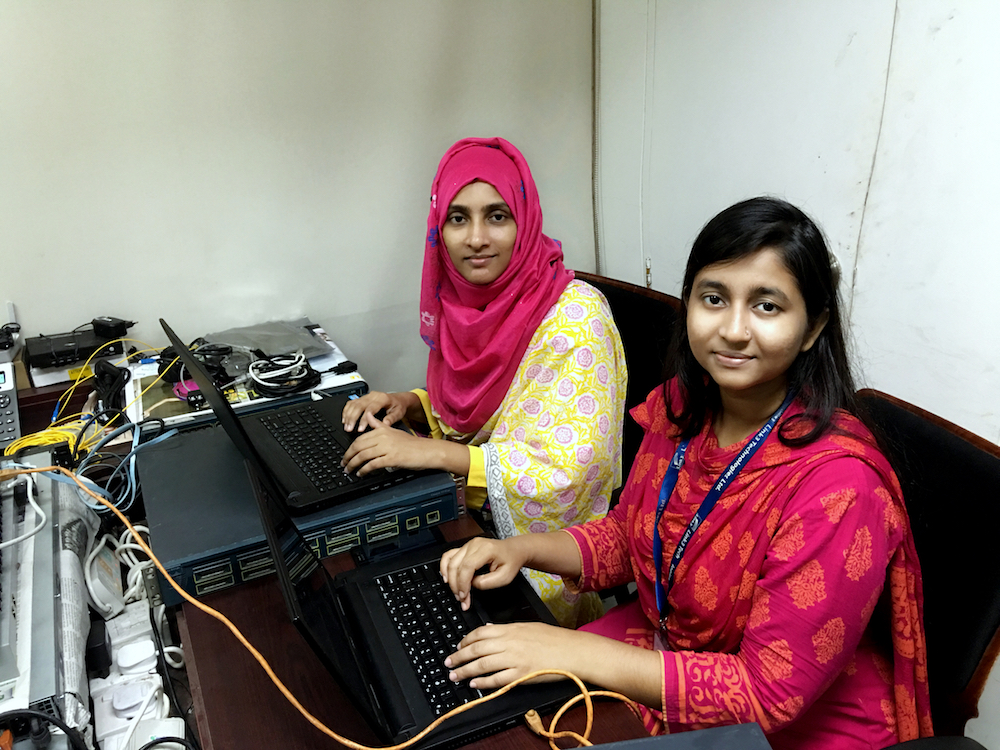 Umma Tamzida Akter and Farzana Islam are among a number of new network professionals working for ISPs like Link3.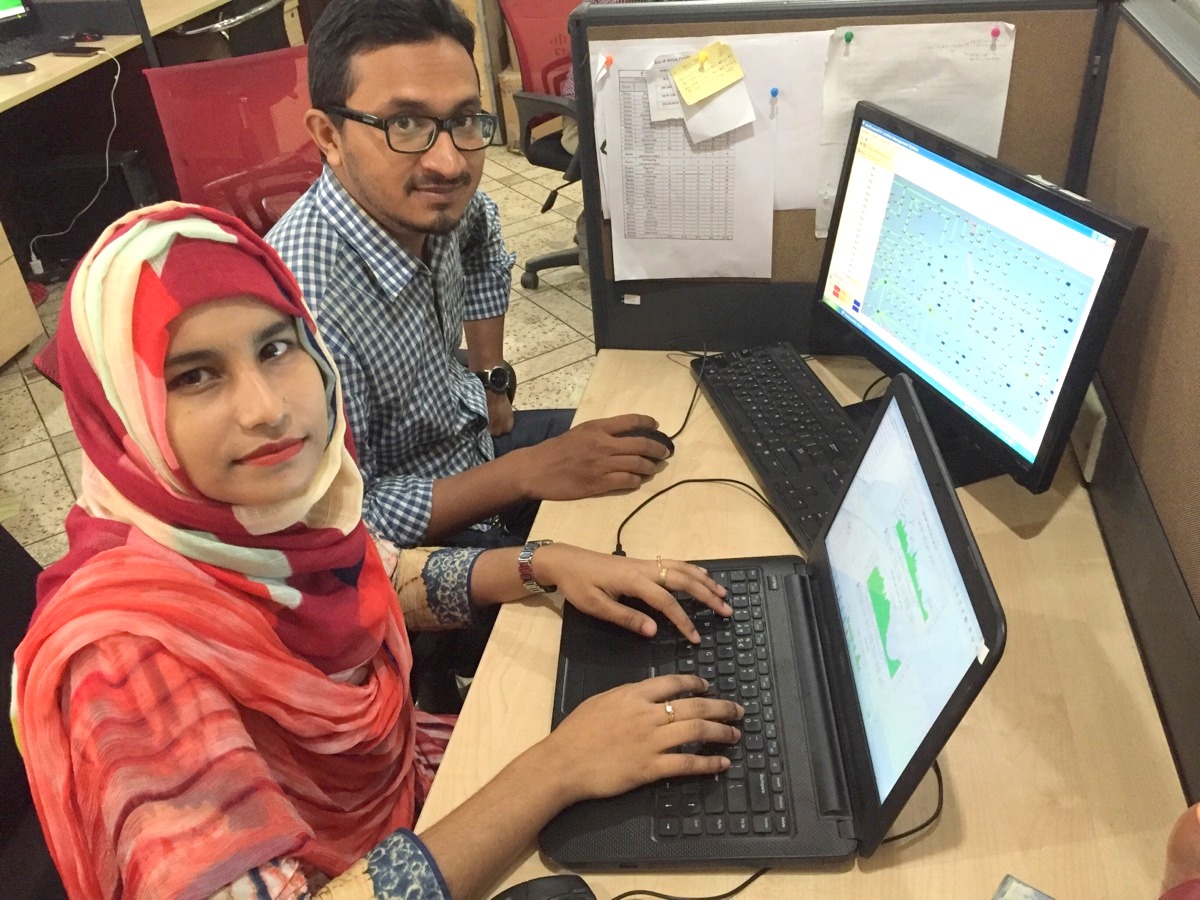 As are Shamima Osman Juthi (front) and Anisul Alam (back) who Shaila used to work with at Banglalion.
Shaila also recognizes the support her current and former CTOs and team have given her. "I'll always be grateful for the faith that Ryan Gatling, my CTO at Banglalion (now working for Spark New Zealand) put in me as well as the opportunity he provided to work in the heart of a technical company's core and IP network."
Her current CTO, F M Rashed Amin Biddut, of Link3 Technologies, first shortlisted and encouraged her for a management role. The company has been engaged in the ICT business for over 15 years but previously, there had never even been a female in that department, let alone managing it.
"Biddut Sir said to me 'I always encourage women to remain engaged in ICT and you are making headway in this sector. I am sure you have more to offer in the future'," Shaila says.
By no means has Shaila's progress been simply a case of luck. Time and again she has had to prove herself by not taking holidays, working hard and undertaking much professional development in her spare time. In the last two years, she has been a fellow of SANOG 25 and APRICOT 2016, and has been on two successive bdNOG program committees, during which she actively speaks and volunteers at the events.
Shaila credits these and other Internet communities with providing her with inspiration, knowledge and opportunities to achieve. "The strong Bangladeshi community helps us a lot. I would say that a new generation started with bdNOG. Most participants at bdNOG are under 35 and yet it is a place where you can talk with and be inspired by legends of networking.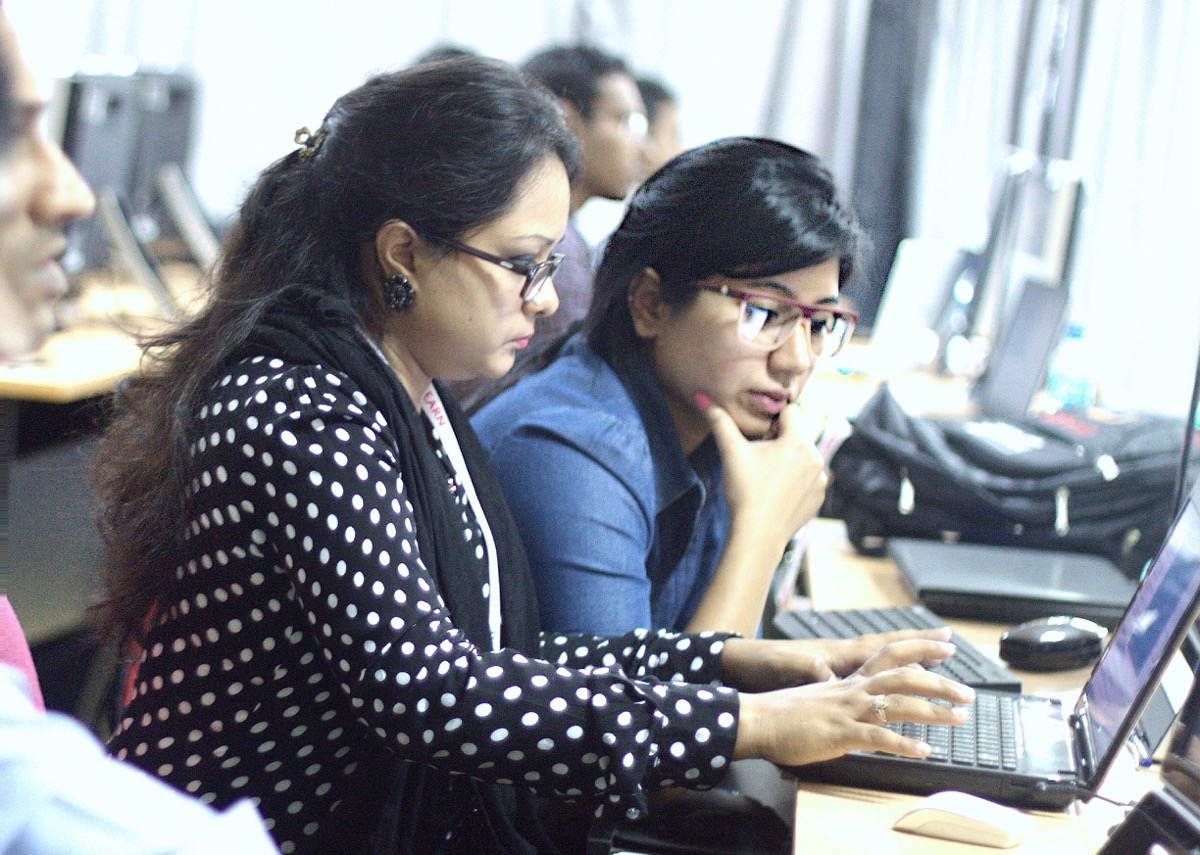 "And the support goes beyond just the NOG conferences. We understand that no one person has all the knowledge; we are stronger as a network."
To her, being a part of SANOG and APRICOT brought a positive change in her thought process, which made her even more ambitious and daring about her future. "Going to SANOG and APRICOT, you get to see female engineers and instructors. I came back and thought 'why can't that happen here?'"
Shaila is very positive about her future and the future of the industry in Bangladesh.
"Things are changing every day. I would like to see female CTOs. If we want to change what we see, we have to change our thinking. And that is happening."
Shaila's advice to young engineers developing their career:
Work hard – There is no such thing as luck. Hard work with proper application of knowledge is the key to success.
Study – Participating in conferences is not enough. You must keep reading and pursuing academic courses all of the time.
Be passionate – You need to be passionate in the work that you are doing. You will work long hours and it's the passion that will often get you through.
Communicate – Be responsive and keep connected. Build and nurture your human networks.
Challenge yourself – If you do the same thing over and over you're never going to learn and progress. Take calculated risks and try to experiment with new technical stuff.
Stay fit! – It's important that you keep your mind calm, focus on whatever you doing, and stay physically fit.
---
The views expressed by the authors of this blog are their own and do not necessarily reflect the views of APNIC. Please note a Code of Conduct applies to this blog.