Running a Network Operators Group (NOG) is both fun and hard work, as any NOG committee can attest.
Last year, I took over as Chair of JANOG (Japan Network Operators Group), which was founded in 1997 as a platform for engineers working in the Japanese IT industry to contribute to mainly technical discussions on the Internet.
Over the past 19 years, our members have discussed and shared lots of stories and experiences with the group via our semi-annual main meetings, which we've held all over Japan (500-700 attendees per meeting); our occasional small-sized meetings, which we hold mainly in Tokyo and more recently for our members based in the USA (30-100 attendees); our mailing list janog@janog.gr.jp, which now has more than 7600 members; and our working groups, which are formed when requests arise from the members to discuss specific topics intensively like RPKI deployment and NTP amplification attacks.
We ask members to focus on practical and operational topics, and not to bring any marketing talk to the community. This philosophy has been strictly kept since our formation. Recent topics that we've discussed include:
Using IP CLOS technologies in backbone networks.
Disaster recovery planning for backbone networks in the likelihood of earthquakes.
Deploying IPv6 on mobile networks.
Zero rating and net neutrality.
Deep learning practices and challenges with the Internet of Things.
Cybersecurity and BGP operations.
Although most topics are technical and operational, we do remain flexible and will consider other topics as long as we believe it would be useful for our members. Topics regarding Internet governance and net neutrality are good examples.
Check out the agenda of our most recent semi-annual meeting – JANOG 38 – for a list of all the topics we've discussed.
JANOG philosophy
The words below beautifully describe what our group is like:
Every member of the community is even and equal.
Every member is a teacher and also a student.
Two-way and interactive communication is highly valued; no one-way teaching.
The discussion is more valued than just teaching. Experience is more valued than just theory.
Every member is encouraged to cooperate with other members. We can achieve more in the Internet environment together than individually.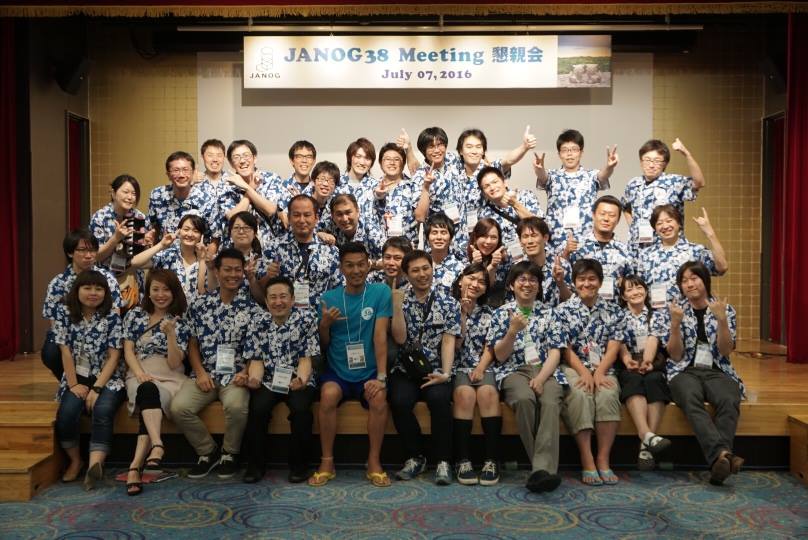 These words aren't clearly stated as a written policy. However, those who join the community feel these philosophies throughout JANOG activities. It is one of the reasons why people join our community.
Another key to our success and longevity is every member joins and contributes to activities on a voluntary basis, for example as meeting staff, presenters and/or sponsors.
Challenges, we have a few
It is always a challenge to keep the community fresh and active but one we are always trying to address.
For example, to encourage younger generations to join us we have recently established a fellowship program to provide under 30-year-olds financial support to attend our meetings. The JANOG fellowship committee sponsors the program, which is independent of the steering committee.
We've also started holding smaller and more casual meetings (30-100 attendees), outside of our main semi-annual meetings to provide members with a more relaxed and casual forum. This allows people who may hesitate to express their opinions and comments in public at a big event, where there are lots of experienced engineers, to add to the discussion. We've found these small meetings help us to break the wall between 'newbies' and 'oldies' because of the limited attendees and casual atmosphere that they create.
Looking forward to our 20th anniversary
Our upcoming JANOG meeting (JANOG39) will be held in Ishikawa, Japan from 18 to 20 January 2017. More details will be posted on our website in the coming months.
Though discussions and presentations are mainly in Japanese at JANOG meetings, attendees and also presentations from outside of Japan are very welcomed. I hope to you can join us and experience the hospitality of our great community.
Chika Yoshimura is chair of JANOG and a network engineer at NTT Communications.
---
The views expressed by the authors of this blog are their own and do not necessarily reflect the views of APNIC. Please note a Code of Conduct applies to this blog.