Ever wanted to attend an ICANN meeting as a fellow?
Applications for the ICANN Meeting Fellowship program are now open to participate at ICANN 57 from 29 October to 4 November 2016 (venue to be confirmed).
Participating at an ICANN meeting is a great way to engage with the ICANN community and offers the opportunity for young professionals to network with community leaders. But don't take our word for it.
We spoke with Sonam Keba, a network engineer from Bhutan, who shared her experience as a fellow at ICANN 55, Marrakech.
How did you hear about the fellowship?
I first learnt about ICANN while attending APNIC 40 in Jakarta, Indonesia, as a fellow. During the conference, I found that ICANN played a major role in many facets of the Internet and the community. Wanting to know more, I applied for their fellowship program to attend ICANN 55 in Marrakech. I was one of 34 people selected from developing countries and various professional backgrounds.
What support did the program offer?
From the day of my fellowship announcement, I was updated with the pre-planning of visa, travel details of place, and provided all useful information, which made my travel safe and comfortable.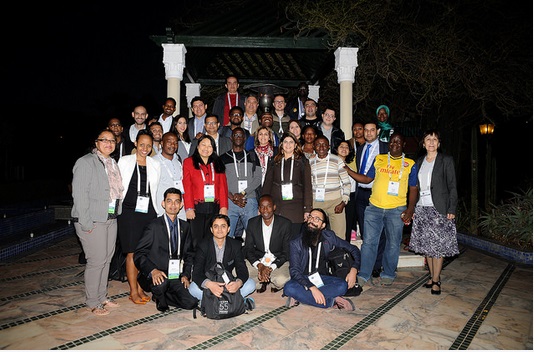 A few weeks before the meeting, another fellow, Adetola from Nigeria, and I were assigned a mentor, Mr. Bram. We exchanged emails and had Skype calls to share our interest and discuss our work culture – we still keep in touch through WhatsApp.
When we got to the meeting, I immediately felt part of the ICANN family with a warm welcome session by the senior fellows and mentors. The senior fellows were inspiring and helped explain all the acronyms and guided us through the whole journey of the meeting.
Each day started with the fellowship session at 7am. Our mentors and coordinators provided all details of the agenda and guidelines for the day. We were encouraged to explore not just our areas of interest but explore different constituencies as well.
What were some of the highlights?
Being introduced and becoming part of the At-Large Community was one of the most memorable instances for me. I learnt from the Chair that the community is made up of individual Internet users who participate in the policy development work of ICANN.
I came to learn that there were At-Large regional communities and that I [Bhutan] belong to the Asia Pacific Regional At-Large Organization (APRALO) region. Using the ICANN meeting app, I discovered that there were several APRALO sessions taking place during the meeting which I then attended and now have a greater appreciation of the community I'm a part of.
I also attended several DNS sessions where I met and learnt about best practices from several experts in this field. It was interesting to see and hear from different professionals, which includes lawyers, doctors, technical and non-technical, all of whom are part of this community to make it more secure and dynamic.
DNSSEC implementation for our registries and registrar is important. I've since shared with my colleagues back at home some of the key lessons from these sessions and I'm speaking to people about organizing an in-country workshop and seminars for stakeholders from public and private sectors and even the end user of domain customers.
How has attending an ICANN meeting helped you and your community?
Personally, the journey was remarkable as it helped me understand the ongoing activities behind the Internet.
In terms of our community, me attending meant my country and community were represented in the Governmental Advisory Committee (GAC), At-Large Advisory Committee (ALAC), Non-Commercial User Constituency Group (NCUC), Generic Names Supporting Organization (GNSO) and many more groups and committees that I attended.
With this experience, I plan to encourage my government to continue to be active in these areas and I hope I can support my country in framing policies related to the Internet and implementing best practices.
As an advancing country working towards being an Internet hub, Bhutan has to update in terms of Internet policies, openness of Internet, and involving the community at large in decision making to achieve ICANN's vision of One World, One Internet.
I would like to thank ICANN for giving me this valued opportunity, and including our country Bhutan in this global forum.
---
The views expressed by the authors of this blog are their own and do not necessarily reflect the views of APNIC. Please note a Code of Conduct applies to this blog.