On Friday 6 May, the Vietnam Internet Network Information Center (VNNIC) and the Standing Committee of the National IPv6 Task Force hosted "National IPv6 Action – Providing IPv6 services together" – a conference to promote IPv6 deployment – at Melia Hotel, Hanoi.
The conference was well-attended by members of the National IPv6 Task Force, representatives of Ministry of Information and Communications (MIC), including the Deputy Minister HE. Phan Tam, other governmental authorities, major ICT enterprises such as ISPs, CSPs, online portals, and the media.
This year marks the completion of the second stage of the National IPv6 Action Plan with varied achievements from all partners, including:
VIETTEL [Vietnam's largest mobile network operator], which launched a pilot IPv6 project in March 2016 in Ba Ria – Vung Tau, will provide dual stack IPv6 services to 11,000 FTTH customers via GPON technology, across 10 international connections with a total IPv4/IPv6 traffic of 432Gbps.
VNPT [

Vietnam Posts and Telecommunications Group], which

are also preparing for IPv6 implementation via dual stack, with seven international connections and a total IPv4/IPv6 traffic of 220Gbps traffic.
FPT Telecom, which has set up native IPv6 connectivity with a total IPv6 traffic of 1.5Gbps.
Although these partners are making progress, IPv6 penetration rate in our country stays very low at about 0.03%, due to lack of actual usage by end users.
At the conclusion of the conference, Mr. Tran Minh Tan, Director General of VNNIC, emphasized the importance of those efforts from ICT enterprises and their commitment towards the National IPv6 Action Plan with detailed internal plans to provide IPv6 services in production to users by the end of 2017. In particular, all members of the Task Force expect to increase the penetration rate to 2% by National IPv6 Day 2017. VNNIC and the National IPv6 Task Force also commit to continue their roles of coordination, support, consultancy, and promotion of IPv6 policies and activities.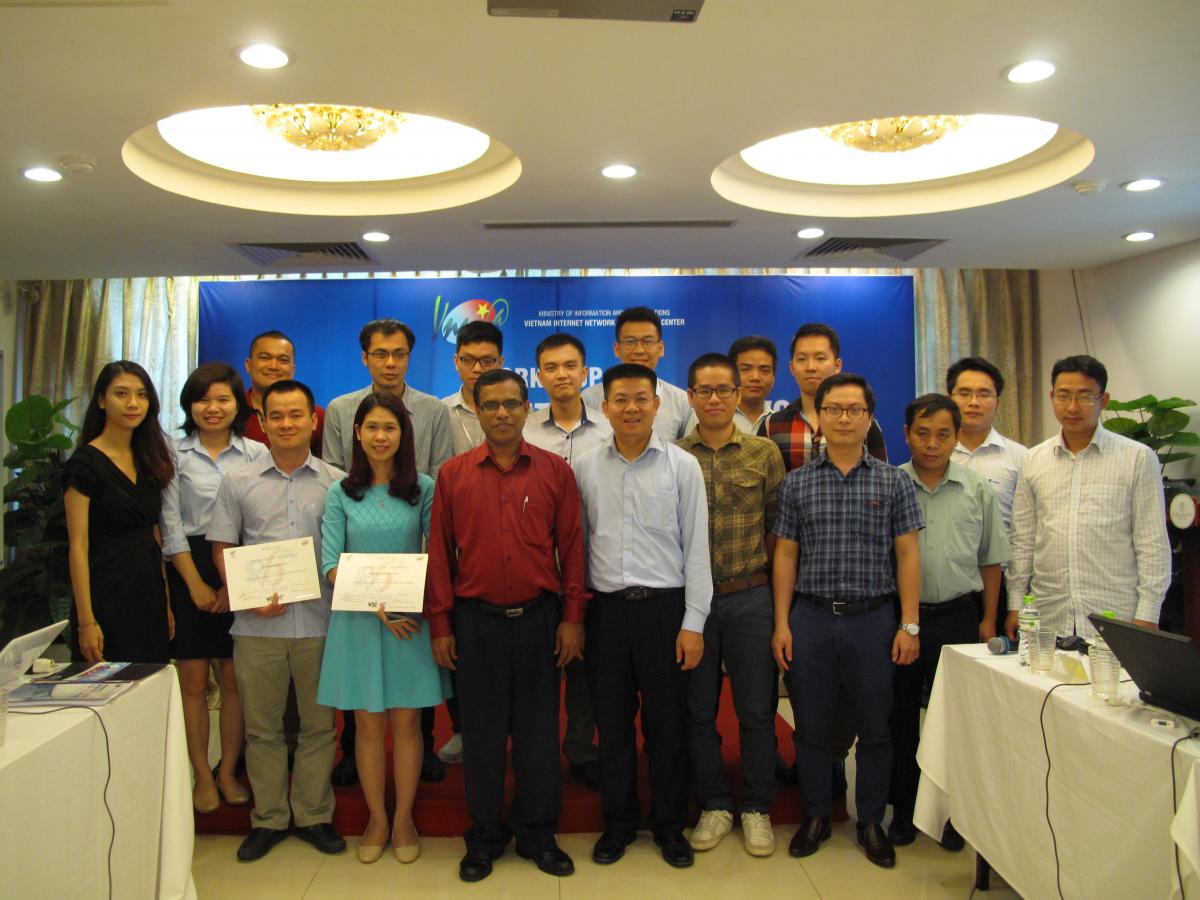 A training course "IPv6 deployment for LTE network" was run from 25 to 28 April 2016 in conjunction with the conference. The course was facilitated by experts from Malaysia's National Advanced IPv6 (NAv6) Centre with the participation of technicians and engineers from ISPs and mobile operators. The purpose of the course was to improve the professional knowledge about IPv6 application for LTE networks, as well as LTE itself, which is expected to be a blooming service in 2017 in Vietnam.
Original post appeared on VNNIC website
---
The views expressed by the authors of this blog are their own and do not necessarily reflect the views of APNIC. Please note a Code of Conduct applies to this blog.