NetHui 2015, Auckland. Photo Credit ©Michael Bradley.
So far in this series, we have focused on the past. Today we look at the present and future of a particular event that has captured the attention of the Internet community in New Zealand, NetHui, as we talk to Ellen Strickland, the Community Programme Director from InternetNZ and chief organizer for the event.
InternetNZ's annual NetHui event provides participants with something distinctly different, multi-cultural and community-driven compared to your standard Internet conferences.
"For one, it's not a conference but a gathering," explains Ellen Strickland, a correction that she further explains is associated with its Māori root name 'hui,' which means gathering or meeting.
"A hui involves meeting as a group to discuss issues, and is generally unstructured in its nature; although there is usually an intention (kaupapa in Māori) for the hui that will guide the direction of the conversation," Ellen clarifies.
"NetHui is about bringing everyone together who is involved in shaping the future of the Internet in New Zealand—from government, civil society, business, academia, and the technical community— with the intention to talk about what's happening and what the future will hold."
Localizing event influential to its success
Originally inspired by the idea of the UN's Internet Governance Forums (IGF), NetHui has taken on an identity of its own to become New Zealand's biggest community Internet event – no small feat for an event five years young.
"We loved the idea of the IGF but we thought 'Oh, Internet Governance Forum, that isn't a phrase that speaks to New Zealanders. Whenever we've used Internet governance it evoked in people ideas of policies and government, and obviously the way the Internet is governed is completely different from that."
Wanting something that better described the event and its purpose, the name NetHui was coined, and for Ellen the name itself has been very influential in the event's success.
"The idea that we have this concept in New Zealand culture already made it really work. People throughout the wider community understood its purpose—that it's about Internet issues, rather than Internet governance, but governance issues are certainly woven in."
Helping the community to create an event of their own
Equally important to its success has been NetHui's inclusiveness and bottom-up approach to developing and running the event, all of which stems from the people who participate.
"The most important thing about NetHui is the people and their opinions," says Ellen. "Participants aren't passive – we don't just sit and listen to speakers and experts – rather we participate before, during and after the event."
Ellen says this all-encompassing involvement, including developing an agenda, is foreign to many participants and it has been a constant challenge for the team to educate them on this new style of large-scale gathering without making it seem overwhelming.
"It's challenging for those new to NetHui. Every year we work on trying to communicate better on what the event is and how they can be involved. At the same time we have to make sure it doesn't become a burden on them and their other commitments."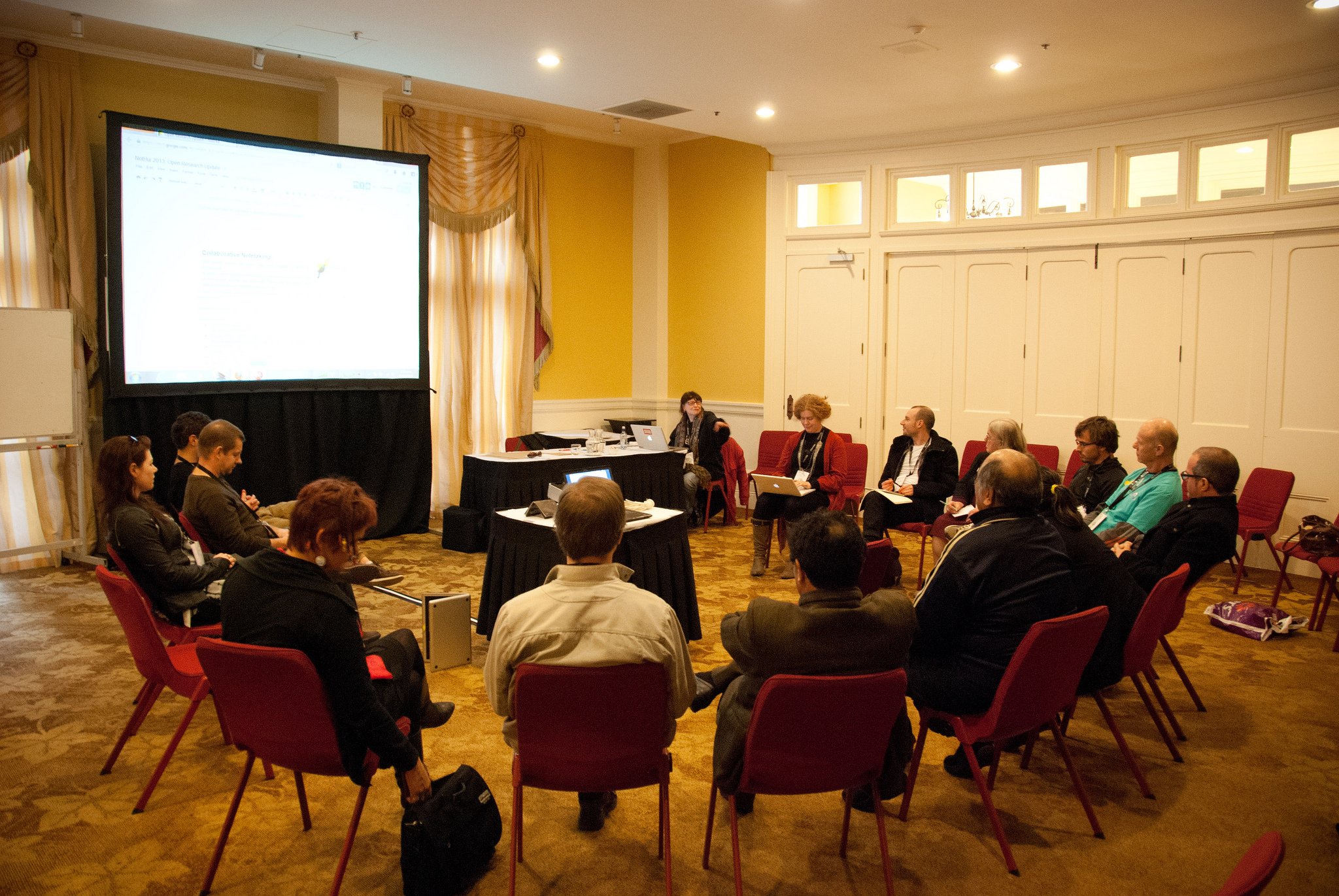 Sessions are small and inclusive, set up to allow all people with an opinion and interest to be able to interact
People who organize sessions, run the sessions, while people like Ellen help facilitate and help bring people together
This support includes a lot of open-calls, shoulder-tapping and following up to bring people together who are interested in a particular topic, identifying people in these groups to run sessions, and supporting these communities of interest groups by hosting Skype and face-to-face meetings before NetHui, so they can discuss what will take place at their event.
This support that Ellen and her team of facilitators provides is often unheralded, which is ok by Ellen as it means that they, the official organizer, and InternetNZ aren't perceived as having an influence on the discussion.
"It's about being a facilitator: providing space, support, encouragement and engaging with all the people in these groups to allow them to facilitate their own sessions," says Ellen.
"InternetNZ is there and we participate and have our positions but we are more about supporting the event rather than setting the agenda, because we really believe that one of the fundamentals of an open Internet is that it is being shaped by everyone. And the more people engaged in the discussion only helps to build the awareness of the Internet as not just something being built and governed by Google or the government. Rather, the way that you do your business is also having a major contribution to the future of the Internet."
Taking NetHui to the people
Given this community-driven, free-spirited environment, no NetHui event has been alike. Nor will it be this year, with consultation underway on the idea that NetHui may be held in three different locations over one week.
"The goal of NetHui has always been about encouraging the broader community who are interested and involved in the future of the Internet to get together and talk," says Ellen. "From the first time we held a NetHui in Auckland in 2011, we've had demand for regional NetHui's, like NetHui South, which we held in the South Island in Dunedin in 2012 and Christchurch in 2014.
"We love the idea of regional meetings because we find that while we get a variety of people coming to the national NetHui, it is still mostly people from the capital cities.
"So this year we are looking at trying something different and holding three one-day events, like a road show. It will be one day in a regional centre in the South Island, one day in a regional centre in the North Island, and one day in Auckland.
"We think it's important to keep changing and responding to the community's requests, so we're keen to give this a go and see what people think. We are currently in consultation with the Internet community to see what they think about the change."
In true form to NetHui's ethos, and her role as a facilitator, Ellen asks that the last line is not left for her final words but is open to the people to contribute and share what they like about NetHui and the ways in which it is evolving. Feel free to leave a comment below.
---
The views expressed by the authors of this blog are their own and do not necessarily reflect the views of APNIC. Please note a Code of Conduct applies to this blog.