"Gross National Happiness is more important than Gross National Product" by Jigme Singye Wangchuck, king of Bhutan Source: Mario Biondi
Wikimedia
In Bhutan, the quest for happiness is not only spiritual but is an essential socioeconomic indicator.
Gross National Happiness (GNH) was a phrase coined in 1972 by Bhutan's fourth Dragon King. It represents a commitment to building an economy that would serve Bhutan's culture, based on Buddhist spiritual values instead of western material development gauged by gross domestic product.
Over the years the concept has evolved and the GNH policy now serves as a unifying vision for Bhutan's five-year economic and development planning process.
For many people, happiness is employment, education, health, sustainability as well as community and personal development. Things that improve livelihoods and things, which I believe, ICT helps provide, in particular, for women.
Gender equality within ICT still a challenge in Bhutan
Women recognize the power that ICT can provide them – access to information and a means of communication that will improve their livelihoods. In developing countries, including Bhutan, women's access to ICT could mean that women will be better informed about farming methods, public health issues, and government procedures available online. In addition, access to information could empower women by giving them a political voice and thereby ensuring that their opinions and interests are heard.
Although there are no serious issues of gender bias in Bhutan, there are unspoken challenges for women associated with education and career opportunities. As one of my colleagues puts it:
"Men will often be given opportunities in these areas ahead of women because men are perceived to be more likely to perform better and persevere to learn more than women, whose commitment is more inclined towards her family and domestic affairs."
The Bhutanese government is committed to enhancing gender parity. The decision by the government to bring state parties to the 'Convention on the Elimination of all Forms of Discrimination against Women' attests to this commitment.
Organizations are also taking steps to encourage women into their ICT workforce; however there still remains a problem with attracting women to the field owing to the myth that ICT is a male dominated industry. Therefore women and adolescent girls are too intimidated and overwhelmed to come forward.
Evidence indicating the unequal access of women to ICT in other countries must provide cues to the additional attention needed in Bhutan in devising strategies to addressing disparities in women's access to ICT. Two areas that more focus is required in forming strategies are: educating young women in ICT; and encouraging them to pursue a career in the industry. More importantly, both of these strategies require leadership from women in the industry.
ICT provides opportunities; take them
I have been working in ICT for over three years as a system administrator for the contact centre at Bhutan's largest ISP providers, Bhutan Telecom. I joined them after completing a Bachelor's degree in Computer Science.
What I like about this field is its breadth and scope. ICT is a diverse field, which many organizations are dependent on. This in turn provides abundant opportunities and scope in terms of the businesses you can work for, the positions available, and the advancement in profession guaranteed.
Take for example my colleague Peldon who works for Bhutan National Bank as a System Administrator – she is the only female employee among 16 males in her department. She assists her colleagues in other departments in overseeing the smooth running of the core banking system.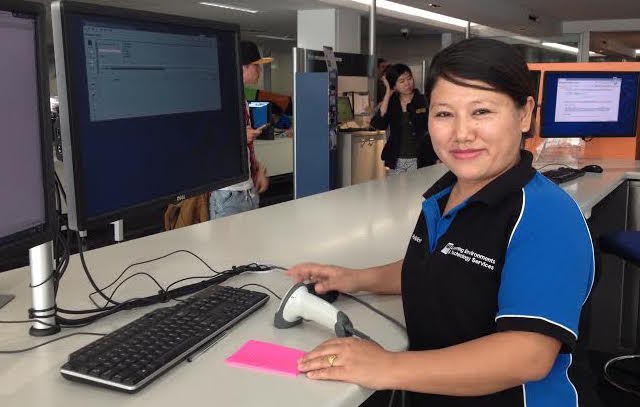 "Since we are dealing with financial matters, it is a risky job and if not handled with care could result in disastrous impact on our organization," says Peldon.
Currently she is on sabbatical for two years pursuing a Masters in Information Technology at the Queensland University of Technology in Brisbane, Australia, and is also working casually at the university's IT Helpdesk.
Peldon recognizes that opportunities like this would be hard for a female to gain if not for ICT qualifications and encouragement to pursue a career in the industry, something that she credits her older sister for.
"I always looked up to my sister as the person I desire to be, personally and professionally. She is one of the reasons that motivated me to pursue a career in the ICT field – she is the division head of her IT section. She has also participated in various youth forums in ICT representing Bhutan and feels strongly about women's participation in ICT.
"A couple of years ago, she helped two orphan girls from our village to get scholarship for their education. These girls are still studying today in a rural school in Bhutan.
"At home she helps our nieces with their IT subject and provides her laptop for them to practice basic IT skills. So the small things she has done towards girls' educations are her small contribution to the community."
Peldon says she recognizes the importance of these 'small things' and is committed to returning to Bhutan after her sabbatical to help improve children's digital literacy.
"Technology is no longer a luxury but a necessity today and it is going to be more in demand in the future. I consider digital illiteracy as some kind of disability because we are entirely dependent on the technology for everything.
"When I return home, I am planning to work closely with 'Thimphu Public Library' who run various reading activities and programs for children. They don't have any digital literacy programs so I hope to be able to impart basic IT skills and knowledge to children who cannot afford laptops or Internet connection at home."
Peldon hopes that with these basic skills coupled with the determination and confidence that today's young girls in Bhutan demonstrate, will foster growth of women in the ICT industry in the near future.
"To those women contemplating a career in ICT, I would say there is work for everyone as long as you have the passion and enthusiasm to learn and explore."
There is hope for happiness in Bhutan and I'm looking forward to helping foster it too with Peldon and other women working in ICT.
---
The views expressed by the authors of this blog are their own and do not necessarily reflect the views of APNIC. Please note a Code of Conduct applies to this blog.