Seiichi Kawamura, ex-chairman at JANOG, presenting on "Improving Interconnect and Beyond" at HKNOG 2.0
Over 120 people recently attended the second Hong Kong Network Operators Group conference, HKNOG 2.0, held on 14 September in Hong Kong.
Internet Services Providers, Internet Content Providers, Data Center Operators and related industries enjoyed a day full of informative sessions. The majority of attendees were local professionals, although we welcomed a few friends from Japan, Singapore and Mainland China.
There were twelve sessions, which focused on network design, network security, data centers, and industrial trends to name a few. Below are some of the highlights.
Why Measure?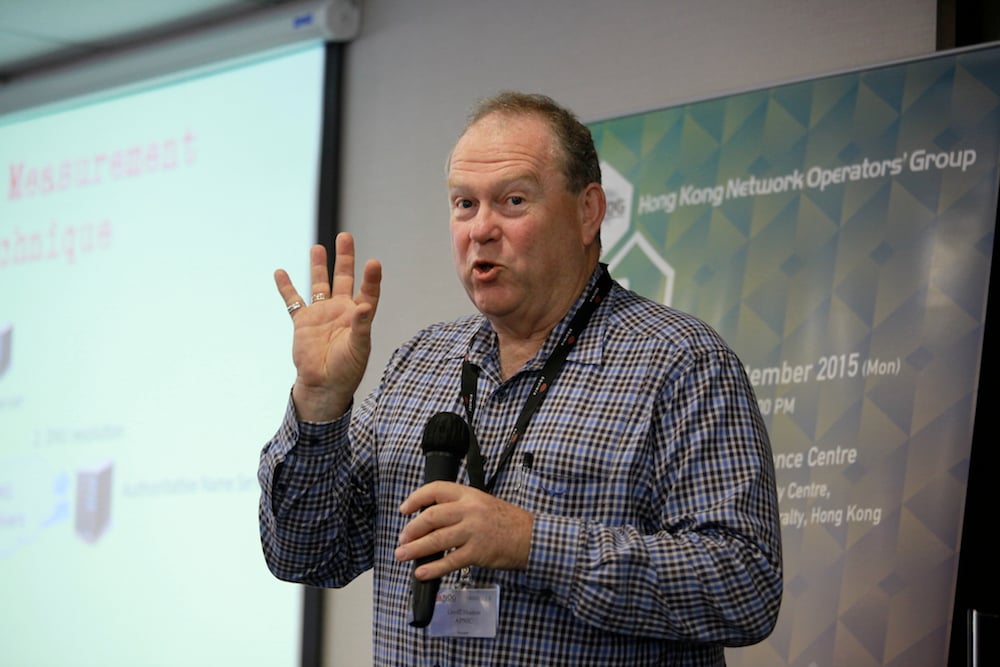 This was the title of our keynote speaker Geoff Huston, APNIC's Chief Scientist. Geoff introduced an outside‑of‑the‑box method to collect user data, which can be used to formulate IPv6 penetration and to identify the stalker IPs. The key was to make use of Google Ads and DNS statistics. It was an eye opening concept which I believe many of the audience had never thought of.
Check out Geoff Huston's presentation
The findings on stalkers were alarming and illuminating and the message was loud and clear: rethink and redesign our DNS and resolver use to help protect us from exposing ourselves to others.
From Advanced Routing to Cloud Networking
Eric Lam from Cisco Systems introduced us to advance routing techniques during his talk on "Application Engineered Routing". Although technical, attendees managed to grasp the beauty of the Segment Routing, and many attendees visited the Cisco Systems demonstration during the breaks to learn more about the application engineered routing solution.
Staying on routing, Peter Lam from Infinera introduced the new trend in DWDM system and photonics to support growth and evolution in the Global Cloud Network. And Sai-Ping Sung shared Telstra's Pacnet plan, detailing its strategy for integration of new merger and acquisitions. This was helpful to engineers facing similar network integration problem.
Security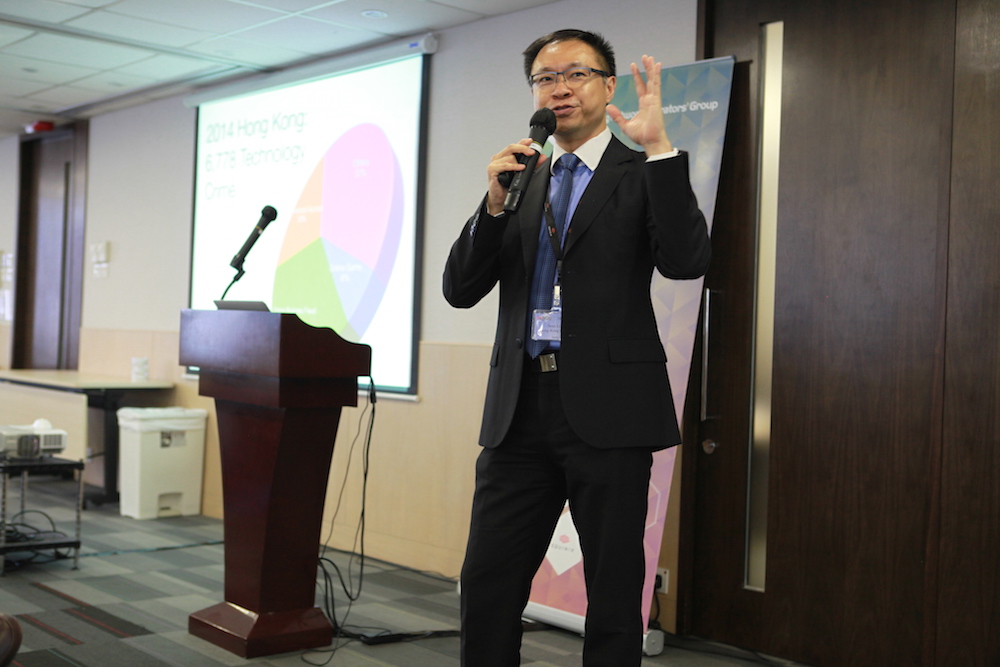 Speaking on security aspects of network operation, Sean Lin, Chief Inspector at Hong Kong Police Force shared the latest cybercrime trends and advised "How Network Operators can Combat Cyber Crime".
On technical side of network security, Marty Strong from CloudFlare presented on "Combating DDOS and Why Peering is Important in Asia", Bruce Van Nice from Nominum spoke about "Vulnerable Internet 'Things' Fuel DNS-based DDOS", and Disney Cheng from Tenable presented on "Continuous Vulnerability Monitoring for Internet Service Providers".
From feedback many attendees have asked for training and more sessions on security in future HKNOG events.
Sharing experiences beyond Hong Kong
One of HKNOG's key objectives is to introduce new concepts and provide opportunities for our Members to learn from the experiences of other nations.
In relation to new concepts Raphael Ho, a long time HKNOG volunteer, disclosed the trade secret behind the Green Data Centre of Equinix.
A particularly thought provoking presentation was given by Rupesh Kumar Thapa from MICET Foundation who shared with us how Nepal Internet survived and evolved from the recent earthquake.
Our friends from Japan were also invited to enlighten us. First Daishi Shima from BBIX spoke to us about the trends in "Mobile Internet in Japan and Asia". And Seiichi Kawamura from BIGLOBE (ex-chairman at JANOG) presented on "Improving Interconnect and Beyond", during which he sought to collaborate with the audience and exchange ideas on the IXP operation.
Tell us what you thought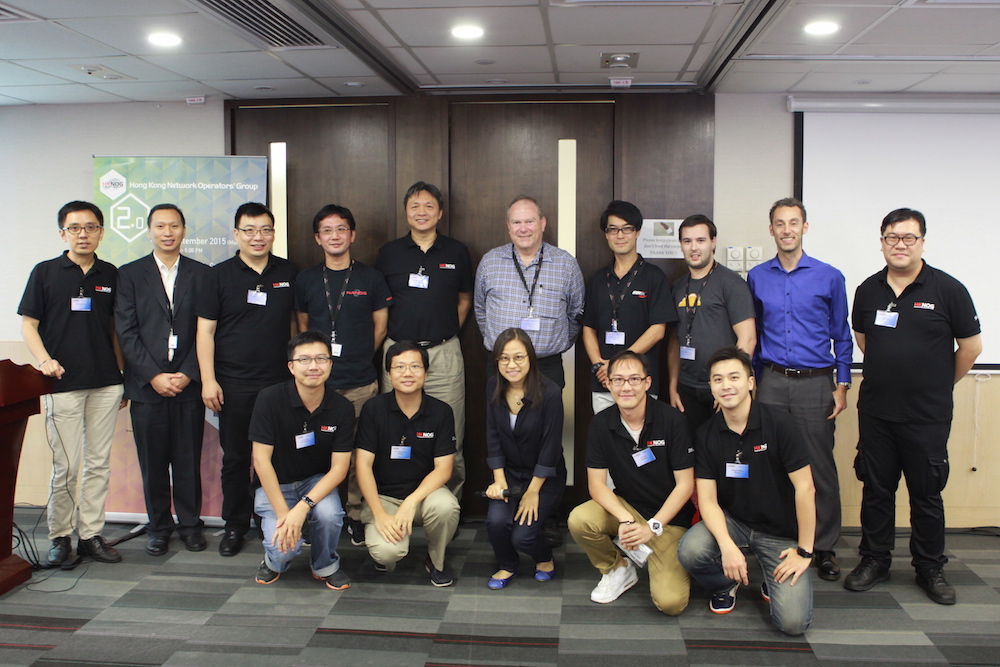 We at HKNOG would like to thank APNIC and HKISPA for their support. We would also like to thank the generous sponsorship from Cisco Systems, BTI, Infinera, BBIX, Equinix, Nominum, NTT and Wharf T&T.
Last, but not the least, thank you to all those who attended. We were overwhelmed by the number of people who attended and hope that everyone enjoyed it enough to come back to future events.
As a young NOG, we welcome comments, suggestions and other initiatives for future events; please email us your thoughts.
Wai-Kay Shiu is a member of HKNOG. He works as a Telecommunications Engineer at the Hong Kong Police Force.
---
The views expressed by the authors of this blog are their own and do not necessarily reflect the views of APNIC. Please note a Code of Conduct applies to this blog.