The Port of Jakarta (Tanjung Priok) has long been Indonesia's busiest seaport. The bustling harbour handles more than half of total goods shipped into and out of Indonesia, and is considered to be a barometer of Indonesia's economy.
Fifteen kilometres west of Tanjung Priok is the more exclusive Pantai Mutiara Marina. Here you're more likely to see yachts and luxury speedboats rather than massive cargo ships or oil tankers. However, the glitzy port has a strong claim to being far busier than its larger sister.
Pantai Mutiara is where one of Indonesia's largest submarine fibre-optic cables docks, a cable that carries millions upon millions of data packs a day including phone calls, emails, Ebay purchases, and credit card transactions.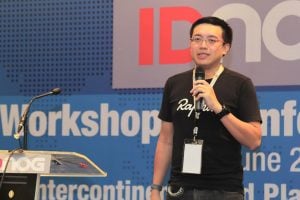 "Subsea fibre-optic cables are extremely important, as they allow for high-speed broadband connection to the rest of the world," says Willy Sutrisno, a telecommunication specialist with Matrix, the company that owns this particular cable, which spans 1055 km to Singapore.
Willy, an expat Jakartan living in Singapore, played a significant roll in constructing this telecommunication bridge between two of South East Asia's largest economies. He also was heavily involved in developing Indonesia's first Internet Network Operators Group, IDNOG.
Establishing IDNOG
IDNOG (Indonesia Network Operators' Group) is an independent, not for profit organization run by volunteers. It provides a forum for Internet network operators to discuss matters of mutual interest. Members of IDNOG include technical staff from ISPs, network operators, government regulators, decision makers, hardware and software vendors, and educators and trainers.
Although not as expansive as the submarine cable, Willy says IDNOG is no less important in terms of connecting Indonesia's Internet network operators with the rest of the world.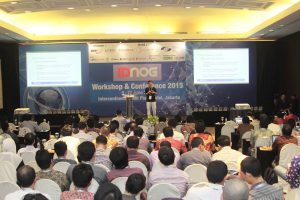 "Indonesia has some of the best minds and real world experience in the industry, however not many have the opportunity to travel to international events to give talks. This may be because of a lack of funding or because they are not confident giving public speaking in their non native language," he says.
"We set up the NOG for two reasons. One, it helps to inform Indonesian network operators about the latest things that are happening in the industry, especially from overseas countries, and how we can achieve them. Secondly, our meetings provide local operators a space to share their opinion and practice presenting to an audience."
Read more about the birth of IDNOG
Since it was established in 2014, IDNOG has held two conferences, where local network operators have shared the stage with international speakers.
Willy says he hopes this opportunity to practice presenting among local peers will encourage people to seek further speaking opportunities abroad.
"I look at Japanese network speakers at international conferences like APRICOT and many of them present and speak up at these events even though they may not have very good English.
"They have had a NOG (JANOG) since 1997, which I believe has had a large part to play in this confidence. What I notice is they have a very big passion to learn and to share information. On top of that, Japanese organizations/companies are always a good and loyal sponsor to such similar events."
Future challenges IDNOG faces
As IDNOG enters its second year, Willy says there are a lot of challenges they still need to face.
"Our greatest challenge is attracting more conference sponsorship from local ISPs and organizations," he says.
"For the first two conferences, more than half of our funding came from international sponsors – Google, ICANN, Global Transit, Biglobe/Fullroute and APNIC – who have dealt with other NOGs and understand their benefits.
"Local organizations don't fully understand what we do and how we work because we are new. We need to show them that we are attracting people to our network that work with them and for them, therefore we provide a perfect opportunity to speak with and encourage this community."
A second challenge IDNOG is facing is formalizing the organization.
"When set up IDNOG, we wanted to make things as simple as possible. Part of this was not registering it as an official organization in Indonesia, as this is a very complicated task in Indonesia.
"However, we have discovered that this makes it difficult for sponsors to transfer the sponsorship funds, as we don't have an official bank account. As such the committee are currently discussing registering IDNOG as a not-for-profit organization."
In the grand scheme of things, Willy sees these challenges as rather minor in comparison to getting IDNOG off the ground.
"That was the biggest challenge, one that was made possible largely by the cooperation and passion of the Program Committee who have been responsible for multiple things including getting sponsors, finding conference speakers and workshop tutors, and communicating with our members; who have in turn have helped us by being so active among the community.
"Now that we have established this great network we need to make sure it will survive and prosper so we can highlight and export the achievements of Indonesia's network operators."
---
The views expressed by the authors of this blog are their own and do not necessarily reflect the views of APNIC. Please note a Code of Conduct applies to this blog.