On my recent trip to India, where I presented at the SANOG 26 conference in Mumbai, I also visited Visakhapatanam to deliver seminars on increasing awareness of IPv6 and IT security.
Visakhapatanam is working towards becoming India's first Smart City – an initiative by the Indian Government who wants to develop 100 Smart Cities by 2022.
I delivered two seminars over two days, one at the Chamber of Commerce and the other at Gandhi Institute of Technology and Management (GITAM). Attendees included local broadband operators, members of the Vizagapatam Chamber of Commerce and Industry and final year students from GITAM.
The seminars were featured in The Hindu and Times of India.
During both seminars I touched on Internet Governance and the Internet Ecosystem in the Asia Pacific region and APNIC's role in both Internet infrastructure and human capacity development in the region.
For aspiring GITAM students, I highlighted the importance of cybersecurity and privacy and how they can help by securing their home routers and smart phones.
I also spoke about the need to adopt IPv6 and highlighted the shortage of IPv4 addresses affecting the Internet community in India and elsewhere in South Asia.
ISPs will find it difficult to meet the demand of publicly routed IP addresses to their customers.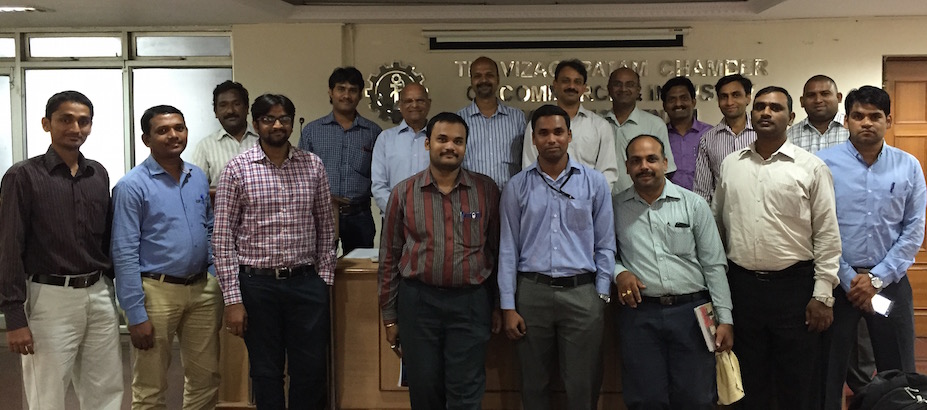 With the growing concerns of the governments to protect their citizens from cyber-bulling and cyber threats, it will be difficult for service provides to keep track of the user logs with NATs, double NATs and CGNs. To overcome these concerns, I explained the dual stack deployment strategy, which provides end-to-end connectivity for IPv4 and IPv6 users.
Further, the adoption of the IPv6 protocol is critical for the Smart City and Digital India Projects, as they would depend on the publicly routable IP addresses for monitoring and data collection.
With Andhra Pradesh being split  into two states, Telangana and Andhra Pradesh, I believe, Visakhapatnam  has potential to shift from being a traditional power supply unit  and steel producing city to a Cyber hub for Andhra Pradesh.
The time is now for the ICT industry in Vasakhapatnam to put plans in place to create awareness of the latest Internet technologies and to educate its workforce to embrace the opportunities ahead.
---
The views expressed by the authors of this blog are their own and do not necessarily reflect the views of APNIC. Please note a Code of Conduct applies to this blog.