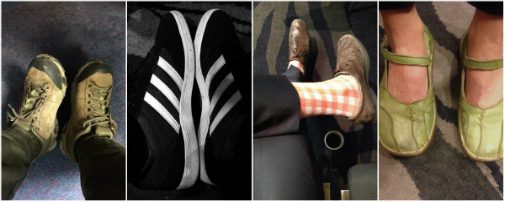 #ShoesOfNetHui
was one of the social ways participants connected during NetHui 2015.
Last week, InternetNZ held its annual NetHui in Auckland, New Zealand. The theme of this year's conference was 'The Internet is everybody's business.'
This theme is particularly poignant this year, as community-driven, bottom-up, multistakeholder processes are under the spotlight because of the IANA transition and ICANN accountability processes, as well as the WSIS+10 review.
Read our previous post on WSIS+10: Building a shared vision for the next decade.
NetHui is all about the community, and offered an excellent opportunity to engage in energized discussions with a diverse range of participants from the technical community, civil society, government, academia, industry and APNIC's membership.
A particular point of pride for APNIC were three presentations on regional projects supported by ISIF Asia – a grants and awards program supported by APNIC, aimed at stimulating creative solutions to ICT development needs in the Asia Pacific region. These presentations were given by:
Anonga Tisam, who presented his work developing a Cook Islands Maori Database.
Etuate Cocker, who presented on the Improving Internet Connectivity in Pacific Island countries with network coded TCP project.
Jon Brewer, who presented on 'a peering strategy for the Pacific Islands.'
Multiple NZ meetings drive Internet governance
While NetHui primarily focused on developments in New Zealand's Internet community, this year's pairing with InterCommunity 2015 and PacINET offered an even broader perspective.
InterCommunity 2015 was the Internet Society's (ISOC's) first virtual meeting that brought together participants from around the world and connected directly with 15 regional nodes. The group discussed the mobile evolution of the Internet, the virtues of collaborative governance and security, and ISOC's efforts to translate ideals into action through the Joint Policy Action Team and Beyond the Net grants program.
PacINET, organized by PISIOC, had a similar focus on action. During the PacINET program, members of the Pacific community came together to discuss important developments and ongoing projects to improve connectivity and inclusivity across the region.
All three meetings in Auckland embodied the energy and potential of the multistakeholder model that drives Internet governance, and APNIC is proud to have been a bronze sponsor of NetHui 2015 as a part of our continued effort to promote and strengthen open, multistakeholder, bottom-up and transparent Internet governance model and policy development processes.
Last week was yet another important demonstration of how the community can come together to take action to build a global, open, stable, and secure Internet. It is important that the successes of community-driven efforts at the national, regional, and international levels are brought to the fore as the community works to renew and continually strengthen Internet governance.
---
The views expressed by the authors of this blog are their own and do not necessarily reflect the views of APNIC. Please note a Code of Conduct applies to this blog.