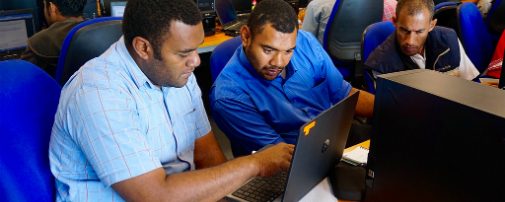 From June 29 June to July 3, APNIC Training team organized and delivered a 3-day IPv6 training workshop in Suva, Fiji.
During our visit we also conducted two 1-day tutorials on the topics of Internet Resource Management (IRM) and Network Security, completing a five-day learning week.
It was a productive workshop for local engineers who had been looking forward to the training since our last workshop in 2013.
A total of 41 participants from major network operators, universities, and the government of Fiji, came together to the host venue University of South Pacific (USP) Japan-Pacific ICT Centre.
During the workshop we discussed relevant topics on IPv6 deployment and transition, which were new concepts to most. There was also great discussion on using and updating the APNIC Whois Database, routing security and RPKI.
This training event was part of the IPv6 Workshop series coordinated by the Pacific Islands Telecommunications Association (PITA) and APNIC, with training previously delivered in Tuvalu, Kiribati and the Cook Islands.
A special thanks to Fred Christopher, PITA Manager, and his team for coordinating with the local community and providing great support during the week.
---
The views expressed by the authors of this blog are their own and do not necessarily reflect the views of APNIC. Please note a Code of Conduct applies to this blog.