The Ministry of IT and Telecom, Government of Pakistan, hosted an outreach workshop on "Internet Governance and Role of its stakeholders" held on Thursday, 19 February 2015 in Islamabad, and invited APNIC, ICANN and ISOC to share their respective roles in the Internet Ecosystem.
It was the first time in South Asia three I* organizations were invited by a government to outreach its Internet community.
Over 300 delegates attended this workshop and was a great success, opening doors for all stakeholders in the Pakistan Internet Ecosystem to learn and share from the experts.
Along with APNIC, ICANN, and ISOC, experts from ISPs, IT & Telecom companies, academia, officials of government organizations, civil society and other dignitaries participated in the workshop.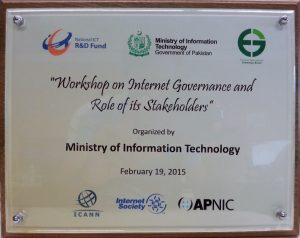 Two federal Ministers addressed the gathering.  Ms. Anusha Rahman, Minister of State for Information Technology (MoITT) and Mr. Ahsan Iqbal, Minister for Planning, Development and Reforms.
In her welcome speech,  Ms Anusha Rahman said "In the spirit of democratic governance, present government manifesto, and visionary approach, Government of Pakistan is giving very high priority to information and communications technologies sector, particularly Internet Governance system in the country."
She also commended APNIC efforts in creating awareness of IPv6 and providing capacity building initiatives, saying "Pakistan government is very happy to work with APNIC in its initiatives for Pakistan. It is essential to work with I* organizations moving forward."
Minister for Planning Development and Reforms, Mr. Ahsan Iqbal, gave a Guest of honour speech, in which he said "in Internet Governance, it is important all stakeholders work together collaboratively and collectively."
He also said "Pakistan should become an active and engaging country in the global forums" and "spirit of the Internet should largely be in the hands of the community, not with the governments."
I attended the workshop and delivered a presentation on IPv6 and the role of APNIC in the Internet Ecosystem. I also shared APNIC initiatives for Pakistan, including root server deployments, Industry partnerships, capacity building, and network operators groups.
Along with colleagues from ICANN and ISOC, I also met with a number of organizations from the government, private and civil society.
APNIC thanks Ms Anusha Rahman for providing opportunity to collaborate with MoITT, other relevant government departments, and the industry.
APNIC currently has 95 Members in Pakistan and growing. APNIC is looking forward to work with its Members and the wider community for the growth of Internet in Pakistan!
We have developed a podcast discussing Pakistan Workshop on Internet Governance.

---
The views expressed by the authors of this blog are their own and do not necessarily reflect the views of APNIC. Please note a Code of Conduct applies to this blog.