Covering 21 square kilometres, the Micronesian island economy of Nauru is one of the world's smallest by area.
I travelled to Nauru earlier this year with APNIC Community Trainer, Jethro Tambeana, to deliver a four-day Network Essentials workshop coordinated in partnership with PITA.
Read: Share your expertise as an APNIC Community Trainer
It was the first ever APNIC training event in Nauru, and the workshop was designed to provide an overview of a variety of topics related to network operations. It covered Internet Resource Management, IPv6 basics, IPv6 deployment, and network security over a four-day period.
Eleven participants attended, many of whom manage the networks of local enterprises and government departments.
Since it was APNIC's first visit to Nauru, I also hoped to also learn from the participants and our hosts, the Nauru Government ICT Department, about the nature of the local Internet landscape and their challenges and goals for the future.
Late last year it was announced that Nauru, Kiribati, and the Federated States of Micronesia would be connected to a submarine cable that will link to a proposed trans-Pacific cable system via Kiritimati Island, Kiribati, thanks to a grant from the Asian Development and World Banks. The cable is expected to arrive in 2021, and with it, an increase in bandwidth and decrease in the currently quite expensive cost of an Internet connection.
Submarine cable deals signed for Kiribati and Nauru https://t.co/b4eCTf26DD pic.twitter.com/tESFO9kbdb

— RNZ Pacific (@RNZPacific) May 3, 2018
Nauru also plans to use the cable to develop increased capacity in elearning and telemedicine.
In the meantime, network engineers and managers are seeking to improve their and their team's capabilities to upgrade, maintain and secure their networks, which are expected to become far busier with the cable.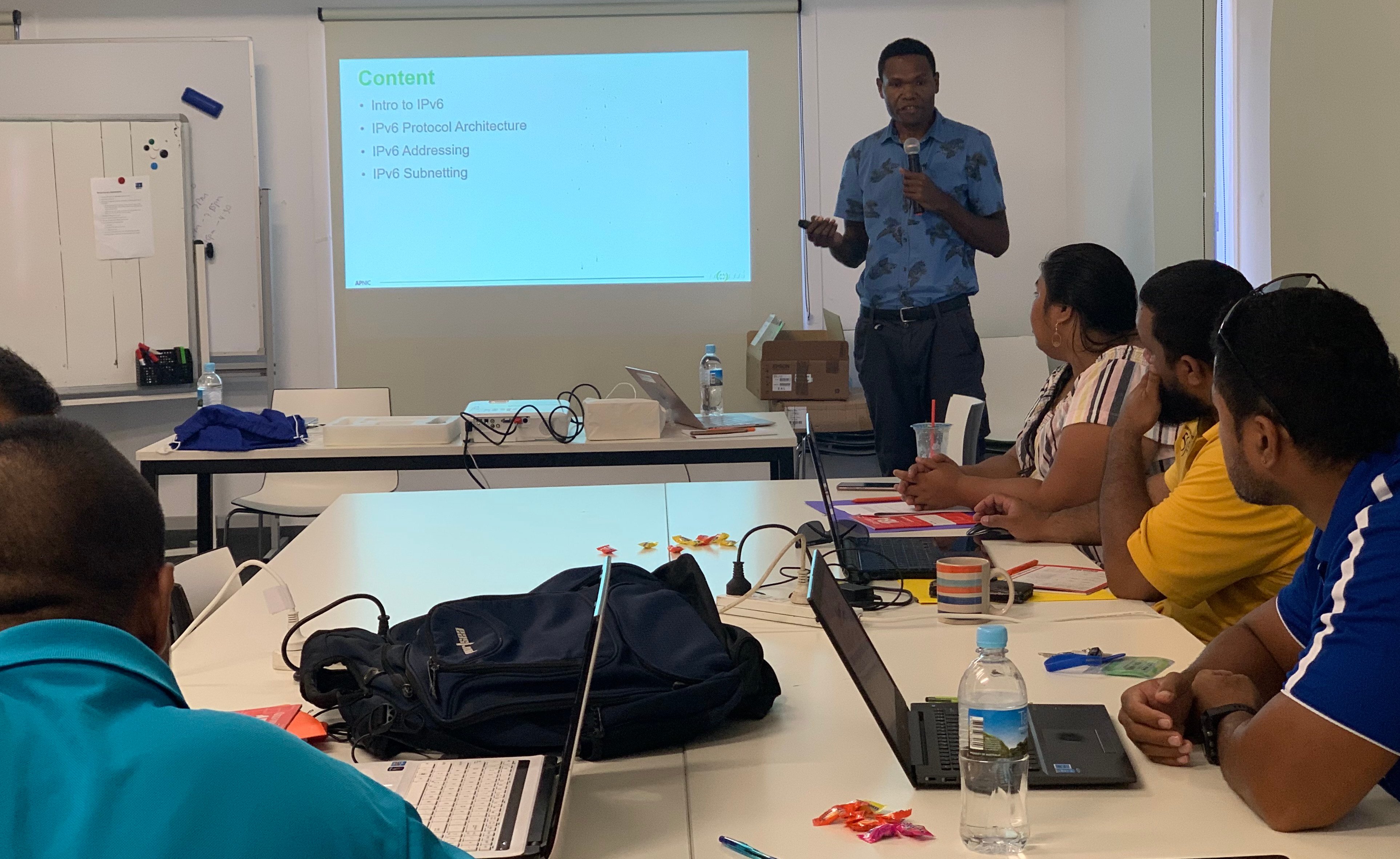 Like other small island economies, they struggle with a lack of accessible professional development resources as well as staff retention — many mentioned how they and their colleagues move regularly between departments and organizations. Although there are multiple elearning resources available to assist with the former of these challenges, participants said they found face-to-face hands-on workshops, such as the one we delivered, more appealing, as they were able to have their collective questions answered.
Many participants said they now looked forward to implementing what they learnt over the coming months with a key focus on optimizing and securing services such as email and DNS, which will provide benefits both now and in the fibre-connected future.
Many thanks must go to PITA for helping organize the workshops and we look forward to hopefully returning in the future to conduct further training for our Pacific friends.
APNIC provides training and educational support  in several formats to accommodate the needs of the Asia Pacific Internet community and to ensure accessibility and continuity of learning. Learn more.

---
The views expressed by the authors of this blog are their own and do not necessarily reflect the views of APNIC. Please note a Code of Conduct applies to this blog.