Pioneer is a word often associated with Sri Lanka's largest telecommunications service provider, Dialog Axiata.
Formerly known as MTN Networks and Dialog Telekom, the organization was the first commercial operator in South Asia to deliver GSM technology (1995), international roaming (1997), 3G and HSPA+ operations (2006), FDD-LTE (2013), and TDD-LTE (2012).
With such a rich history of being at the forefront of innovation, it was only a matter of time before Dialog also became Sri Lanka's first commercial operator to provide IPv6 services.
Taking stock of the job ahead
Dialog's IPv6 journey began in 2013 under the guidance of Naminda Jayawardana, Head of Dialog's IP core, operations and transmission planning, with the support of Gayan Amarasiri (Project leader), Charith N Perera (Technical lead of planning), and Indula Nayanamith (Technical lead of execution).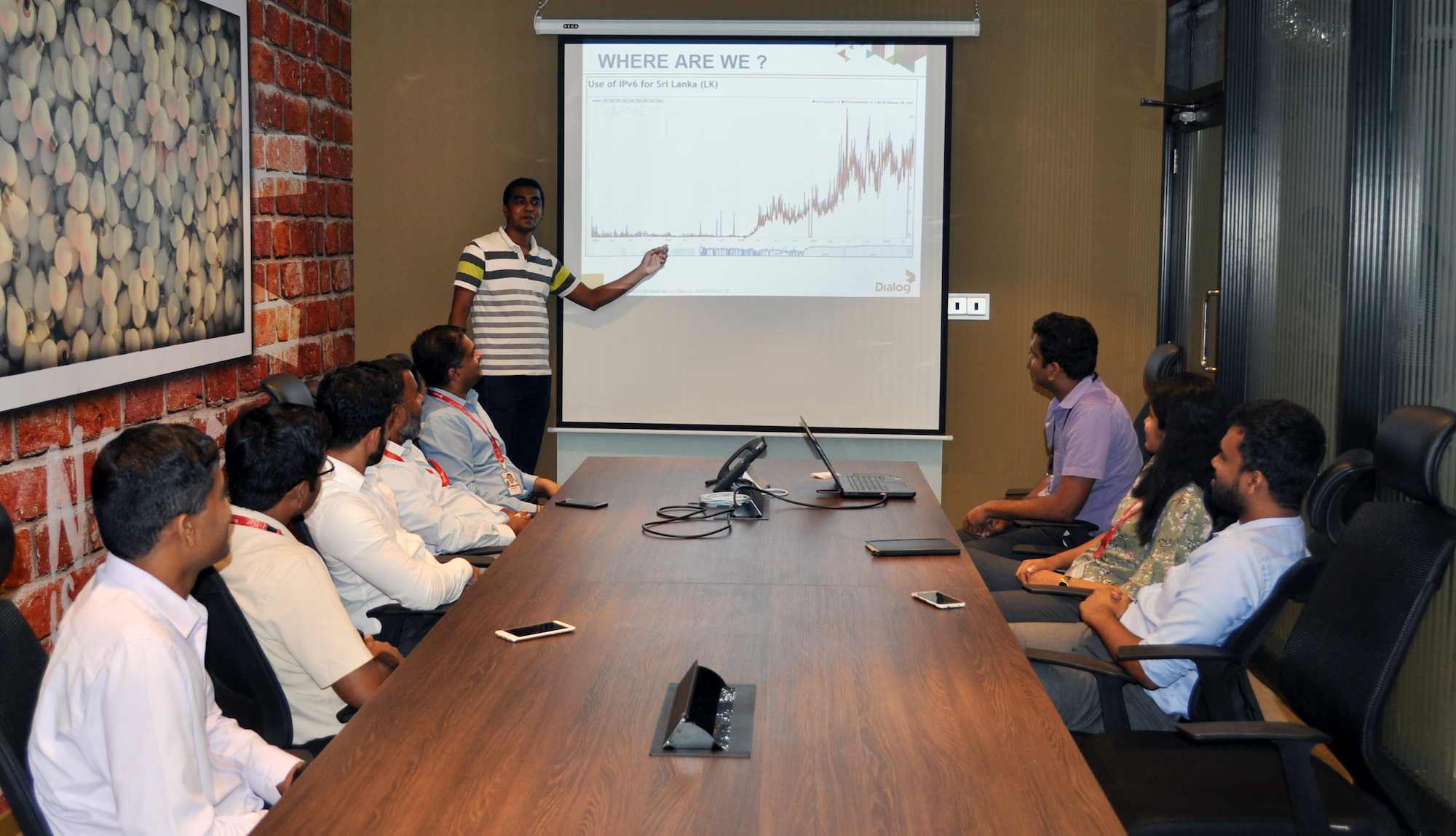 "During the initial stages, we did a full network assessment to identify the issues and restrictions on implementing IPv6," says Naminda, adding that Dialog's heterogeneous network made the process a challenge.
"We evaluated each node in the network as to whether it supported IPv6 or not. Having multiple vendors in the network made it difficult to check for this — it required some upgrades to hardware and features/licences."
The network assessment took around a year to complete, resulting in a solid justification and a plan to deploy IPv6 — dual-stack for users and native IPv6 and 6VPE (for leased line connections) for the transport network.
Getting management support
Having assessed what needed to be done, the next step was convincing management that IPv6 was the right option for Dialog in the long run.
"Deploying IPv6 has its challenges. Big investments in terms of network upgrades for little to no benefit to customers can make the process of convincing decision makers difficult," explains Naminda.
"The reality of IPv4 exhaustion, as well as the challenges and ongoing costs associated with NAT, were key points in making the decision process easier. Post-approval, all new deployments/projects on the Dialog network needed to support IPv6, as per management's decision."
Looking back, Naminda recognizes that the support from management played a crucial role in the success and speed of the deployment, including the Group Chief Technology Officer, Pradeep De Almeida, who considered this project vital to Dialog's future and worked closely with the team at each phase. His vision was to provide IPv6 for all users and devices.
Testing, testing, and more testing
Testing and troubleshooting was a coordinated effort involving multiple teams and expertise, something that took a lot of time and patience according to Naminda.
"The testing cycle was lengthy due to the number of services/products we offer; probable dependencies may occur," says Naminda. Dialog offers voice (mobile and fixed), broadband, leased lines, FTTX, customized telecommunication services, and digital satellite pay TV.
"User experience, IPv6 performance, mediation and charging all of these functions need to be checked for IPv6 compatibility with respect to various terminal device types, Android versions, IOS (Apple) versions and so forth. Before launching IPv6, we needed to check that each product/package had no issue on IPv6.
"Testing also required us to do changes on live nodes, which was a key concern for the operation teams."
Before the launch, support staff were also trained on IPv6 and how to troubleshoot IPv6-related issues. The business and marketing team also received training to convince them of the importance of IPv6.
Although every measure was taken to work out all the bugs, Naminda admits the initial launch in 2016 did uncover some IPv6 browsing issues due to recent CPE upgrades.
"This was not captured in the initial testing, as the issue was with CPEs that had been switched on for a couple of days without a restart.
"Luckily, users did not experience any issues, as they could still access the Internet via IPv4. However, we observed a reduction in IPv6 traffic. We had to work with the CPE vendor to correct it and redo a CPE upgrade, which delayed customer migration for some time."
The future
Dialog's IPv6 journey ended up taking less than three years from initial discussions to deployment.
Although the growth of IPv6 traffic has been moderate — currently 20% of Dialog's customers are IPv6 capable  (APNIC Labs July 2018) — Naminda believes this rate won't increase substantially until more content is provided over the new protocol.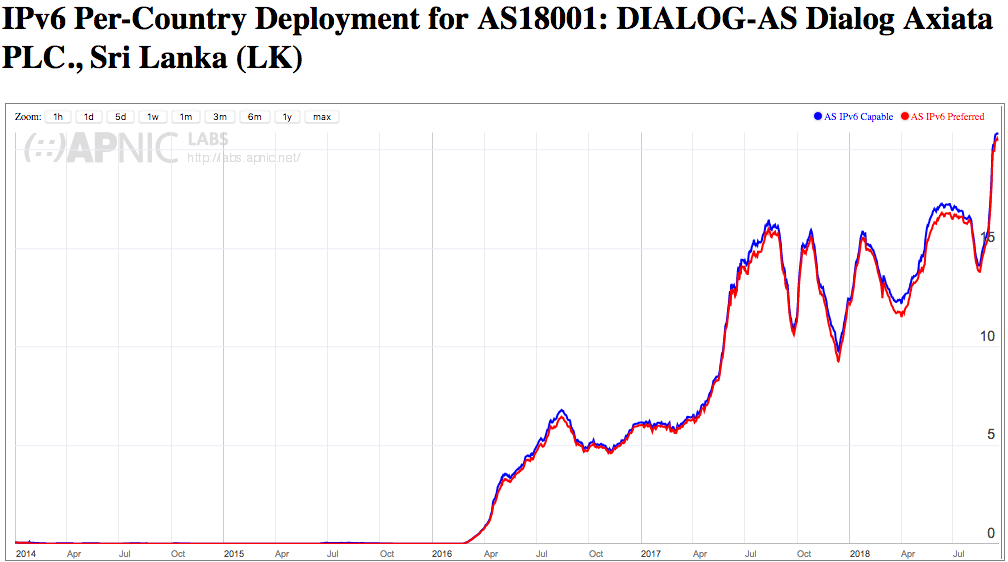 Figure 2 – Dialog Axiata IPv6 capability as of 31 August 2018, APNIC Labs.
"Although Facebook and LinkedIn claim to have some improvement of user experience on IPv6, there are no solid results for CDNs to start offering content via v6. However, we have seen some customers move to IPv6 due to Apple's requirement for all new apps in its App Store to support IPv6."
"Ultimately the switch to IPv6 has allowed us to not only update our network but enabled us to be ready for the future; in effect, it is a switch in mentality from survival to innovation."
With the dawn of IPv6, the internet changes today, forever. http://t.co/rgHGmozZ

— Dialog Axiata (@dialoglk) June 6, 2012
---
The views expressed by the authors of this blog are their own and do not necessarily reflect the views of APNIC. Please note a Code of Conduct applies to this blog.