Back in 2009, Route Origin Authorizations (ROAs) were introduced to APNIC Members through the Resource Public Key Infrastructure (RPKI) page in MyAPNIC. Since then, Members have been able to add more security to their routing announcements to guard against possible hijacking, unnecessary de-aggregation, and human errors.
However, at the time, route objects and ROAs were handled by two tools and different interfaces within MyAPNIC, creating potential inconsistencies. In addition, there were limitations in creating route objects — in particular, if Autonomous System Numbers (ASNs) were delegated by other Regional Internet Registries or other APNIC Members. Thus, Members had to seek third party Internet Routing Registry (IRR) services, a move that often has associated fees.
In August 2016, route management was made easier for APNIC Members. A new tool was introduced in MyAPNIC that allows Members to create routes with any ASN, together with ROAs at the same time — a consolidation of the whois updates and RPKI pages into one easy to operate, yet more powerful, tool.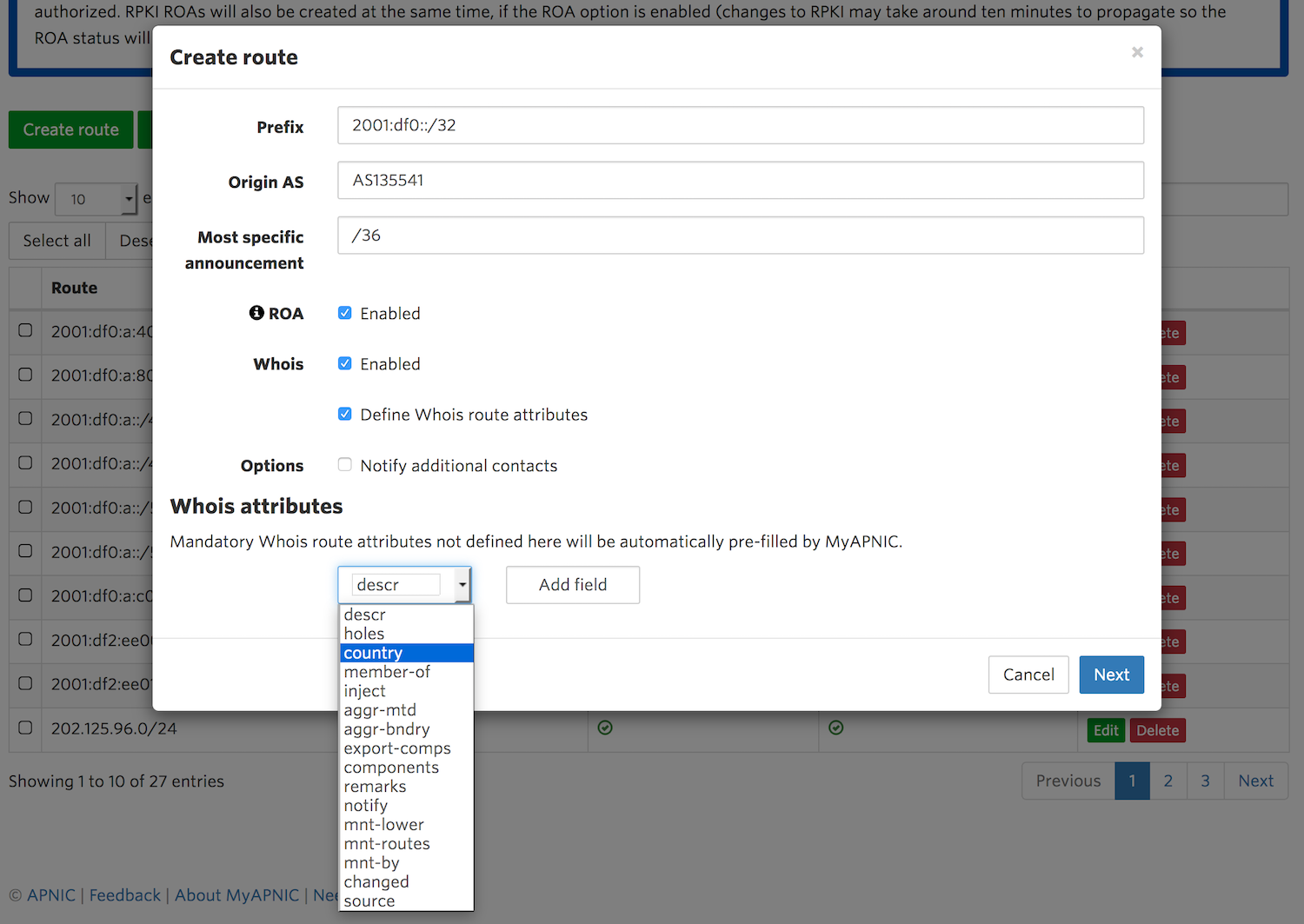 With further improvements to the tool, Members can now import routes based on their BGP announcements — giving them more visibility and control over their routing. With this improvement, most of the functionalities in the old MyAPNIC RPKI page have been deprecated — Members can now access the one tool for managing route objects and ROAs.
But, we are making still more improvements!  As part of APNIC's broader whois data quality initiative, we plan to begin work on some additional features that will help Members maintain the accuracy of their route objects along with their ROAs. Stay tuned for more information, and of course, your feedback is most appreciated!
---
The views expressed by the authors of this blog are their own and do not necessarily reflect the views of APNIC. Please note a Code of Conduct applies to this blog.