As also encountered in many countries, especially those in the Asia Pacific, the weakness in our education system in Indonesia is caused by many teachers and lecturers in vocational high school and technical university not having enough "real" industrial experience. Most of them have "textbook" knowledge only.
When I got the opportunity to join the APNIC Fellowship, I managed to meet a lot of people from other countries and have discussed the issue with them. I've found that this is also the situation in Bhutan, Myanmar, Bangladesh, etc.
Most of them said that, when they were in university, many of them in networking, they learnt only "layer 1" issues, such as wireless technology, and nothing about the big picture, such as the trending new technologies, implementation, how it all works and opportunities for students to get the right jobs after in college.
The purpose of IDNF
IDN Foundation, at which I have been a volunteer, is a non-profit organization that is trying to solve the problem.  (IDN refers to ID-Networkers, one of the biggest Indonesian network engineer communities.)
Our mission at IDNF is to provide that "bridge" — to help all teachers and lecturers in Indonesia gain real, hands-on industry experience, by helping entrepreneurs, and professionals from industry, connect with educational institutions. Our goal is to develop the next generation of network engineers in Indonesia.
Based on our experience and community survey with teachers and lecturers, we have found that students from universities, and especially from vocational high schools, have difficulties getting the right jobs after graduation.
The main problem is students don't have enough practical skills but only "theory" or "paper-based" knowledge, and they don't have much experience in handling real network devices and topology.
They also don't have any industrial certification.
IDN Foundation teaches the teachers and lecturers for free, giving them knowledge about what technology is being used and how it is used in the real world. They then go back to their institutions and spread what they have learnt to the students.
One interesting case was of a teacher who comes from the island of Papua Island, which is more than 3,000km from where we are. He came to us, saying that his school had very few network devices – one device per 10 students – which made it difficult for them to focus. So that's one reason he wanted to learn from us: to get free network devices for the school, with the hope that doing so could improve the teaching in his school. At the very least, he could implement a wireless installation, as it is still very difficult over there to get Internet connection by fibre, and they still use wireless point to point for connecting from one location to another.
IDN Foundation also gives the teachers the opportunity to take an international certification exam in one of the most famous network devices. And should they pass with a high score, at least 75%, we help them to move to the next step, which is that they are deemed a "network academy", and have the authority to offer the international exam for free to their students.
My history with IDNF
IDNF was established in mid 2013 and has been providing scholarships to students who have an interest in networking. The first of our scholarships focused on the "CCIE Routing & Switching" program.
However, we grew so fast and moved to teaching not only students but also teachers and lecturers all over Indonesia for free.
My involvement with IDNF began as a 20-year-old student in 2014, when it gave me a scholarship to a "Training for Trainer" course with MikroTik devices in Prague in the Czech Republic.
The training culminated in a presentation in front of an audience and several judges, after which I was certified as a MikroTik Trainer.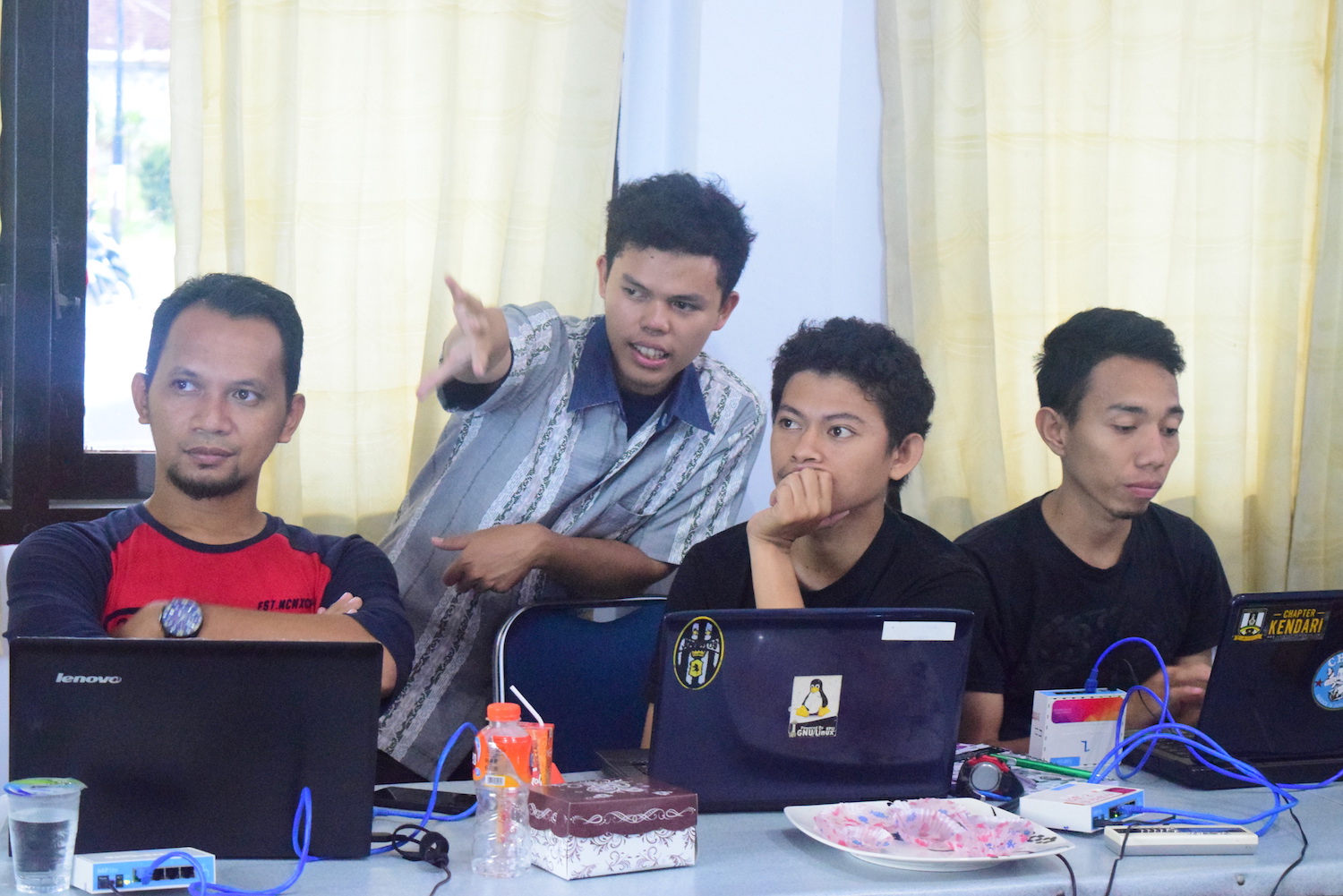 As a trainer, I can give international certification to people in Indonesia. These MikroTik certifications — MTCNA, MTCRE, MTCTCE, etc – are similar to those in Cisco such as CCNA, CCNP, CCIE etc.
On returning to Indonesia, my aim was to help teachers and lecturers learn about what is going on in "real industry".
What IDNF training involves; advice to students
My role involves exactly the two things I love doing: learning and teaching. Some people say one of the best ways to learn is by teaching, as that is a way to remember things forever.
I want to help teachers and lecturers, whose Internet connections are very bad or whose schools or universities have few network devices, and help them know what is really happening in the network industry. They in turn pass on that knowledge to their students.
I provide them with information, and give them an introduction, into what exactly a career in networks and the Internet would involve. I would paint a picture about the work of a Field Engineer, Network Engineer, System Engineer, Wireless Engineer, Data Centre Engineer, Voice Engineer, and others.
In most cases in Indonesia, many students, especially those in computing, graduate and do not know what they are going to do. That's why, besides being a trainer, I am sometimes invited to speak at conferences, schools, and universities about network engineer careers, how the Internet works, and so on.
Besides being a trainer and speaker, another of my roles at IDNF is also to be a MikroTik Academy Coordinator, which involves facilitating the "industrial agreement" between MikroTik in Europe, and Indonesian schools and universities. If they have an agreement, MikroTik in Europe will give 20 router network devices to learn MikroTik routers free of charge. This is a real boon for schools in villages or towns that do not have the funding to buy such devices.
Besides learning how to configure routers and the 20 free routers, the schools and universities can also give their students "international certification" for free, rather than the usual cost of USD 200.
From speaking to students in schools and universities, it is clear to me Indonesia needs to fix its ICT curriculum. When these students graduate, they are equipped with only basic network knowledge, such as OSI Layer, Protocol, IP Calculation, etc. It is very rare for them to have learnt about Routing Protocol BGP, for example, or MPLS, etc. We need to develop those skills.
The next 5 years
IDNF has been growing every year, with around 500-750 students, teachers and lecturers learning about and sharing knowledge about networks. Now our focus is expanding, with programs on Android and iOS Mobile Programming, OpenStack, VMware, etc. All free of charge.
Our objectives over the next five years include:
Increasing the number of students, lecturers and teachers from 500-750 to 5000 people.
Creating more "Rockstar Engineers" — that is, encouraging more young people to become professional engineers. IDNF has helped develop many, including the youngest CCIE technician in Indonesia at 18 years of age, and the youngest MikroTik trainer in the world, who is only 19 years old.
Expanding our focus – we have been focusing only on Network Engineers, but now we are expanding the focus to Mobile Programming, System Administration, etc.
If you would like to see more about IDNF, please visit our website or watch our videos (it was through one of our videos that a teacher from another island came to learn about networks with IDNF)
Oky Tria Saputra is a network engineer and network trainer with ID-Networkers in Jakarta, Indonesia.
---
The views expressed by the authors of this blog are their own and do not necessarily reflect the views of APNIC. Please note a Code of Conduct applies to this blog.